Two Point Studios: "People seemed disappointed it wasn't Dreamcast 2"
The team behind Two Point Hospital on Sega, life after Lionhead and returning to "little people games"
For a game over 20 years old, Theme Hospital has shown surprising endurance.
Thanks to a fan revival - plus an appearance on GOG and Origin - the 1997 Bullfrog game has retained a place within the PC gaming scene.
It's remarkable when you consider it was never expected to amount to much. The title was created by a tiny team of six - led by Mark Webley and Gary Carr - and was seen as one of the studio's experimental projects, with games like Populous and Dungeon Keeper attracting most of Bullfrog's attention.
"We were sort of the poor relation," Webley remembers. "A game about a hospital called Theme Hospital? That didn't seem to make much sense. Soon after we started working on the game, we became part of EA and the EA execs certainly didn't seem to get it. We would point out popular hospital things like ER, and they'd point out that this was nothing like that."
"If we're going to do a series of sim games, why can't they co-exist? Why can't they live in the same world?"

Gary Carr, Two Point Studios
Carr adds: "We were given this brief to come up with a hospital simulator, and it didn't sound very exciting. So we just decided to turn it on its head. We didn't think it was going to be a big success, but it ended up being Bullfrog's most successful game, certainly from a longevity standpoint."
The game was the spiritual successor to Theme Park, and part of Bullfrog's 'designer series' of "little people games." The vision was to create a sim titles based on things like prisons, schools or resorts. Yet these games never came to pass (unless you count the Japan-only Theme Aquarium). Soon after Theme Hospital, Webley would create Lionhead with Peter Molyneux, while Carr departed to create Mucky Foot Productions.
Carr, however, soon found himself working alongside Webley again. This time at Lionhead on 2005's The Movies, another "little people game."
"We really enjoyed these games," Webley explains. "We like controlling and manipulating and playing around with a little world of people. We worked on The Movies together and we really enjoyed that. Then Fable came along, and that kind of took over Lionhead for about ten years. We just wanted to go back to doing these games again."
That leads us to the formation of Two Point Studios, Webley and Carr's new studio, which renews the dream of realising that original 'designer series' vision. The firm wants to build a series of sim games set within the fictional world of Two Point County, and where better place to begin than with a hospital?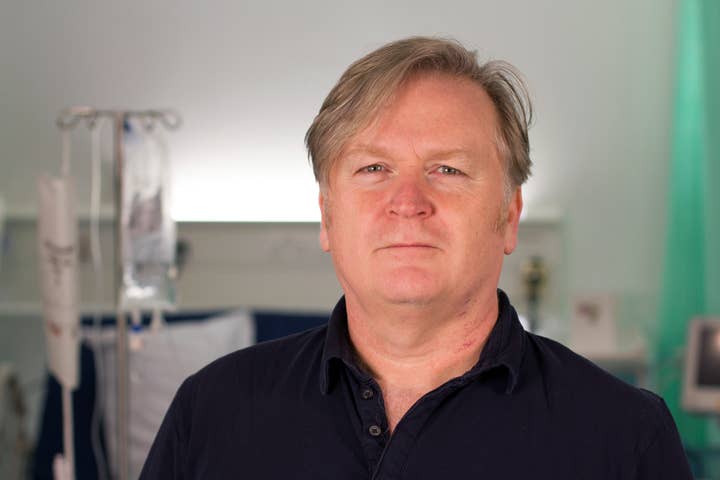 "Gary calls it our own little Springfield, with Moe's Tavern and the Power Planet and the various other elements of the town," Webley says.
Carr continues: "It's just a nice wrapper. If we are going to do a series of sim games, why can't they co-exist? And why can't they live in the same world with familiar characters, humour and mechanics? Rather than think of a game, ship it, think of another game, we wanted to have a coherent story to tell through lots of sim games."
Webley again: "Certainly, when Gary started talking to me about it, I did wonder if anybody was going to be interested in a game inspired by Theme Hospital, but there's a lot of love for it. People remember it, and going back to that is something useful to get us through he door. The hospital feels like a good starting point for this journey."
Back to Carr: "We never really let it go. We used to talk about the old days of working on Theme Hospital fondly, because we felt it was a career highlight. It was fun and we wanted to recreate that a little bit. We also felt there was still more we wanted to do. We stopped before the end of that journey because other opportunities came up."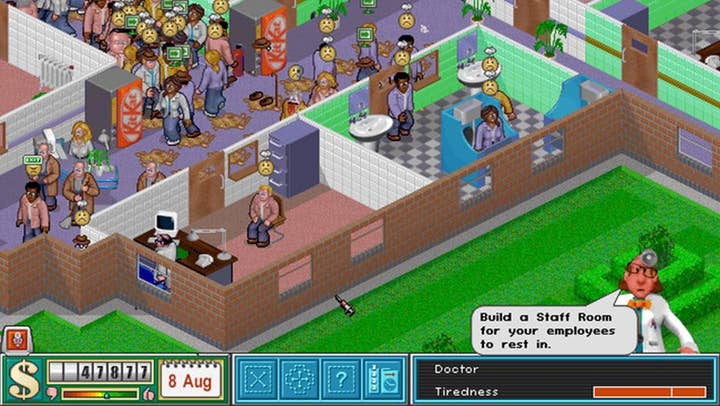 The initial announcement certainly went down well online, with publisher Sega's initial tease resulting in plenty of pre-announcement excitement.
"It's a weird one, because sometimes you don't know if it's the right thing to do or not," Carr admits.
Webley continues: "Or how people are going to react. It's been quite a distracting couple of days of looking at stuff on the internet. A lot of people seemed disappointed that it wasn't Dreamcast 2."
Webley and Carr were initially unsure about how to get Two Point Hospital off the ground. The firm considered a few options, including Kickstarter. It spoke with Playtonic, the team behind Yooka-Laylee, which was also trying to resurrect a classic 1990s franchise.
"But then the bottom fell out of Kickstarter a little bit, and we got nervous. We're not kids and we didn't want to be too risky"

Gary Carr, Two Point Studios
"It was in the late 1990s when we last did something like this, so we felt we needed a lot of advice," Carr says. "We saw a lot of people, and the Playtonic guys were excellent. They were almost on speed dial for a while.
Webley interjects: "And Debbie [Bestwick] from Team 17. She was great. She gave us a lot of encouragement."
Carr: "A lot of these people helped us believe we were on the right track, and we were doing the right thing. They're great people, basically. People who are happy to help you without any ulterior motive.
"Playtonic had an amazing Kickstarter. They were making an effort to go back to some of Rare's wonderful rich past, and we were doing a similar thing. But then the bottom fell out of Kickstarter a little bit, and we got nervous. We're not kids and we didn't want to be too risky."
The firm also considered using Steam Early Access, a bit like Introversion did for Prison Architect. But then Two Point's other co-founder, Ben Hymers, suggested that it might be worth talking with Sega.
"We spoke to Christian [West] at Playsport [creator of Sega-published Motorsport Manager], and he sent a wonderful cover note to Sega on our behalf," Carr says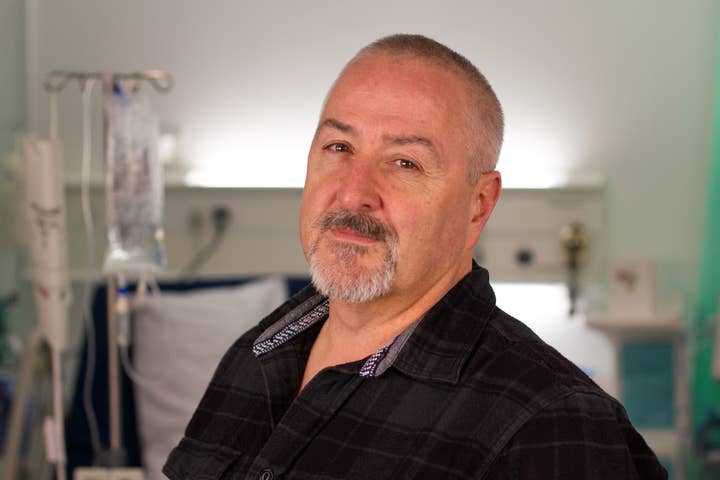 "Dean Trotman from Sega invited us in for a chat. And what was wonderfully serendipitous was that they had just - literally the week before - had a creative brainstorm session about doing something different in their portfolio. One of the things that they were referencing was Theme Park and Theme Hospital, and then we knocked on the door. It just seemed like it was meant to be. They've been wonderful since that point. They give us an amazing amount of freedom and trust. But they are also there when we need them.
Webley adds: "They were a bigger publisher than we felt would have been interested in us."
Carr again: "We were looking at smaller publishers who had smaller budgets. We thought we would go that route. But Sega went big with this and felt that this was a real opportunity to build out a new and exciting franchise. They've given us the courage to be more ambitious."
The developer is already plotting further Two Point games beyond its first Hospital-based title. "Anything you can think of that seems to make sense, living in Two Point County, we have thought about it," Carr says.
Webley adds: "We probably wouldn't do a prison anymore, because I think Prison Architect did a great job of that. I don't think we'd do a theme park, because that's been done really well with Planet Coaster.
"But there are other areas that you could explore. Probably more boring subjects."
Carr again: "Maybe our skill is to find the worst possible subject matter and focus on that."
" We had earmarked a bunch of people that we wanted get in the team. Then Lionhead closed, and really quickly those guys got new jobs"

Mark Webley, Two Point Studios
Now Webley: "And go back to Bullfrog-type games, which don't take themselves too seriously. They have a good sense of humour. They're reasonably accessible, but have some nice depth to them. Not many people have picked that up. EA has said a couple of times that this sort of game is in its DNA, because it bought Bullfrog. But I'm not sure... certainly what they did with Dungeon Keeper as a free-to-play game, they could have done a lot better than that."
Two Point Studios is not a tiny indie team, although it's by no means a Lionhead-sized behemoth either. The company has 16 employees, many of whom come from Lionhead - such as Russell Shaw, Ben Huskins, Marc Smart and Ben Hymers - but there are also new recruits, too, including college and university graduates. Webley and Carr always envisioned recruiting former Lionhead alumni to their team, but were scrambling to pick them up when Microsoft closed the studio in 2016.
"The timing of Lionhead's closure was bad news," Webley says. "We were getting close to signing the deal with Sega, we had earmarked a bunch of people that we thought would be great to get in the team, then Lionhead closed down. Really quickly, those guys got new jobs, so we were like: Oh shit."
Carr continues: "Unfortunately, because they were in the water, we had to mop them up before they went elsewhere, and in some cases we had to tell people to find other work because we weren't ready. It did mean we probably built up the team a lot quicker than we would have done in an ideal world. But I'm so pleased we did, because we've made such progress with this project."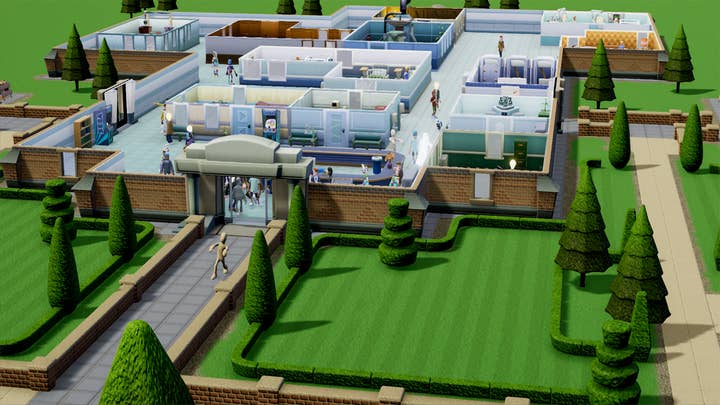 A long time has passed since 1997's Theme Hospital. And although fans of the original will certainly see similarities with Two Point Hospital, this won't be a glorified remake with nicer visuals.
"Well, you can now rotate the view for a start," declares Webley.
Carr laughs: "Oh yes. That's the big one."
Back to Webley: "Nowadays, the internet is very interesting, and analytics as well. For us to be able to gather player data... People will let us know if the game is too easy or too hard."
Carr again: "Customisation, too. With the original game, most people's hospitals tended to look the same. We are trying to create a lot more customisation so that people can craft something that feels more unique to them."
There are other areas around social play and replayability, too, which Carr believes will stop the game becoming just another 1990s throwback.
"20 years ago people were moaning about the NHS, privatisation, the situation in the US... it is actually very similar"
Yet what about the healthcare system itself? Whether it's Obamacare or the NHS, the world's healthcare situation has found itself firmly in the spotlight. So will Two Point Hospital reflect the political situation?
"It's interesting what was going on back then, and what is going on now. And... it seems identical," Webley notices. "20 years ago people were moaning about the NHS, privatisation, the situation in the US... it is actually very similar. It doesn't seem to have moved on very much."
Carr adds: "To be honest, back in the day, Mark and I went to a lot of hospitals. We watched operations, we gathered information and we got really depressed. We thought that this was going to be a really dry, dull, depressing subject matter. So we decided to ignore the rules and make up our own medical simulator, which is how the idea of made-up illnesses and made-up cures came about.
"I also think that the reason to do that, which comes with the benefit of hindsight, is it stops it being dated. If you try to make political statements or mirror what is going on in the world, when the world moves on it kind of looks dated. We're kind of making this up as we go along.
Webley recalls: "We had a character in Theme Hospital who would come to tour your hospital called Billy Saville, OBE. That hasn't aged well at all."
Throughout our chat it's clear that Webley and Carr are relishing getting back to day-to-day development. They're proud of their work at Lionhead, but have no desire to build Two Point Studios to a similar level.
"When Lionhead became successful, it was harder for us to be developers," Carr concludes. "We ended up being the people running the teams. At the end of the day that's not something we particularly enjoyed. We wanted to get back to the coalface. That is why we used to get out of bed every day - to go and make video games.
"It felt like it was time to do that before we die."