Two Mafia games break Top Ten, but Mario remains in charge | UK Boxed Charts
Super Mario 3D All Stars is the biggest game of September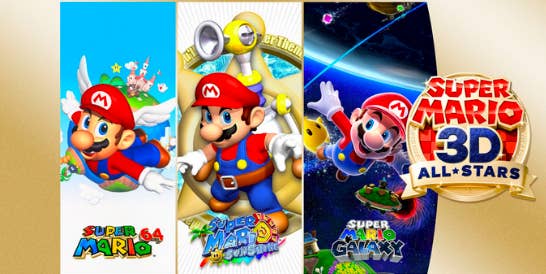 There are two new games in the Top Ten physical retail charts this week, and both in 2K Games' Mafia series.
Mafia: Definitive Edition debuts at No.3 and it's a remake of the 2002 original. This new version has been developed by Hangar 13, the team behind 2016's Mafia 3. Meanwhile the Mafia Trilogy (which includes the Definitive Edition, a remaster of the second game and Mafia III) comes in at No.6. Neither product has sold particularly strong in physical form, although it's worth noting that digital data is not included in this chart.
One game that has sold well in physical form is Super Mario 3D All-Stars, which secures its second week at No.1 in the UK physical charts. The game holds its position comfortably, despite sales being down 78% over its debut week. The collection of Mario games ends the month as the best-selling boxed video game in the UK, just ahead of Marvel's Avengers.
Speaking of which, Marvel's Avengers holds No.2 in the charts after a 21% drop in sales week-on-week.
Last week's other new releases tumble out of the Top Ten this week, with WWE 2K Battlegrounds falling from No.6 to No.11 (sales down 43% week-on-week), and PES 2021 dropping from No.9 to No.34 (sales down 64%).
Things now start picking up steam at physical retail with a number of big releases coming to market. This begins this week with the release of Star Wars Squadrons and Crash Bandicoot 4. This is followed a week later by the arrival of FIFA 21.
Here is the GfK Top Ten for the week ending September 26th:
| Last Week | This Week | Title |
| --- | --- | --- |
| 1 | 1 | Super Mario 3D All-Stars |
| 2 | 2 | Marvel's Avengers |
| New Entry | 3 | Mafia: Definitive Edition |
| 3 | 4 | Animal Crossing: New Horizons |
| 5 | 5 | Mario Kart 8: Deluxe |
| New Entry | 6 | Mafia Trilogy |
| 8 | 7 | Minecraft Dungeons |
| 4 | 8 | Tony Hawk's Pro Skater 1 + 2 |
| 7 | 9 | Minecraft (Switch) |
| 10 | 10 | Grand Theft Auto V |