Twitch viewership grows 20% year-over-year for September
Facebook Gaming amasses over 500 million hours watched during the month with a 50% year-over-year jump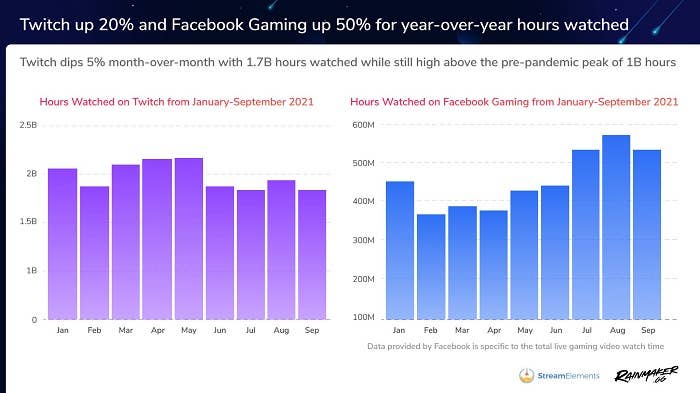 People watched 1.7 billion hours of video on Twitch in September, according to StreamElements analytics partner Rainmaker.gg.
According to StreamElements' monthly State of the Stream report, overall viewership hours on the platform last month reflected 20% year-over-year growth.
Meanwhile, Facebook Gaming viewership increased 50% year-over-year as it reached over 500 million hours throughout September.
On Twitch, Grand Theft Auto 5 was the most-watched game for the month at 142 million hours seeing a 30% month-over-month increase in viewership. Valorant saw an increase of 21% to 88 million hours viewed while Counter-Strike: Global Offensive saw growth of 25% for a total of 60 million hours.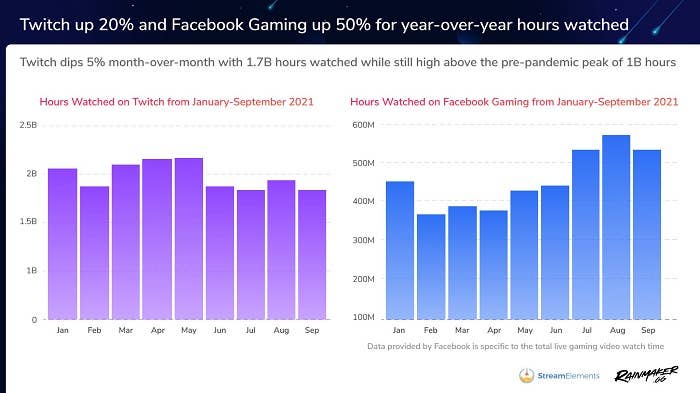 Additionally, Twitch parent Amazon also saw its fantasy MMORPG New World debut in the streaming platform's top ten most viewed games for the month. The title amassed a viewership of 39 million hours in September.
"With game launches, the trend always begins with a huge viewership spike on Twitch and then the hours watched start to decline in the following days and weeks," said StreamElements co-founder Doron Nir.
"The thing that differentiates games in the post-launch period is where does it land after it drops. Now, more than two weeks since New World premiered, it is still in the top 10 on Twitch with top creators..."