Twitch growth dips as Fortnite viewership continues to decline
Riot Games surpasses Epic Games as most-watched publisher in Q2 2019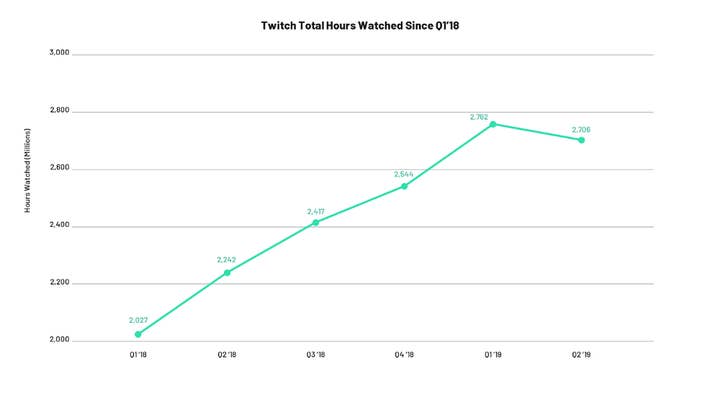 Twitch growth appears to have dipped at last after over a year of steady growth, likely due to continued Fortnite viewership decline.
Streamlabs and Newzoo's streaming report for Q2 2019 shows that Twitch had 55 million fewer hours of content watched in Q2 from last quarter (down 2%), though it's still by far the most popular streaming service. Hours streamed were also down 10%, as were total number of channels (down nearly 1 million to 4.8 million). However, average viewers per channel were up 9.4% from the previous quarter. In total, Twitch saw 2.7 billion hours watched, and 94.7 million hours streamed.
In addition, Riot Games has overtaken Epic Games as the most-watched publisher on Twitch. By individual game, Fortnite had 294 million hours of content watched last quarter, with League of Legends just behind it at 279.5 million and GTA V at 214.3 million.
YouTube Live, however, saw continued growth. Hours watched were up 10% from the previous quarter to 702 million total hours, and hours streamed were up 4% to 13.2 million. The platform also has the highest average viewer per channel number at about 53 viewers per channel.
Mixer saw a total of 119 million hours watched last quarter, up a whopping 357% year-over-year and 32% over last quarter. Hours streamed were up 43% from last quarter to 12 million.