Twitch takes 82% of viewership hours for the top streaming titles in Q1
Esports content generated 11 per cent of all viewership hours across Twitch and YouTube
Twitch has taken a considerable Q1 lead over YouTube Gaming in terms of viewership hours spent on the most popular titles, according to market intelligence firm Newzoo.
Using its machine learning tracker service, Newzoo found that Twitch accounted for 82 per cent of total viewership across the combined top 20 games on both video platforms, with Twitch having the most viewers for almost every game.
Notable exceptions are Casino Games, World of Tanks, Minecraft, and Mobile Legends.
While this is decidedly lopsided in favour of Twitch, other insights from Newzoo's data show a complex mix of strengths and weakness among different audiences.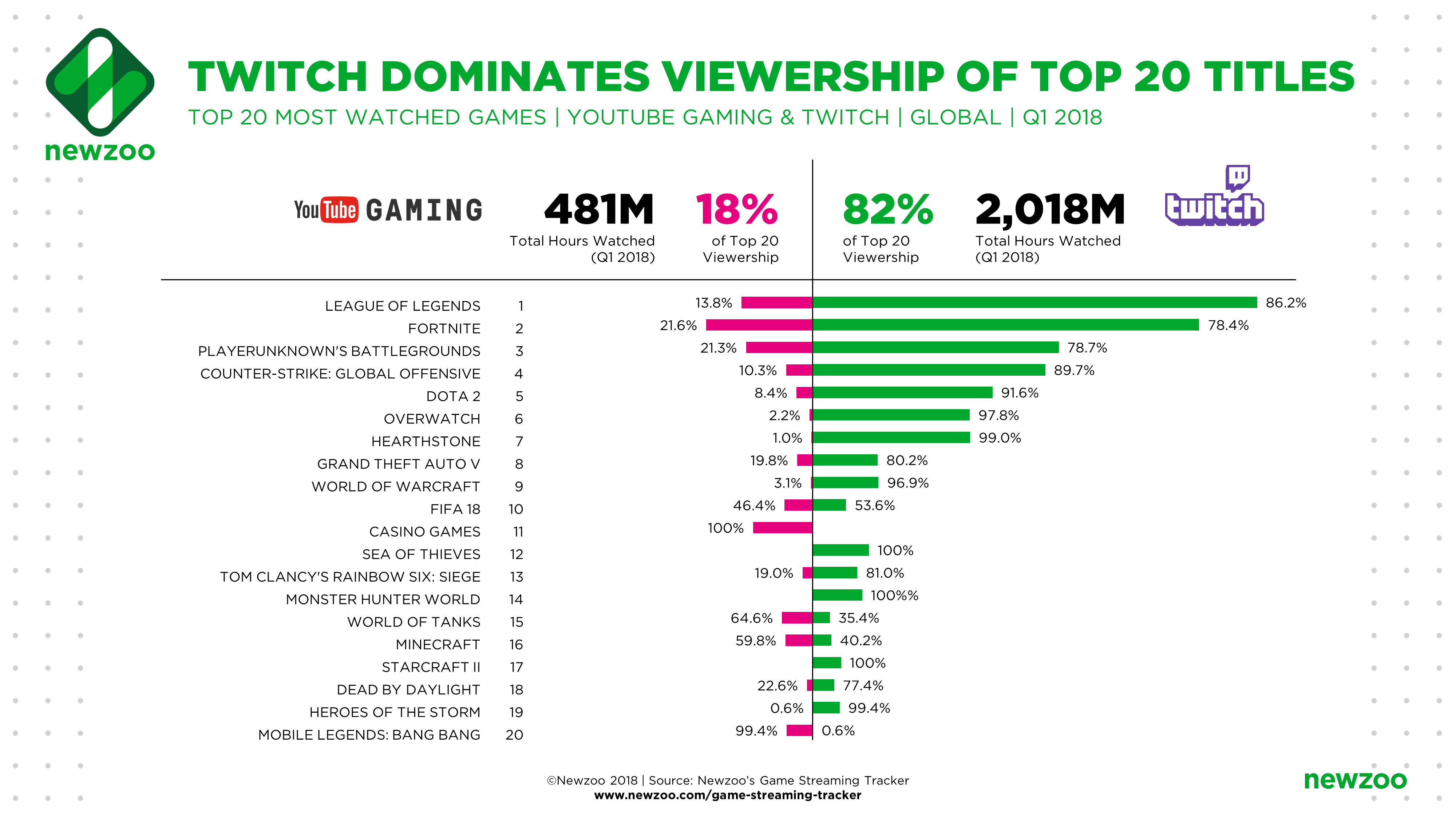 YouTube Gaming and Twitch generated two billion and 400 million total viewing hours respectively in Q1 2018.
Professional esports events and leagues accounted for 11.6 per cent of those hours on Twitch, and 8.2 per cent on YouTube Gaming.
Twitch has eight times the mount of viewing hours as YouTube Gaming in terms of professional broadcasts.
In total, esports accounted for 11 per cent of all viewership hours across both Twitch and YouTube Gaming.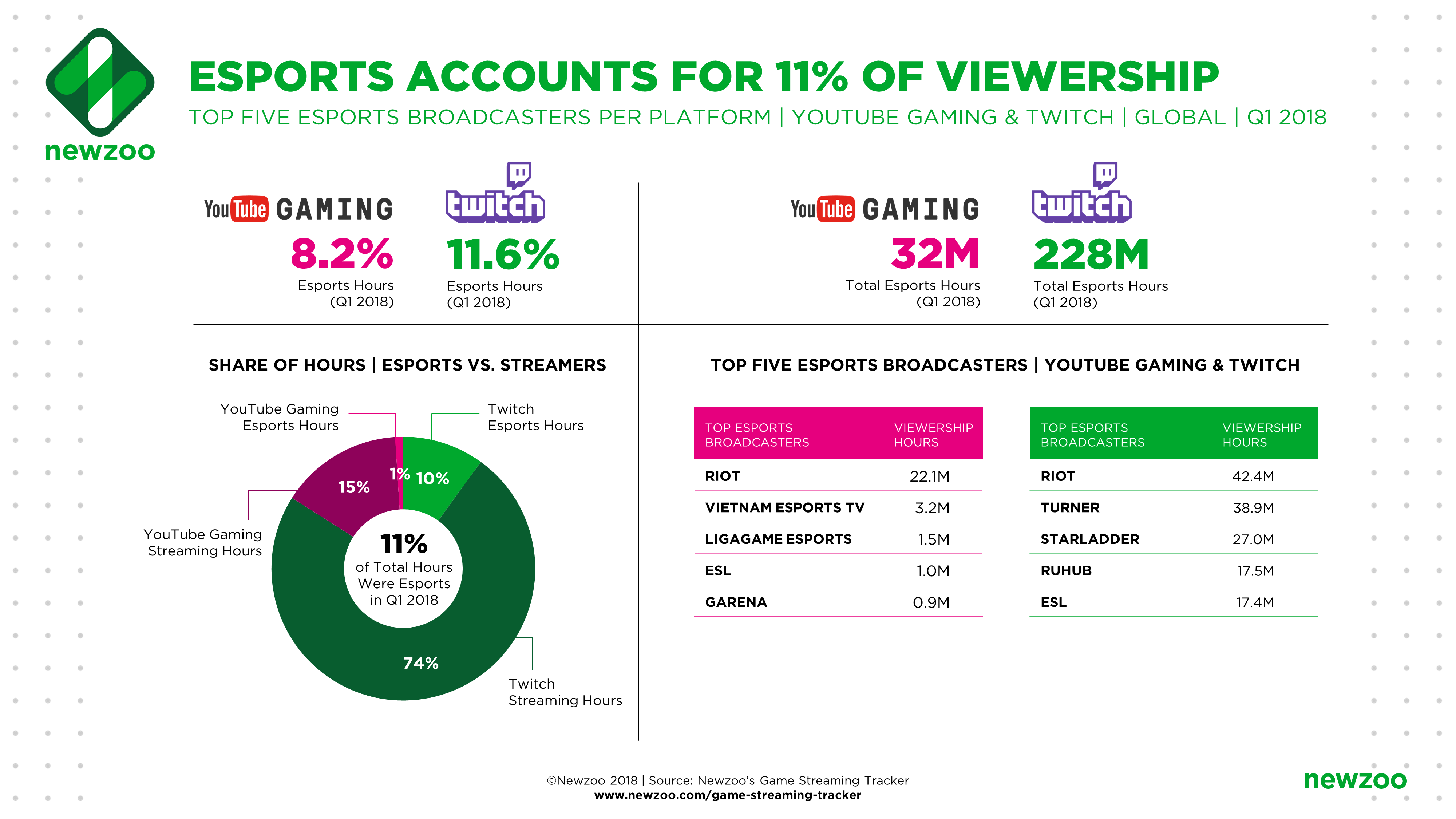 Another insight offered from Newzoo is the popularity of casual and mobile titles on YouTube Gaming over Twitch.
YouTube has five mobile games in its top 20 most watched games by viewings hours, whereas Twitch doesn't have any.
The trend continues with genres such as casino, strategy, and simulation where YouTube holds a larger sharing of viewing hours. Twitch, meanwhile, fares better with RPGs and fighting games.
Twitch is less top heavy than YouTube Gaming in terms of hours watched. The top ten channels on YouTube Gaming accounted for 18 per cent of its Q1 viewership, with the top 100 channels taking 42 per cent.
However, Twitch was more evenly spread with the top 100 channels only accounting for one-third of total viewing hours.
Content on Twitch was also less concentrated on the top three genres, with action/adventure, MOBA, and shooter games making up only 61 per cent of the platform's viewership, compared to 69 per cent on YouTube.
Newzoo suggests this difference is partly attributable to the fact that Twitch had around 65,000 channels in Q1 that reached 50 or more concurrent views, compared to YouTube Gaming's 25,000.
Finally, YouTube and Twitch are equally popular when it comes to some of the top games says Newzoo.
Although the five biggest personal streamers on Twitch had an average of 35,400 viewers compared to 12,416 on YouTube Gaming, when looking at the most popular games on both platforms, YouTube Gaming is performing on par with Twitch, and sometimes even better.
For example, the top three Minecraft channels, and seven of the ten biggest FIFA 18 channels, are found on YouTube Gaming.