Trump halts H-1B visas through end of year
US president says skilled foreign workers "pose an unusual threat to the employment of American workers" due to COVID-19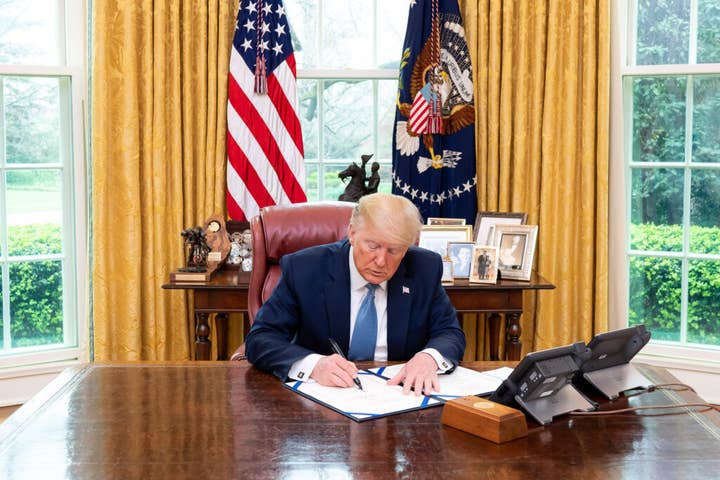 US President Donald Trump signed an executive order yesterday placing a freeze on a variety of non-immigrant visas, including the H-1B skilled worker visas that the Entertainment Software Association has long lobbied in support of.
"American workers compete against foreign nationals for jobs in every sector of our economy, including against millions of aliens who enter the United States to perform temporary work," Trump said in his order. "Temporary workers are often accompanied by their spouses and children, many of whom also compete against American workers.
"Under ordinary circumstances, properly administered temporary worker programs can provide benefits to the economy. But under the extraordinary circumstances of the economic contraction resulting from the COVID-19 outbreak, certain nonimmigrant visa programs authorizing such employment pose an unusual threat to the employment of American workers."
The order takes effect June 24 and extends until the end of the year, with the possibility left open for it to be extended further. It is an extension and expansion of a previous proclamation made in April, which suspended almost all immigration programs for 60 days.
The Entertainment Software Association has not responded to a request for comment as of this writing, but its official website details the industry's stance on the issue.
"Access to talent is critical to video game development and technological innovation," the ESA's website says. "The video game industry works to recruit and cultivate US-based employees, but it needs more workers. To keep those jobs in the United States, the federal immigration system must allow video game companies to attract and employ all the talent necessary to continue growing the industry and contributing to the national economy."
In addition to halting H-1B visas, Trump's order also puts a hold on the H-2B (temporary or seasonal non-agricultural work), J (work-and study-based exchange visitor), and L (intracompany transfers) nonimmigrant visa programs.
Update: An ESA representative provided the following statement to GamesIndustry.biz:
"The nation's immigration system is inextricably linked to the US economy across numerous sectors, including healthcare, engineering, technology and interactive entertainment. The executive order limiting immigration undermines reasonable solutions to end the current economic crisis, stabilize our economy and help people return to work."
A representative of Gearbox Entertainment Company also reached out with a statement from company founder Randy Pitchford.
"The H-1B decision is impossible to support from any reasonable perspective," Pitchford said. "The anti-immigration decision will not create new jobs for citizens, but will eliminate one of America's greatest strengths - our ability to attract and immigrate the best talent in the world to join us in the American Dream. Imagine our USA without Albert Einstein, Joseph Pulitzer, Bob Marley, Levi Strauss or Audrey Hepburn. I cannot."