Towerfall dev says Ouya version sold around 7,000
UPDATE: Ouya CEO claims the microconsole platform, "put Towerfall on the map"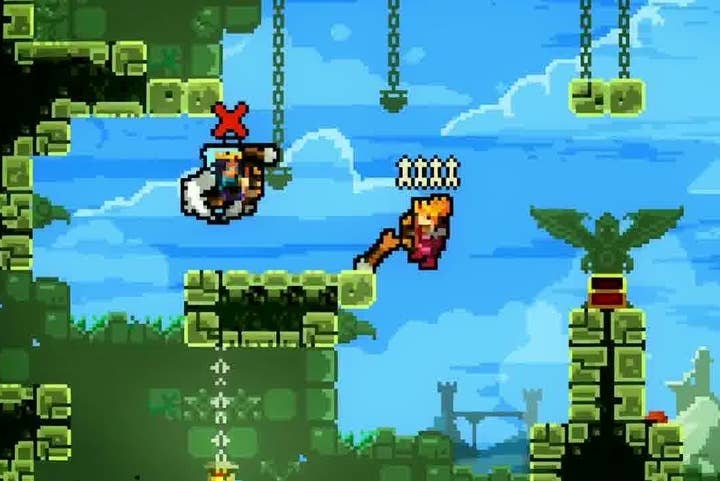 Update: Ouya CEO Julie Uhrman has responded to the comments made by Towerfall developer Matt Thorson, saying that the game's success on other platforms is actually evidence that Ouya works as intended.
"21 percent of Towerfall's total revenue comes from Ouya, which is pretty impressive when you consider the legacy and size of the Steam and PlayStation communities," she said in a statement widely circulated to the press. "Plus, Ouya helped put Towerfall and Matt on the map. His story signals that Ouya works: We are finding the next great developers and making them household names, while rewarding their great games with real money in their pocket."
Original Story: The critically acclaimed Towerfall was hyped as the Ouya's "killer app" in the days before launch, but it wouldn't make a killing until a new version of the game was released on the PlayStation 4 and PC. Speaking with Eurogamer, Towerfall developer Matt Thorson estimated the original Ouya version of the game has only sold about 7,000 copies since its June 2013 launch.
"Being the best game on Ouya isn't a huge deal, but it is nice. It still sells on there," Thorson said.
However, Thorson released a modified version of the game as Towerfall Ascension on PC and PlayStation 4 last month, and the returns have been both swifter and more significant. The game has now grossed more than $500,000 in total, with the console edition outperforming its PC counterpart. Regardless of the platform, Towerfall sells for $15, which would put the game's total sales above 33,000, barring any discounts.
"It's actually doing better on PS4, but it's still doing well on PC," Thorson said. "It's doing definitely well enough for me to support myself for quite a while. That's really encouraging."