Tomodachi Collection boosts 3DS XL in Japan
Handheld sales double as Nintendo release shifts 400,000 in debut week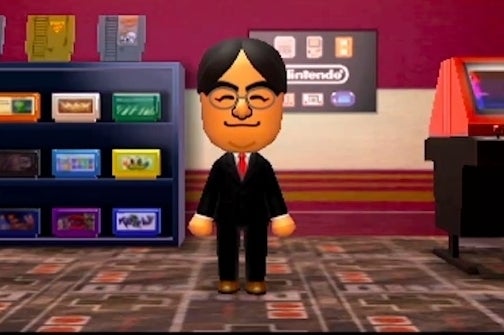 Nintendo's Tomodachi Collection: New Life sold more than 400,000 units in its first week on sale in Japan.
According to data released by Media Create, the 3DS release was a comfortable victor in last week's chart, with the second place game, Namco Bandai's Naruto Shippuden: Ultimate Ninja Storm 3, selling only 87,000 copies.
Other notable new entries in the software chart were Sega's Seven Dragon 2020 II, which sold 73,000 units, and Idea Factory's Amnesia Crowd, which sold 34,000.
And Nintendo's 3DS XL handheld felt the benefit of Tomodachi Collection's success, doubling its sales over the prior week to hit 57,000 units.
The full software chart is below, with life-to-date sales in parentheses:
1. [3DS] Tomodachi Collection: New Life (Nintendo, 04/18/13) - 404,858 (New)
2. [PS3] Naruto Shippuden: Ultimate Ninja Storm 3 (Namco Bandai, 04/18/13) - 87,661 (New)
3. [PSP] Seven Dragon 2020 II (Sega, 04/18/13) - 73,697 (New)
4. [3DS] Luigi's Mansion: Dark Moon (Nintendo, 03/21/13) - 41,296 (557,271)
5. [3DS] Animal Crossing: New Leaf (Nintendo, 11/08/12) - 34,482 (3,096,559)
6. [PSP] Amnesia Crowd (Idea Factory, 04/18/13) - 24,780 (New)
7. [3DS] Card Fight!! Vanguard Ride to Victory!! (Furyuu, 04/11/13) - 9,161 (53,6980
8. [PS3] One Piece: Pirate Warriors 2 (Namco Bandai, 03/21/13) - 7,887 (378,645)
9. [3DS] Run For Money: Flee From the Strongest Hunters in History (Namco Bandai, 07/05/12) - 6,294 (464,573)
10. [360] Monster Hunter Frontier G1 Premium Package (Capcom, 04/17/13) - 6,042 (New)
11. [3DS] New Super Mario Bros. 2 (Nintendo, 07/28/12) - 5,866 (2,002,396)
12. [PS3] Pro Yakyuu Spirits 2013 (Konami, 03/21/13) - 5,571 (155,296)
13. [3DS] Monster Hunter 3 Ultimate (Best Price!) (Capcom, 11/15/12) - 5,180 (290,004)
14. [PSP] Pro Yakyuu Spirits 2013 (Konami, 03/21/13) - 5,097 (129,423)
15. [PSP] Sword Art Online: Infinity Moment (Namco Bandai, 03/14/13) - 5,001 (191,444)
16. [PSV] Muramasa Rebirth (Marvelous AQL, 03/28/13) - 4,555 (67,842)
17. [3DS] Mario Kart 7 (Nintendo, 12/01/11) - 4,518 (2,029,645)
18. [PS3] Kingdom Hearts HD 1.5 Remix (Square Enix, 03/14/13) - 4,270 (193,439)
19. [PSV] Soul Sacrifice (SCEJ, 03/07/13) - 4,162 (164,825)
20. [Wii] Taiko Drum Master Wii Super Wonderful Edition (Namco Bandai, 11/29/12) - 3,950 (453,256)
The full hardware chart is below, with the prior week's sales in parentheses:
1. 3DS LL - 57,089 (28,139)
2. 3DS - 18,833 (18,584)
3. PlayStation Vita - 15,011 (14,112)
4. PlayStation 3 - 13,915 (14,039)
5. Wii U - 8,798 (9,984)
6. PSP - 7,816 (7,566)
7. Wii - 1,379 (1,383)
8. Xbox 360 - 515 (492)