Tilt Five on working around the pandemic to deliver tabletop AR
CEO Jeri Ellsworth explains how the platform adapted its manufacturing and fundraising to COVID-19, and what the strategy is going forward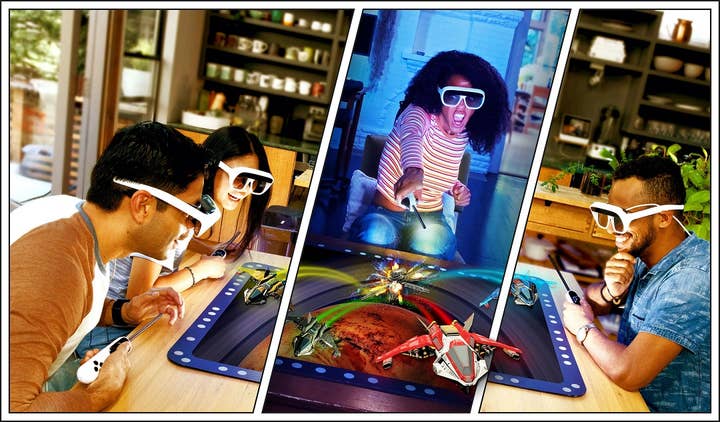 Heading into 2020, AR tabletop gaming company Tilt Five was doing well. It was just a couple months removed from running the largest augmented reality Kickstarter campaign to date, nearly quadrupling its original goal and raising $1.77 million in the process.
CEO Jeri Ellsworth was ready to oversee manufacturing of the necessary hardware and hit the road to raise another round of VC funding. Then COVID-19 happened and as she explains for GamesIndustry.biz, things got complicated. While many Western countries didn't feel the direct impact of COVID-19 until March, the supply chain Tilt Five was relying on was already upended with mass factory shutdowns entering February.
Even after the factories began coming back online, Ellsworth says the manufacturing process was hampered by limitations on international travel.
"Normally you would have some of your personnel right there on the factory floor as various subcomponents or the full assembly are built," she says. "We ran into situations. Sometimes there would be a quality issue, and something that could be resolved in an afternoon with someone on the production floor ends up taking longer. You have to try to do stuff over Zoom. Maybe you can't see what's going on so they have to FedEx things to you. So some of these things that would normally take a very short amount of time can take a week or two to resolve."
Ellsworth says the Tilt Five team still can't travel to China, but it did find a workaround.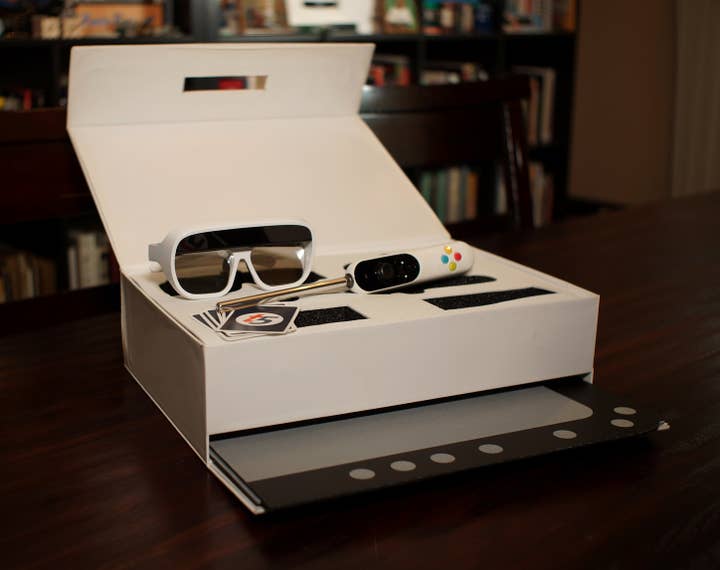 "We had to hire up a small team over in China and train them up remotely," she says. "So they've been our eyes and ears and hands inside the factory as we go into production. We're right in the middle of production right now and our objective is to fulfill the Kickstarter backers' pledges over the next couple quarters as everything lands."
It hasn't been a perfect solution, as Ellsworth laments the lack of relationship-building and rapport with the factory employees that normally helps when problems arise. She adds the relationships with the people actually building the hardware are further impacted by a political atmosphere of "sabre-rattling" heightened between the US and China.
"I got a lot of scar tissue dealing with my previous start-up, and learned a lot about who you should bring along with you on this journey"
Tilt Five is navigating those challenges with the help of one of the company's investors, Logitech. The peripheral maker has plenty of experience with manufacturing and distribution challenges, and its presence as an investor is an example of how Ellsworth learned from her previous venture, CastAR.
The project debuted with a Kickstarter in 2013, raised $15 million in VC funding in 2015, and went under in 2017. When Ellsworth spoke to us last year, she clearly had misgivings about how it went down. This time, she tells us how the experience shaped Tilt Five's most recent fund raising.
"I got a lot of scar tissue dealing with my previous start-up, and learned a lot about who you should bring along with you on this journey," Ellsworth says. "So this time, my co-founder and I spent a lot of time talking about what would be the composition of the perfect group of investors to bring on board, and how many investors. Before we had only brought on one investor, which was kind of a mistake, because then you're beholden to only one voice in the room. So this time we wanted a composition that was really additive the whole way through."
To that end, Tilt Five is announcing today that it has raised $7.5 million in Series A funding led by SIP Global Partners with participation from Bitkraft Ventures, Galaxy Interactive, and longtime Valve employee Ken Birdwell.
Much like manufacturing, the fundraising process did not play out as Ellsworth had planned heading into the year. Once the pandemic hit, face-to-face meetings were impossible, and for the first few months Ellsworth says it seemed like investors were "just hunkering down to see what happened."
But as spring became summer, Ellsworth says her conversations started to gain traction. Ultimately the interest in the company was even more than they'd expected.
"The world is getting more acclimated with teleplay, distance play, collaborating over Zoom and various communication channels instead of in-person..."
"We had so many suitors at the end wanting to be part of this round that we had to turn a bunch of different firms away and restrict how much money came in. we had to set a limit just to keep dilution in the company under control. It's nice we got that extra gunpowder to work with, because we can go out and get more content, bring a few more personnel on and make a better experience for our end users."
Despite the turmoil of the year, Ellsworth says Tilt Five's plans and strategy haven't fundamentally changed. What Ellsworth thinks may have changed is the market for Tilt Five, as she cited a report from one of her investors.
"The world is getting more acclimated with teleplay, distance play, collaborating over Zoom and various communication channels instead of in-person," she says, "and they believe that's not going to retract after COVID's gone, that it's just going to be the new way people work and play and operate going forward."
In addition to how the pandemic will impact the way people play, there's already an open question about how people will play Tilt Five.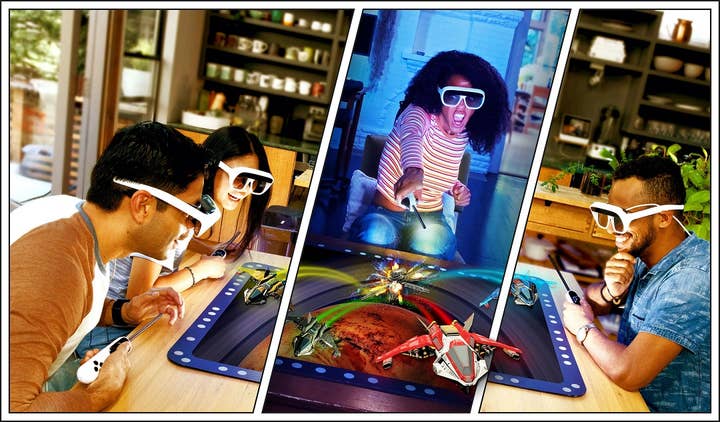 Right now, Ellsworth believes people will treat the platform the way they would something like a new console, regularly playing new experiences. In fact, a big part of the company's focus right now is in building out a content pipeline to provide early adopters with a steady flow of new experiences to play, and she says the company has been trying to bring more traditional action and puzzle video game content to Tilt Five.
At the same time, she expects a lot of people are interested in Tilt Five so they can run Dungeons & Dragons campaigns using offerings from partners like Fantasy Grounds or Battle Maps, and that may be all they really want to do with it.
"We'll start to learn more about what's really resonating with people [after launch]," Ellsworth says. "Is it purely board games? Is it more action shooter video games? Is it solo play or collaborative play? Teleplay, connecting game boards together? We'll learn a lot about what's resonating the best, and then we can double-down on that."
That process will also be complicated by the way Tilt Five is rolling out. The plan is for it to launch to Kickstarter backers in the by the end of the second quarter of 2021, with pre-sales made through the Tilt Five website being filled after that. (Update: After publication, Tilt Five clarified that it intends to fulfill backer orders by the end of the first quarter of 2021, with pre-sale orders going out shortly afterward.)
But Ellsworth says there are a good number of developers among the Kickstarter backers who are planning to play around with Tilt Five for their own uses (each headset doubles as a dev kit), which means the user behavior early on could be even more outside the norm than that of other hardware platforms' early adopters.
"How do you get through that chasm from early adopter to broader appeal?" Ellsworth asks. "And that will be part of our task as we start marketing in 2021. We'll have to start broadening our market to more of the average Joe that might be playing games. And that's where we'll see which experiences are stickiest with the non-early adopters. But I don't think the Kickstarter backers are a negative; there's definitely going to be signal in there for us that we can key off of."