THQ hopes Company of Heroes 2 will boost bottom line
The sequel in one of the company's remaining core franchises is coming out in early 2013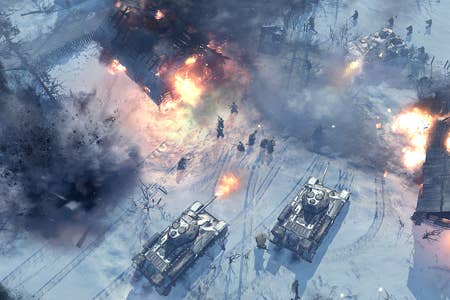 THQ today confirmed a sequel to its critically acclaimed strategy title from 2006, Company of Heroes. The sequel, announced only for PC thus far, is in development at Relic Entertainment and is set to launch in early 2013.
It will take place on the Eastern Front, "challenging players to take command of the iconic Red Army and repel the Nazi invaders from the very gates of Moscow."
THQ, which has been in dire straits and has had to cut hundreds of employees this year (including at Relic) while refocusing the company on fewer, higher quality core titles, believes Company of Heroes 2 can be one of its key pillars along with series like Darksiders and Saints Row.
Greg Wilson, Producer at Relic Entertainment commented, "Company of Heroes 2 is a true successor, introducing a new front, new protagonists and new technology while retaining the unique mix of strategic gameplay and competitive multiplayer that made the original Company of Heroes such a success."
Danny Bilson, Executive Vice President of Core Games added, "We are excited to announce a sequel to one of THQ's best loved properties. Company of Heroes 2 will deliver an amazing strategy experience along with a strong post-launch digital content plan that enhances and expands the product's lifecycle."
The game is the first to leverage Relic's proprietary Essence 3.0 Engine "to bring new technological advancements to the strategy genre in the form of innovative Dynamic Battle Tactics, increased graphical fidelity and new environmental destruction, ultimately putting the player in control with new Commander Abilities."