THQ announces 100+ new layoffs with Warhammer 40K "refocus"
Warhammer 40,000: Dark Millennium will be a single-player game, not an MMO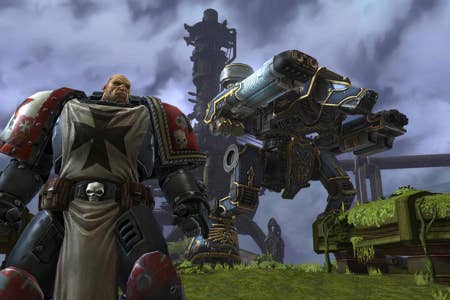 THQ has announced that it is "refocusing" on Warhammer 40,000: Dark Millennium. The tangible result of this change will see team sizes at two THQ internal studios reduced by 79 full-time employees at Vigil Games in Austin, Texas, along with 39 employee redundancies at Relic Entertainment in Vancouver.
THQ is abandoning the MMO model for the new Warhammer, switching instead "to an immersive single player and online multiplayer experience with robust digital content, and engaging community features." The publisher promised that new details and release timing would be announced at a later date.
THQ's most recent financial report was filled with red ink, leaving the executive team scrambling to keep the company solvent. Previous to this, THQ had already let go 240 employees.
"As previously announced, we have been actively looking for a business partner for the game as an MMO. However, based on changing market dynamics and the additional investment required to complete the game as an MMO, we believe the right direction for us is to shift the title from an MMO to a premium experience with single and multiplayer gameplay, robust digital content and community features," said Brian Farrell, President and CEO of THQ Inc. "Because we believe strongly in the high-quality and vast creative work that is in production, this is the right decision for both our portfolio and for gamers devoted to this powerful property."
"We are genuinely excited about the new direction that THQ is taking with Warhammer 40,000: Dark Millennium, and we are sure that this will be a great addition to the ever growing stable of authentic and engaging Warhammer 40,000 video games," said Jon Gillard, Head of Licensing for Games Workshop.