Analysts and publishers say the boom in game sales is here to stay
Corporate heads and industry analysts expect at least some of the increased revenue of 2020 to stick around going forward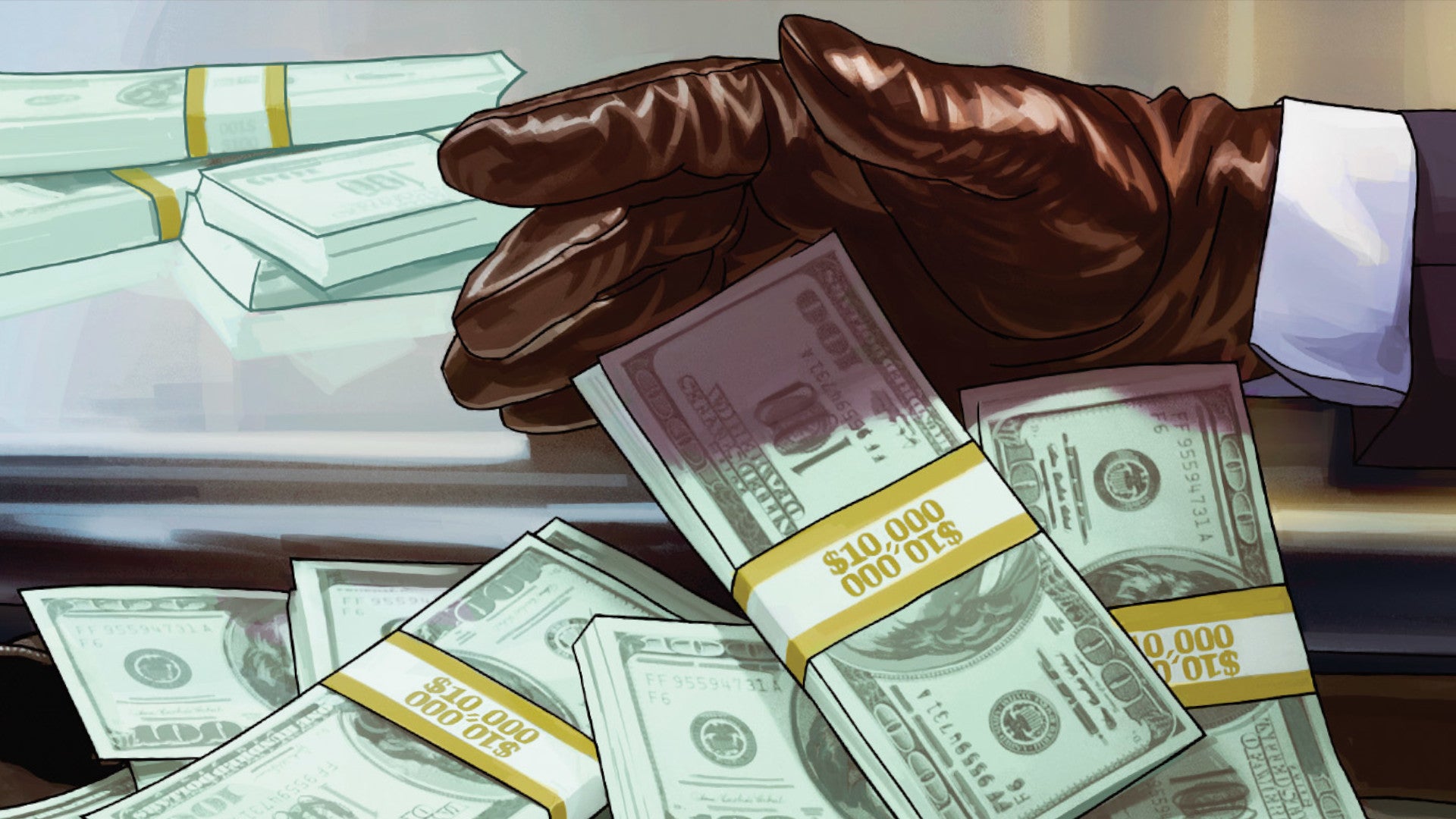 January and February started off 2020 as you would have expected in the US, with games sales down, console sales down, and everyone waiting for the new shiny consoles later in the year. Then the video game boom began. With people stuck at home, video games became one of the largest winners of the pandemic, assuming there can be winners in a pandemic. The big question for me is whether this was a one-time phenomenon, or are a lot of these people finding solace in video games going to stick around next year and the year after that.
The boom in video game sales has been quite large. Here are the year-over-year growth rates by month according to The NPD Group for game, console, and accessory sales starting at the initial quarantine period of the pandemic:

Other than hardware in June and July it has been very strong sales growth across the board, and even the two negative numbers are in part due to there just not being enough hardware available. Nintendo Switch, in particular, has not been easy to find in recent months because none of the hardware companies could have predicted all of this and upped production beforehand.
If those last three months are the boom leveling off, video game companies should be thrilled, since it is at a level much higher than before pandemic levels. However, there is a chance that as sporting events, movies, concerts, and other forms of entertainment that got punished most by the pandemic start to come back online, these gains will dissipate and we will end up back where the industry would have been in the first place.
Large game publishers had some interesting things to say with their forward projections, and with their statements about this trend in answering analysts who were compelled to ask questions about it on their last quarterly conference calls:
Daniel Alegre -- COO, Activision Blizzard
"Now we believe that as new players come into gaming, they're going to gravitate toward the largest franchises that have massive communities who are enjoying fresh and compelling experiences. So we've seen that with Call of Duty and World of Warcraft... we continue to benefit from the social nature of many of our games. We expect that as new players engage and form in-game connections with existing or new friends, many of them will stay engaged for the long term, and we see this as a really big opportunity."
Dennis Durkin -- CFO, Activision Blizzard
"...we feel really confident about our third-quarter guidance... Our Q4 guide implies you'll see some appropriate risk that we've applied into our outlook. Obviously, there's a few reasons for that. Everyone is aware of the economic backdrop that we're in with unemployment in unusual levels and risk to consumer spending -- particularly with new consoles coming out -- which will absorb some consumer wallets as they purchase new hardware, and similarly, want to be relatively conservative about the retail channel as that continues to contract."
Blake Jorgensen -- CFO/COO, Electronic Arts
"...we know we've got a lot of new people in this game. A lot of people are engaging in Ultimate team and the sports franchises. And we don't think that shuts off overnight and maybe never shuts off. And we hope that will give us longer-term growth. But that will ultimately be a question when we start talking about next year's guidance and all those things that we normally do. But don't take our conservatism in any way on guidance going forward as saying anything about the gains and on engagement -- it's all about the economy at the end of the day."
Andrew Wilson -- CEO, Electronic Arts
"...Completely new players. What I would tell you is, while it is early, and it is a little bit difficult to predict future behavior on these cohorts at this juncture, they are performing like some of our strongest and most engaged groups in the game... It's not easy to predict, but the early signs are very strong, and we're very optimistic about what this means for the FIFA community long term."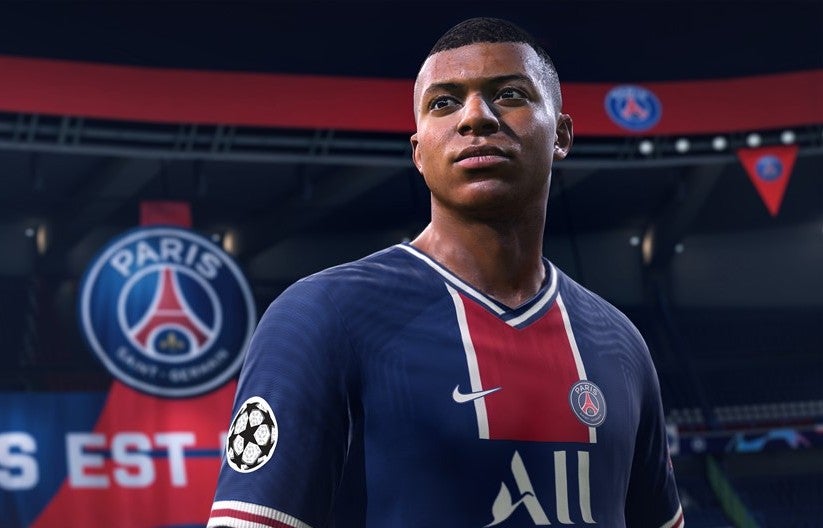 Karl Slatoff -- president, Take-Two Interactive
"In our Q2 guidance, we have included the fact that we're seeing some benefits continue on our business, some of the similar tailwinds that we've had since starting in the first quarter -- actually the end of the fourth quarter as well -- so we do see some of that in our Q2 guidance. In terms of the back half of the year, we really haven't factored anything in related to that."
Strauss Zelnick -- CEO, Take-Two Interactive
"I do think that this has intensified a shift from old analog entertainment to new interactive entertainment. And I do think that people have come back to video games and tried video games when they hadn't tried them previously. And I think you're going to see a long-lasting increase in demand. Again, that's not reflected in our numbers, because we don't build our guidance based on my opinion about things."
You can feel them all hedging. It seems that they all think that some of the gains are sticky; Activision Blizzard says because of connections made by new players, EA concurs with a side of the engagement level, and Take-Two adds in the changes in demand for interactive entertainment. Then they all quickly say they are not sure about baking that into their future revenue estimates just yet.
They all gave guidance for the rest of the year that was slightly higher than before, so they are not ignoring it entirely, but the threat of a recession that is not guaranteed to go away and more entertainment choices coming back online over time are keeping them from believing in these new gains entirely.
The publishers' rest-of-year revenue guidance versus industry analyst estimates is also interesting, so first let's take a look at what the companies themselves are projecting in sales (billions):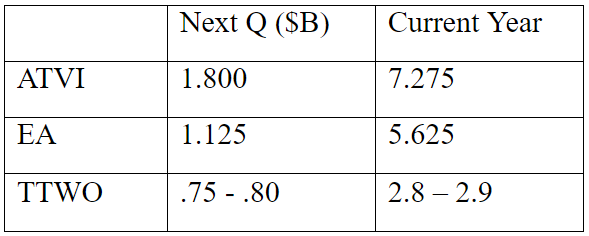 Now take a look at what industry analysts are predicting. The numbers are the average of all analyst predictions from Yahoo! Finance. All of them are covered by more than 20 analysts:

For the quarter that is about to end, both Activision and EA are above analysts' revenue estimates, but analysts have a higher current year estimate for all three and a higher second quarter estimate for Take-Two. What is most interesting is that analysts are assuming all three will grow revenues next year.
Typically, that is not a shocking thing to see, but to grow next year they will need to retain the high sales levels we have seen this year and exceed them, so a small amount of growth like Activision's 2.7% is actually 26.8% above last year's revenue. It is expected to maintain a nearly 25% growth and add to it, according to analysts.
Part of this is a game of course. The publishers want to set the expectation bar lower so that they can more easily clear it and get an earnings beat, and also to avoid any adverse impact from shifting guidance downward. Despite that being a normal part of this data, however, the part where growth next year is assumed by industry analysts has nothing to do with that particular game.
That seems to indicate that analysts are expecting all of the revenue from this year to stick, with a small amount of normal growth for next year as well. Take-Two is even more than that, at 11% growth in next fiscal year. Could anything cause that outside of the new gamers from quarantine at least partially sticking around?
There could be other causes for growth in the next 15 to 18 months -- 15 for Activision and 18 for the other two based on when fiscal years end. The most obvious is the expectation of a larger than normal release schedule for any of the companies. The only company that I could make an argument for here is Activision Blizzard, which has Diablo Immortal and possibly Overwatch 2 next year, and those could both end up being big enough to push their year out of the normal range. But EA and Take-Two have very normal looking years coming up, unless the new console generation will give them added revenues from their current cash cows.