Humble Bundle: "The sky's the limit"
John Polson prepares to take the company into the publishing business
Last week at GDC, Humble Bundle officially revealed the starting line-up of games for its newly announced publishing business, impressing journalists with hands on demos of a deep and varied catalogue at its San Francisco headquarters. The decision is one which seems shockingly obvious in hindsight: Humble has an incredible contact book of talented indies, a flourishing store front, a top-class reputation and a proven track record in reaching huge numbers of customers. What took you so long?
As natural a fit for the seven year old company it may be, they're entering a crowded marketplace at a tricky time. Not only are the indie-shaped gaps in the publisher's playbook being filled by more and more companies looking to offer something which their competitors can't, more and more teams are self-publishing. Nonetheless, the man at the helm of the new venture, John Polson, is confident that Humble's suite of additional services and indie-friendly approach will see it through. So far, he says, the response has been fantastic - from developers and the publishers which work with the company in its other guises.
"I think the attitude has been a little of surprise, maybe some awe," he explains. "Most guys, when they come out of the gate and say they're moving into publishing, they maybe have one game signed. I think we really stepped up and found a lot of developers making awesome games who were in need of this service. There's been a lot of dialogue about the idea that publishers need developers more, the idea that there's this plethora of publishers out there, but actually there are tons of developers we hear from who need that financial support. We're not going to be able to support them all, but happy to help some of them.
"I think the sky's the limit. When you look back at how Humble started, it was maybe one bundle a year. There were these really viral annual promotions which ramped to one a week. We've grown that business to include other verticals: books, other software, our own storefront. We think publishing will supplement, or maybe augment is the better word, those product verticals. How quickly it grows depends on how quickly we publish these games and how well they do."
Polson says there's room for other types of collaboration within the company as well, hinting at a potential for physical special editions and other merchandising further down the line, but makes clear that a publishing deal with Humble doesn't mean compulsory participation in a Bundle or any other part of the company's business.
"None of the other products are mandatory. That's one of the advantages that developers actually have in signing for Humble - we've built all of these products which help to extend a game's lifecycle. Storefront helps sales, the monthly subscription can be a great bump after that initial run of sales, then much later on in life you have the bundles themselves. We can definitely offer all of those products to developers, but they don't have to have them.
"It's really up to the developers which platforms they want to support. The role we play is helping them to get onto those platforms, whether that's by building a relationship with those platforms, or whether it's finding dev kits or porting teams for them"
"I think there's a bit of a misconception that these products will only be sold on the Humble platform, but they're at least coming to Steam. HackyZack is coming to Xbox One, too. It's really up to the developers which platforms they want to support. The role we play is helping them to get onto those platforms, whether that's by building a relationship with those platforms, most of whom we've done promotions with already, or whether it's finding dev kits or porting teams for them. We're also footing the bill for QA to make sure they meet certification, funding localisation requirements, you name it.
"It's an a la carte publisher. Let the developer decide what they want to do with the game and if they want our feedback we can explore those options and help them out financially and technically."
Polson himself comes with impeccable credentials and a deep book of contacts. Previously a freelance journalist and EiC of IndieGames.com, he also worked in biz dev for Indiefund and co-founded both the hugely popular Media Indie Exchange event during GDC and the show's celebration of alternative control methods alt.ctrl.GDC. His background and reputation are already showing their worth.
"I tapped into my journalism background," he says. "I just hit the ground and cold called, or at least the email equivalent, reaching out to every developer personally. I'd seen a lot of these concepts along the way, so I was asking what their development status was and asking if they needed assistance, giving them the spiel about what we wanted to do.
"We managed to keep that under wraps for the last month or two. It was all under a friend-DA, we didn't ask them to sign anything - it was a mutual benefit to wait until we had a strong family of games to present before we announced anything."
Running demos in the office last week were four teams: Spaceboy Games with HackyZack, a hardcore platformer with a speed-running focus where players must guide a ball to an endzone under increasing environmental pressure; Chevy Ray Johnston's Ikenfell, a beautiful 8-bit styled RPG about a missing girl at a magical college; cutesy Dutch village-farming sim Staxel, which promises voxel chickens and endless agricultural customisation; and Keyboard Sports, a frenetic game which turns the entire keyboard into a touch-screen like controller, forcing your brain to fight against years of WASD training and occasionally use no-no keys to play a game.
"We're not talking about the specifics of deals because there isn't a standard deal. The scope of the games and the needs of the developers is pretty wide ranging"
They're all suitably charming in their own way, and do a good of representing the core ethos of the publisher's tastes without creating a restrictive creative checklist. Polson says the eventual slate is going to be even more varied and makes clear that there's no one deal fits all solution on the table, each contract is custom-made.
"There are a couple of games which you haven't played yet which are going to be longer form. There's a 10 hour plus first-person survival horror game which I think will really satisfy those folks that enjoy that - not many games have been coming out in that genre. Resident Evil 7 has been reinventing AAA survival horror and I think this game will satiate them even more. No Truce With the Furies is a 25-30 hour isometric RPG which has a lot of tabletop roots. So you're going to see games with a much larger scope coming from us.
"We're not talking about the specifics of deals because there isn't a standard deal. The scope of the games and the needs of the developers is pretty wide ranging. We're making deals which are very developer specific. We thought about going down the indie fund route and putting it all out there, saying 'terms are: X', but I think that's actually pretty detrimental to what we're trying to do. Some of the games would always fall outside of that cookie cutter pattern.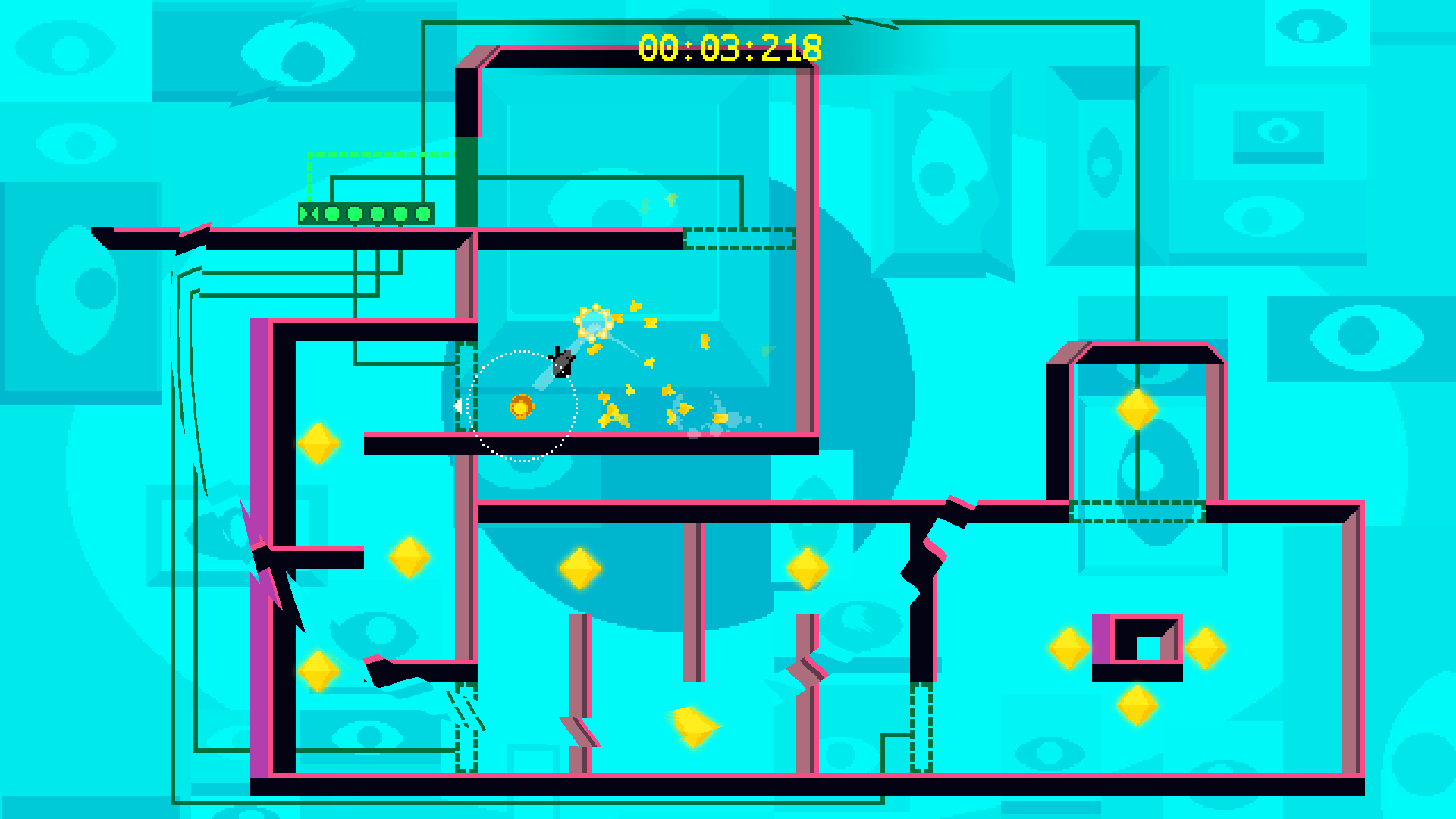 "When you tell developers there's a certain amount of money you can give them, they tend to shape the project around that amount of money. We'd rather help developers get the money they need."
None of the current teams are local, hailing from various places across North America and Europe, and Polson expects future signings to be just as global. Overly close supervision isn't a big part of the publishing manifesto for Humble, but it's happy that its teams are going to be self-motivated enough to see things through.
"From our preliminary talks with developers, they're a little milestone averse. We're not forcing them to release at any specific date. We have a pretty sizable portfolio already we'll be able to communicate with other developers if there's a crowded launch date or something.
"At this stage, though, most of the games we've played are far enough along in their development that I don't think we're worried they'll become vapourware."
Lastly, we talk a little about the changing nature of Steam, and Valve's recent news that it was planning on ditching the Greenlight programme in favour of the as-yet-undetailed Direct. Given that the only thing we're really sure about is that it's going to cost more, Polson feels that supporting developers through the process is going to fall under a publisher's remit.
"We definitely applaud Steam for recognising that a lot of people were unhappy with Greenlight and trying to propose an alternative, but since the exact framework of Steam Direct hasn't been laid out, we don't know what they're charging. We do know that if those numbers are substantially higher than Greenlight, then that's all the more reason for someone like us to step in and help out. I think it's a service which other publishers will need to offer."
Are you an indie looking for a publisher? Or a company looking to discover the next generation of indie talent? We are matching indies with the industry at EGX Rezzed on March 30th. For more information, contact us here.