The Legend of Zelda: Skyward Sword | Critical Consensus
Nintendo's remaster receives positive reactions, but critics say controls can make for a somewhat awkward experience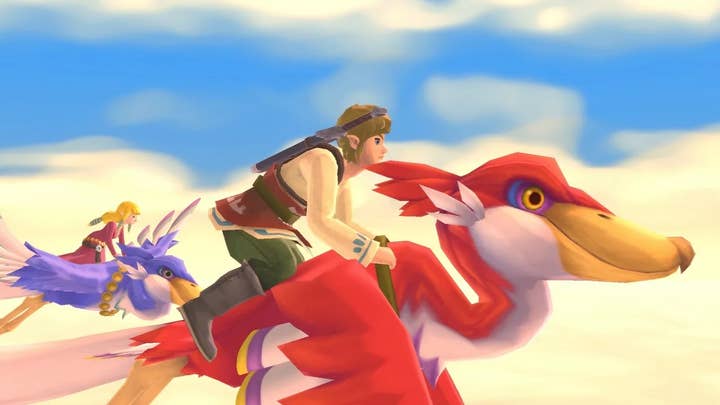 Friday marks the release of The Legend of Zelda: Skyward Sword HD for the Nintendo Switch, a remaster of the Nintendo Wii title previously released in 2011.
Skyward Swords sees series hero Link traverse through the skies on an adventure to save Zelda and defend the world from evil.
The critical response has been positive so far. As it stands, Skyward Sword has a Metacritic average of 82%, or generally favorable reviews.
"While even an excellent remaster such as this can't make Skyward Sword a perfect Zelda game, this is such a drastically improved version of one of the most overlooked entries in the series, and Switch owners simply mustn't overlook it a second time around", said VGC's Chris Scullion in his 5/5 review.
"There are moments in this game that stand up among some of the best in Zelda history."

Chris Scullion, VGC
Christian Donlan agreed in his recommended review for Eurogamer. "It's clear now that Skyward Sword is straining against its own rules and rituals. That makes it fascinating to play, and it means that this strangest and most compromised of Zeldas is also amongst the most human."
Game Informer's Ben Reeves noted in his 8/10 review, "In some ways, Skyward Sword perfects Ocarina's template, but that formula also feels well-worn and stuffed with unnecessary junk. Despite all the ways Nintendo updated this package, Skyward Sword remains far from my favorite entry in the series, but this is clearly the best way to play this blemished gem."
Despite the praise, a number of critics felt the title's control scheme at times was frustrating especially in the heat of battle.
"The accuracy can occasionally go off, but by simply pointing the Joy-Con towards the screen and pressing the Y button the game immediately recalibrates the controls," said Scullion.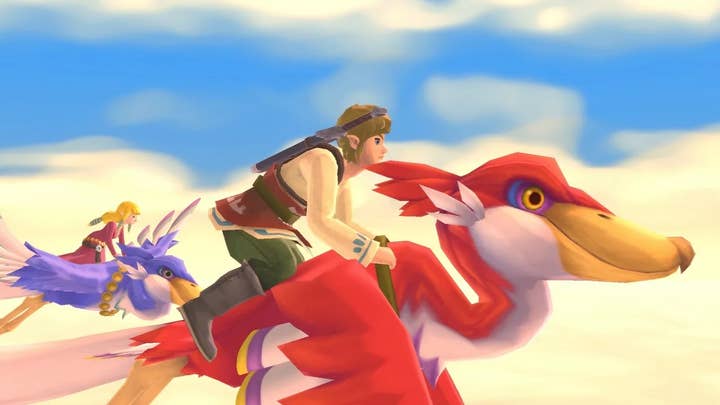 "If that was a surprise of sorts, motion controls were too. Suddenly, I really love them."

Christian Donlan, Eurogamer
Scullion noted that the new controls took a little getting used to, but eventually become second nature and even improve certain sections that were needlessly frustrating in the original version of the game. Cutting down on frustration seemed to be a theme for Scullion.
"The painfully long opening tutorial section has been streamlined significantly and players can choose to skip some lessons altogether (such as combat) if they've played the game before and know what they're doing," Scullion said.
Reeves said that Skyward Sword's shining moments came from conquering the challenges of its dungeons.
"The puzzles in each dungeon feel fresh even today, and each labyrinth invites you to use your ever-expanding toolset in inventive ways," he said. "Whether I was riding over rivers of lava on a giant boulder, using time stones to shift between eras, or swinging over vine-covered caverns like Indiana Jones, I consistently felt like I was on some wild adventure."
"The puzzles in each dungeon feel fresh even today"

Ben Reeves, Game Informer
GameSpot's Kevin Knezevic shared a less enthusiastic opinion of the game in his 7/10 review.
"The various quality-of-life tweaks that Nintendo has implemented here, welcome as they are, don't fix Skyward Sword's biggest issues, and it remains the most uneven 3D entry in the Zelda series," Knezevic said.
"Even so, the improvements in this Switch remaster make the overall experience more enjoyable, and the characteristic Zelda magic ultimately outshines the game's faults."
Critics collectively give the impression that Skyward Sword is a fun adventure of challenging dungeons, engaging boss fights, and interesting locales.
While the game may not feel as polished as some other 3D Zelda titles, longtime series fans and newcomers will find a worthwhile adventure to play.
Scullion concluded, "Skyward Sword HD is a superb remaster of the decade-old Wii game that not only gives it a much-needed visual upgrade but also throws in so many quality of life improvements (not least of all a free camera) that it immediately makes the original version obsolete."