The crazy and costly world of First 4 Figures
How one Facebook group is transforming the fortunes of the company making $600 video game statues
My desk was looking a bit bare.
There were no flourishes. No toys. Certainly nothing to indicate I work in one of the most exciting and ridiculous industries in the world.
The thought occurred to me after seeing an article about a new statue from First 4 Figures -- a company I had never heard of -- and thought this might be just the thing I need to brighten up my workspace.
I clicked through, saw the price, laughed heartily, and left. I don't care how nice it is, $430 + shipping for a statue of Banjo-Kazooie was ludicrous.
Fast forward a few months, and I find myself stumbling upon the First 4 Figures booth at Gamescom. Not only did the high-end hand painted statues on display look impressive (they're called "resins" after the material they are made from), but it also had -- by far -- the longest queue in the vicinity.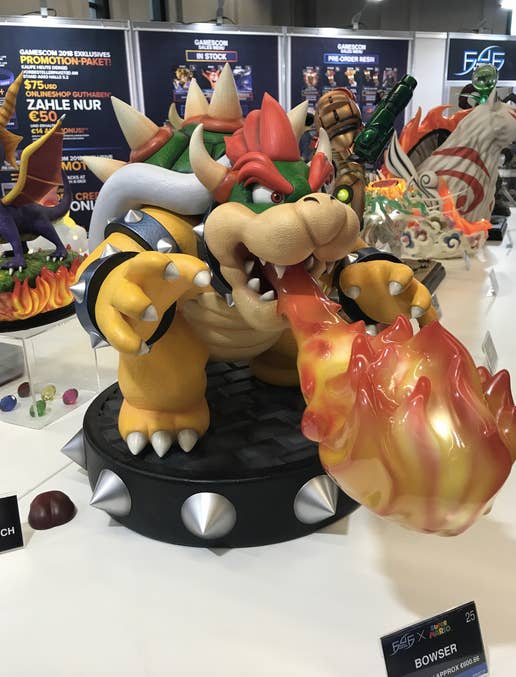 Most of these customers were not buying the $600 statues, but actually the significantly cheaper PVC models of Link from The Legend of Zelda: Breath of the Wild. But they were also taking selfies with the man behind the counter, and cooing at all the models on display. Intrigued, I took a leaflet and joined the First 4 Figures Official Collectors Club on Facebook. And thus, down the rabbit hole I fell.
First 4 Figures was initially created to be a distribution company. "If you're a retailer looking for figures, well then, you go to First 4 Figures," says director and founder Alex Davis. However, the company never went down that path and instead began creating its own statues; initially for WWE, then Hasbro IP such as GI Joe and Transformers, and then, eventually, they were introduced to Nintendo.
That took First 4 Figures into the world of video games, where it has largely remained ever since (they also produce anime products), giving it a unique point of difference over its competitors, which primarily operate in the comic and movie markets.
"It's a world where people will stumble into it and go 'Are you crazy? $400 for an action figure that I can get at Toys R Us for $20?'"
"This industry -- and I'm talking about the resin industry -- really branched out of comic collectors, realising that their medium was a dying thing as it moved into digital media," says Davis. "As a result, collecting comics became harder to do, or people stopped doing it as much.
"Really, the statue industry was born out of comics. You'll see more things like Spider-Man or Batman statues. These statues have a far bigger following than video game stuff. It's almost like a niche of a niche. The vast majority of resin producers are actually making things for comics or films. Not very many people know about us, because collectors who buy these high-end statues are really comic or movie collectors, and not actually video game collectors."
Although First 4 Figures looks like a hideously expensive manufacturer, in the world of high-end statues they're known for being quite reasonable. It's just not something gamers are used to seeing.
"Although we chose our name on the back of being a distributor, interestingly, most of the people who are buying our product are people who do not buy this stuff usually," Davis adds. "They are usually gamers who have maybe bought a few collectors editions, or bought a few low quality PVC statues, and have stumbled upon the world of resin figurines.
"People in the comic space are so much more familiar with these products. The kind of money these things cost, which our clientele find quite a lot... people in that space are used to it. They understand the market, the value-for-money and what it's all about. We constantly feel that we are the ones to educate first-timers about the world of high-end collectibles.
"It's a world where people will stumble into it and go 'Are you crazy? $400 for an action figure that I can get at Toys R Us for $20?' That's how they usually come into this. And then through education, and seeing stuff, and finally investing in their first piece, then receiving their first piece... that's when they become converted."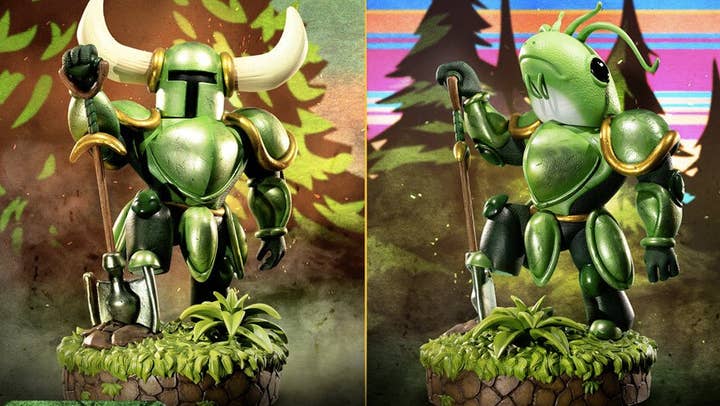 For over a decade, First 4 Figures was a lean operation made up of three employees. Then, four years ago, the team started expanding and now the company boasts 35 staff. And one of the reasons for this growth? Davis points to the launch of the Facebook Official Collectors Club.
"When I first looked at it, I just thought 'What's this shit?' Obviously we had a Facebook page, but I created a Collectors Group on the January 8, 2016. I thought why not? I had seen a few other producers had created one, but at that time it was quite an anomaly. Now, everybody's got one. I stumbled into it. It wasn't because it was a strategy. I had no idea what was going to happen.
"This was a very different feeling, because the typical Facebook page is very one direction. It's very much here is the news that we're giving you. Then, when I opened up that group and I saw so many people joining within that first 24 hours it was kinda strange. I have just been keeping my head down for 15 years, just producing these products and not really understanding how they effect people.
"I can't explain how proud I felt when all these people started publishing their collections. All of a sudden, there are faces to customers who had been, up until that point, numbers on a spreadsheet. It was a two-way conversation. That allowed us to create a product more attuned to what they want. That has been better for us for sales, it's been better for us in community engagement, and it starts creating a sense of a place to be.
"The Collectors Club allowed us to create a product more attuned to what people want. That has been better for sales, community engagement, and creating a sense of a place to be"
"That was something I didn't expect, and I'm really happy, obviously, that we did it. I attribute all our growth to this ability to attract new blood who come into the group, and then the community educates them about what the product is all about. If you've been in the group long enough, then you'll come to understand we have a lot of 'F4F things', where we do things our way. All that needs explaining."
Those "F4F things" are abundant. The company announces new products via videos and livestreams. Customers who pre-order those products within the first week are encouraged to join a livestream one week later where they can "validate" their products and race to get a low number on the statue. There are regular competitions to win First 4 Figures points, both in the livestreams and the Facebook group.
The weekly livestreams are unusual in themselves. Davis and his colleague Tsoek Cheung (affectionately named Chockles, who was hired to help the firm handle all the community engagement that emerged after the launch of the Collectors Club) spend three hours answering questions in an office. The streams also include games, product teases, reviews and other activities. The firm held its 100th weekly livestream over Christmas, with hundreds of fans tuning in and taking part.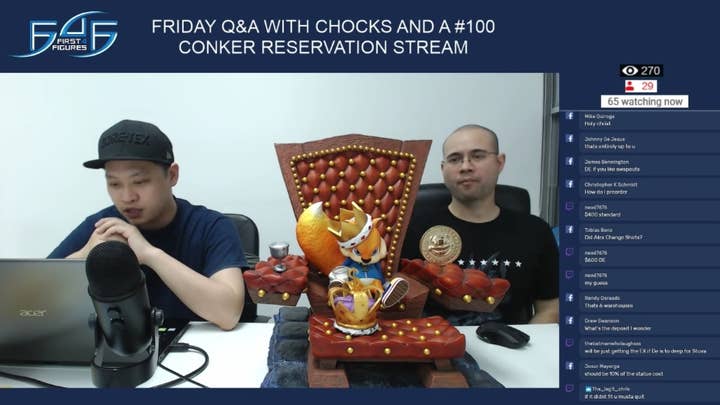 "We did not envisage ourselves doing an episode 100," Cheung says. "It started small and we didn't do any preparation. But then we added some structure into it. Some of our fanbase want certain things, whether it's to play games, or some hardcore information. We do a post on a Thursday asking for questions, and then we answer them in the stream. People want information on a daily or weekly basis. We reassure them we are working on this item. We're not running away with the money. We'll tell them if it's still in approval, or whatever. And we'll let them know who we are working with and who we're talking to.
"If we don't engage with the consumer on a daily basis, then orders would start going down. We'd have more cancellations. We needed to come up with measures to keep in touch with them."
Davis adds: "People don't cancel if you keep them engaged. But also... first time buyers who don't know who we are. 'Who is this First 4 Figures? And they want how much from me? $500 for a Conker statue? Are they crazy? Are they scammers?'
"The fact that we have this group and we are interacting with it, and people are posting their products in it, that will alleviate those fears. People are putting down a deposit before they receive the product. Obviously, if you don't go on a payment plan, we don't take the money until it's ready. But if you're doing a payment plan, people are paying for the product before they even see a final production shot. So you need to have faith that we're a real company and not going to walk off with your money."
This is the challenge that First 4 Figures has always had to battle against. The company is growing rapidly, it is attracting more users and more licences and it's growing its more affordable PVC line. Yet it's still a small business that is largely unheard of in many circles, including within the industry. Even after 15 years, even with official partnerships with the likes of Nintendo, Rare, Bandai Namco, Activision, Capcom and Konami, First 4 F igures is still having to battle against perception at times. Indeed, although they've displayed products at New York Comic Con, MCM and Gamescom, some event organisers don't even entertain a conversation.
"Some think we're a shitty shop trying to sell rubbish at their event," Davis admits. "But we bring legitimacy. This is what I mean when I say I don't think many people know us at all. It's interesting. After all this time, I feel like we're still just getting started."