The Banner Saga composer fined $50,000 by musicians union
Austin Wintory speaks out against AFM's "prohibition" on game composers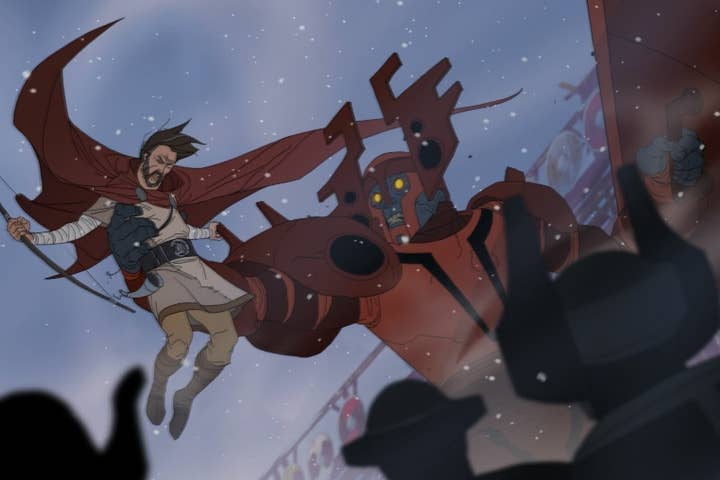 Austin Wintory, the celebrated composer on games like Journey and Monaco, has been threatened with a $50,000 fine by the American Federation of Musicians (AFM) for his work on The Banner Saga.
According to a video recorded by Wintory, his fine is symptomatic of a much larger issue facing any AFM member attempting to work in the games industry.
It all stems from a contract drawn up by the AFM and enacted by its executive board in December 2012: The AFM Video Game / Interactive Media Agreement, which was intended to be a standard document to be used by AFM members, but was ultimately rejected by, in Wintory's words, "every single game developer and publisher and has gone totally unused ever since."
The objection from the perspective of the game companies seems to be rooted in IP ownership. According to a report from Variety, the new version of the contract favoured the composer in terms of music rights, to a degree that the games industry was not willing to accept.
Wintory makes it clear that AFM's 90,000 members were not given an opportunity to vote on the agreement before it was passed, and yet it has effectively forbidden them from working in the games industry ever since it was enacted.
"The net result is that, for almost two years, there have been no new video game soundtrack recordings," he said, apparently without exaggeration. "There is no end in sight to the prohibition of this work."
Wintory was much in demand as a composer following his work on Flow, Monaco and Journey, and he chose to ignore the agreement to create the score for Stoic's widely praised The Banner Saga. Days before the game was released in January this year, Wintory received a letter from the AFM threatening to levy a fine for between $10 and $50,000 for working outside of the union.
"It is specifically because the union has failed to produce an agreement that the developers or publishers of this or any other game has been willing to sign," he said in the video, also claiming that he has been "specifically targeted" over his will to publicly criticise the AFM's management and practices.
"It seems that they are trying to make an example out of me," Wintory continued. "I refuse to live in fear, and I especially refuse to live in fear of my own union.... But this isn't about me. This is about what's right.
"We can't let this art form be ignored, or worse, trampled on by a small panel of people that have probably never even held a controller or sat at a computer and played a game, and are completely out of touch with its community and the amazing people who are making them."
Wintory has sought legal counsel on the matter. We have contacted the American Federation of Musicians for comment.