The 160 year old social gaming company
Updating the traditional board game, Dutch style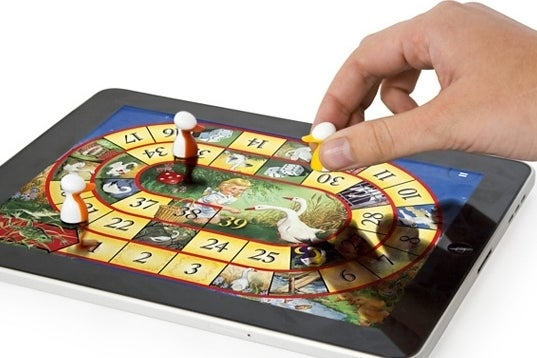 Royal Jumbo, a 160 year old board game company based in The Netherlands has explained how it decided to take on the threat of social gaming on its own turf, the iPad.
"We're one of the oldest social gaming companies in the world," said the company's online manager Michiel Rademakers at the Festival Of Games in Amsterdam this afternoon. Best known for traditional, physical board games like Wasgij? and Stratego the company recently released the iPawn range of games that combine physical game pieces with a free iPad app. Think Skylanders meets Ludo.
During his talk he pointed out that both social gaming online and the new habit of families playing games together, but on separate screens like their iPad, threatened Royal Jumbo's bread and butter business - the traditional scene of a family or friends sat around a table playing a physical board game.
"We came up with the concept of iPawn, the combination of physical pieces with digital game board of the iPad and that became a huge success, and the main reason for the success was the social interaction, doing what we were already use to, bringing people together around the table."
They partnered with Fonk, an Amsterdam based developer that has also created apps for advertising companies and big corporations like ING.
"Maybe the biggest challenge was Apple," said Fonk's Dirk Schluter.
"We had no idea what Apple would think about it. So you try to get in touch... it's very hard to get into that field and to know what they think, and that resulted in some very anxious moments."
Eventually though the idea was approved, and the virtual boards, and the games appeared on the store.
The eight iPawn titles, which include air hockey, Ludo, a fishing game and licensed titles like Peppa Pig have to date sold over 300,000 sets, seen over 1 million downloads of the free apps and have opened up a successful and new revenue stream for the company.
"It was a boost for our image, from being a grandmother, great grandmother company suddenly we're very innovative, and companies were approaching us for all kinds of projects," said Rademakers.
And the future? Rademakers pointed to games like Skylanders as proof that the combination of physical and digital was a growth market, but admitted that the "appcessories" market had suffered a little when customer found a lack of value in some of the first wave of products. Still, he added, the area is still seeing huge investment from companies like Fisher Price, and Royal Jumbo.
"And babies grow up now with touch devices," he explained.
"In a recent article in The Netherlands, 67 per cent of the households already own a tablet, and one out of three babies play on that tablet. For toddlers it 50 per cent. We think there's a need for appcessories with a good value."
The company is now updating another old model, with app based card games for families to play together.