Taking on Madden as an option instead of a Hail Mary
Solo developer David Winter is building a business with simulation football games catering to audiences unserved by EA's juggernaut
Almost 20 years ago, David Winter was spending his spare time making Pro QB, a Canadian rules football simulation.
"I always had an interest in football," Winter explained to GamesIndustry.biz this week. "I grew up in Western Canada, and you grew up on the sport [there]. All of the football titles on the market at the time were American football with four downs. I grew up on three-down football so my goal was to build a game that I was interested in."
By his own admission, it was a rudimentary game, but it was something that didn't exist in a market dominated by Electronic Arts' Madden series and (at the time) a handful of other NFL-licensed titles. So he sent a copy of the game and a letter to the licensing director of the Canadian Football League, suggesting that they could perhaps put their branding on it and give it away for free.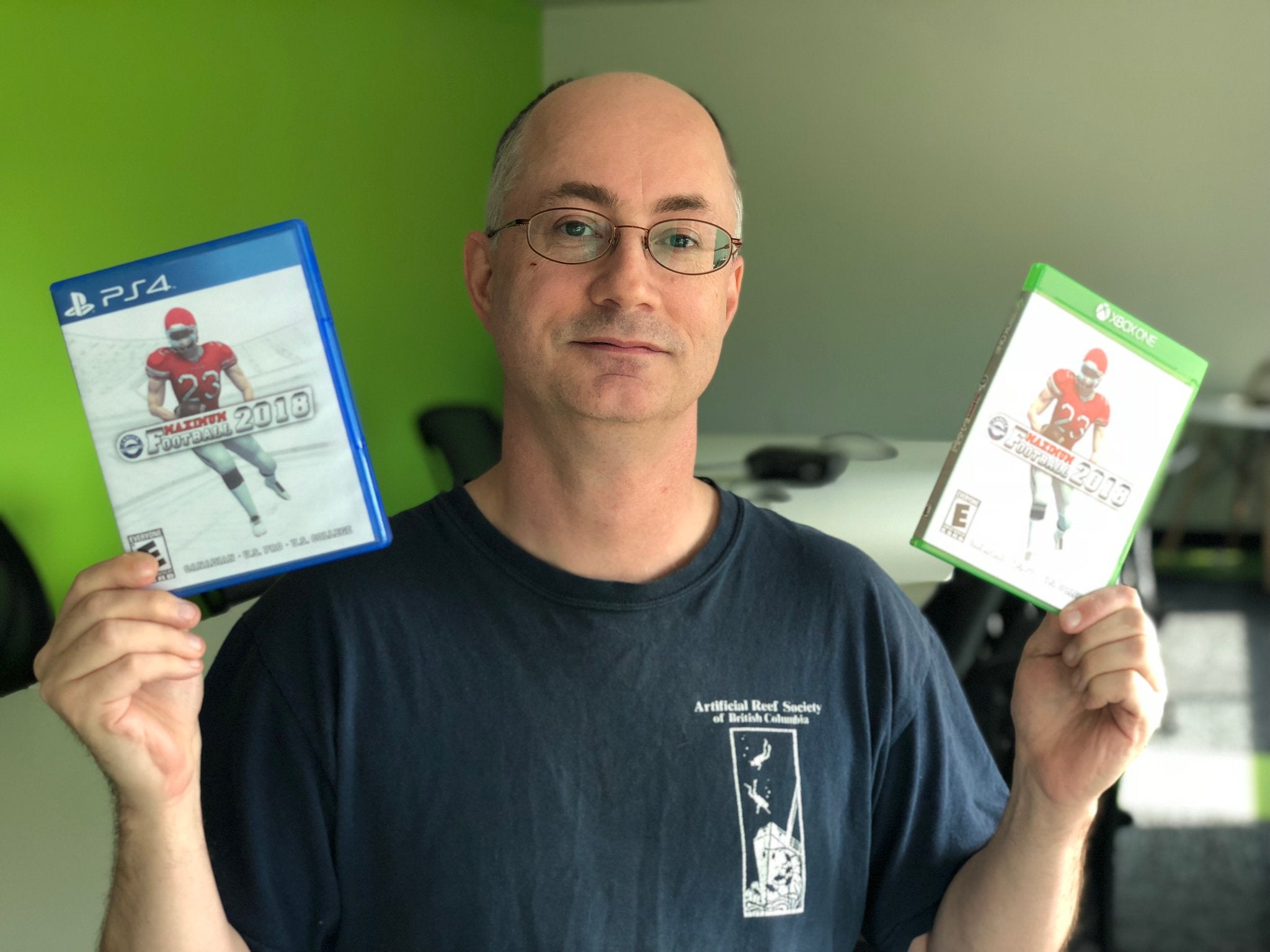 "Next thing I knew, there was a licensing deal in place and I was putting the official logos and some of the players into the game," Winter said. "That kind of sprung up on me as a little bit more than what I'd started with."
The resulting game, CFL 99, would not become the league's equivalent of the annualized Madden franchise, and Winter actually went to work for EA as a producer and designer of online feature sets for EA Sports titles, Madden included. After a couple stops at other Canadian studios, he moved to Peterborough, Ontario with his partner after she suggested he start up his own studio and go back into making games for himself.
That studio, Canuck Play, was founded in 2013 and soon signed a development and publishing agreement with Microsoft to release its first game on Xbox One. With the assistance of Peterborough's Innovation Cluster incubator for start-ups, Winter lined up some financing to produce another official CFL game. Unfortunately, the league was not interested in Winter's vision for the game.
"There definitely seems to be a market large enough for people looking for that Canadian, three-down experience that Madden will never deliver on"
"What they are looking for is something very different from what I think the fans are looking for," he said. "The CFL is looking for a game that targets an extremely young audience. They're not interested in anything close to simulation football. Their concern is not whether or not [a game] uses the real rules. And they're also looking for a development budget that is beyond what their brand could support. So it just didn't work out."
The CFL went on to produce a free-to-play mobile game for the 8-14-year-old demographic, while Winter instead turned Canuck Play's debut project into the unlicensed Canadian Football 2017. Winter brought on a 3D artist to create the game's player models, but said the game was essentially a solo project beyond that. One of the first things Canuck Play had invested in was a motion capture system, and Winter worked with a local junior football team to bring in players and capture their movements. Beyond that, catching animations use inverse kinematics to line up the arms and hands with the ball, and tackles are physics-based from the point of contact.
Winter didn't have the resources or the licenses of the Madden series, but he was certain the audience for a Canadian football game was large enough--and underserved enough--to support an effort with such a modest development budget. Fortunately, he was right.
"There definitely seems to be a market large enough for people looking for that Canadian, three-down experience that Madden will never deliver on," Winter said. "Not only do they not have the will to do that in the studios, but they couldn't do it anyway with their current licensing. So the idea was Canuck Play is a small studio. We can create a smaller budget title and get it out on the market, start that growth at the ground floor. If there's enough of a market, we can keep building and building and go from there."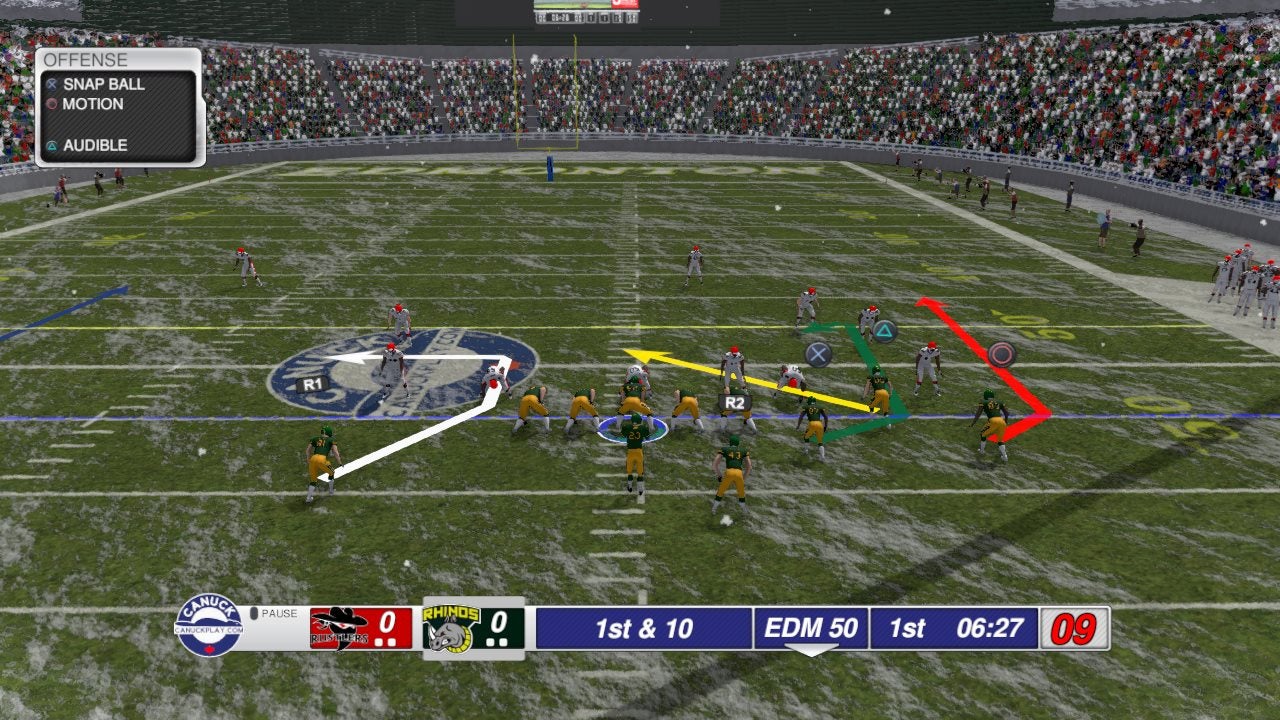 "We did actually quite well for a Canadian-rules-only football title on basically one console. It allowed me to put a lot of money back into the project and hire some contract developers, expand what it offered, get onto new platforms and things like that. Without a license, we had to take a big step back and re-evaluate and re-think how we wanted to approach things, but that plan seems to have worked out."
One thing working in Winter's favor was the attention of the Canadian mainstream media. The CBC, National Post, and Toronto Sun all covered the arrival of the unlicensed game, and local media and radio were similarly enthusiastic to cover a rare digital treatment of a national pastime.
"[Canadian Football 2017 PC players] are very hardcore and very vocal, but in terms of numbers, they're very much the minority"
"It all helps to get the word out when you don't have a large budget for marketing," Winter said. "When your game is front and center in a nationwide newspaper, that's marketing money can't buy. So that support and interest from various media sources helped tremendously."
While the game launched on the Xbox One and Steam, Winter said sales were heavily weighted to Microsoft's console. Steam has proven a lucrative storefront for a number of niche titles with hardcore audiences, but it turns out for Canadian rules football, that crowd is apparently console only.
"That's just the demographic. It's just where they play their games," Winter said. "There's a hardcore group that do play on the PC, and their focus is game-modding, changing the textures and things like that. They are very hardcore and very vocal, but in terms of numbers, they're very much the minority."
With one success under his belt, Winter began work on an annualized sequel to Canadian Football 2017: Maximum Football 2018. The game still includes Canadian rules football, but it also has American and Collegiate rulesets as well, so fans of the CFL, NFL, or NCAA can all jump in and play through a season in whichever version of the game they prefer. Players can still customize league teams and rosters for a more authentic experience, but the game has no way to share such rosters due to legal concerns. Some dedicated fans of Canadian Football 2017 put together mods for the PC version to help share authentic logos and rosters with one another, but that's not an option for Maximum Football 2018 just yet; so far, it's exclusive to the Xbox One and PlayStation 4."
"For the size of the group we are, two platforms at a time is the limit for our bandwidth," Winter said. "So we're focused right now on the consoles and we're looking toward doing something PC-related at the end of the year."
Like Canadian Football 2017, Maximum Football 2018 looks to benefit from a segment of football-loving gamers who simply don't enjoy what Madden has to offer and are hungry for other options.
"I think they're also getting very frustrated with the issues that have plagued that title for a long time," Winter said. "Relative to Canuck Play, [EA] has an unlimited budget, and yet there are still thousands of hours worth of glitch videos on YouTube. I think [players] have become a little frustrated with that. This is by no means a perfect game; we know we're striving to make improvements, but I could understand why [Madden players] would be frustrated given the resources EA has."
Naturally, the move to a broader audience also calls for a broader marketing strategy.
"When I was doing Canadian Football last year, the marketing was very much targeted to the Canadian audience," Winter explained. "Now that the game supports rule sets common down south, we've started to address that from a marketing perspective and have reached out to different people who would be interested in doing streaming and viral campaign and that sort of thing."
Winter has also enlisted Spear Interactive to help publish the game. Overall, Winter believes Maximum Football 2018 is getting the same amount of coverage as its predecessor, just through different outlets and channels. Things have gone well enough that Canuck Play has set aside some money to expand the development team beyond Winter, but it's clear the company wants to grow at a measured, sustainable pace.
"We're much smaller, so we can be profitable with far fewer units sold," Winter said. "It gives us an opportunity to start on the ground floor and grow. As we grow and get more people's attention, people will understand and realize we're not EA, we don't have an NFL license, but we're working to give them something they've been asking for for a long time. We're getting more of those people on board and they're supporting the project, and that's really how you have to do it. You have to grow it organically. Without a big license from a league or players' association to make a big splash, you have to go about it in baby steps, and that's what we've been doing."