Take-Two CEO: "It's a matter of time before the business is entirely digital"
Strauss Zelnick offers thoughts on digital distribution as Q1 financials show hefty digital share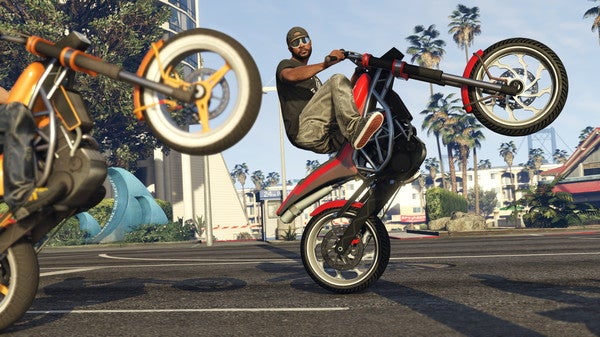 As gaming companies report their earnings results for the quarter ending June 30, 2020, the influence of COVID-19 lockdowns is unsurprisingly manifesting in a lot more time playing video games, a lot more money spent on them, and most of that being done digitally. So it also goes for Take-Two Interactive.
The publisher has reported its earnings for Q1 of fiscal 2021 with a slew of new records across its catalog, including a record first-quarter net bookings of $996.2 million -- up 136% year-over-year.
Net revenue for the quarter reached $831 million, and net income was at $90.4 million.
Digital and recurrent largely drove sales this quarter, as recurrent consumer spending was up 127% year-over-year and accounted for 65% of total net bookings, and digitally delivered net bookings were up 139% to $915 million -- 92% of total net bookings.
Speaking to Take-Two CEO Strauss Zelnick ahead of the release of the results, I asked Zelnick if he anticipated the trend in rising digital shares to continue into the next console generation, or if there would eventually be a stopping and settling point of sorts in the digital to physical ratio.
"Look, our quarter's a little bit skewed, because catalog was 92% of our business, and obviously catalog skews heavily toward digital distribution, so 92% of our net bookings in the quarter were digitally-delivered. That's a pretty high number.
"I actually don't think there's an irreducible minimum of physical distribution. I think it depends on consumer behavior. And I've made no secret of my belief that over time, this is a digitally-delivered business. But right now, physical distribution is still a very important part of the business, and physical retailers are our partners and we see them as very important industry partners.
"But over time, I think if you look at every other entertainment medium, it's a matter of time before the business is entirely digital."
Unsurprisingly, one of the main drivers of Take-Two's revenue in Q1 was NBA 2K20, which has hit $1 billion in net bookings since its August 2019 launch, and has now sold over 14 million units.
Thanks to NBA 2K20, the NBA 2K series saw recurrent consumer spending up 126% year-over-year in Q1, and Take-Two expects 2K20's lifetime unit sales, recurrent consumer spending, and net bookings all to be the highest ever for a 2K sports title.
Another major contributor, Grand Theft Auto 5, has sold nearly 135 million units, with sales bolstered significantly by its free week on the Epic Games Store earlier in the quarter, which Zelnick explained was simply a matter of the free weekend "increasing the size of the audience."
In fact, the game sold through more units in Q1 than any first quarter since the game's 2013 launch, and in the six weeks following its week on the Epic Games Store, it sold more units than in the same period in any previous year.
Furthermore, Grand Theft Auto Online saw recurrent consumer spending up 155% to a new record, and Q1 was the second-best period ever for new player acquisition since the 2012 launch -- again likely helped by the free week.
Red Dead Redemption 2 and Red Dead Online also contributed significantly to the publisher's quarter, with Red Dead Redemption 2 selling twice as many units in Q1 of this year as in Q1 of last year, acquiring twice as many users year-over-year, and reaching over 32 million lifetime units sold.
Additionally, Borderlands 3 has sold over 10.5 million units, and Outer Worlds has sold 2.8 million.
Though Take-Two's financials did not include any specifics on Private Division's Disintegration, which launched last quarter, Zelnick responded to my questions about its performance that it had been "a bit disappointing," but added that the label's risk profile was mitigated and pointed toward recent deals to publish games from Moon Studios, League of Geeks, and Roll7 as evidence of the indie publishing label's future capacity for growth and returns.
Take-Two's mobile games also saw milestones, with Social Point's recurrent consumer spending up 54% and reaching a fiscal Q1 record driven by Dragon City and Monster Legends.
WWE Supercard's recurrent consumer spending was also up 54%, and the game has been downloaded over 21 million times.
Take-Two's Q2 outlook is for net bookings ranging from $775 million to $825 million, down from $951 million in Q2 of fiscal 2020 due to last year's release of Borderlands 3 resulting in a higher comparable.
Q2 is expected to see net revenue ranging from $750 million to $800 million, and net income between $98 million and $110 million.
Following the successful Q1, Take-Two is raising its overall 2021 outlook to have net bookings range between $2.8 billion and $2.9 billion, up from $2.55 billion to $2.65 billion.
Additionally, net revenue is expected to range from $2.8 billion to $2.9 billion, up from $2.63 billion to $2.73 billion, and net income between $349 million and $380 million, up from $299 million to $329 million.
Take-Two says this is due to continued elevated engagement and sales from players sheltering at home, which it has included in its second-quarter projections but not factored into Q3 or Q4.
Finally, Take-Two expects digital to represent 87% of its business for the year, which would be up from 82% last year, and assumes that 68% of current-generation console game sales will be delivered digitally, compared to 55% last year.