SuperAwesome network outpacing online virtual worlds
"This new generation of kids is very different. They are going to disrupt a lot of our landscape"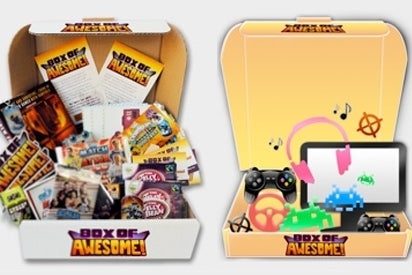 Digital marketing company SuperAwesome now reaches over 13 million unique users every month in the UK - a figure it claims is three times the reach of all online virtual worlds aimed at kids in the region combined, including those of Moshi Monsters, Stardoll and BinWeevils.
While comparing an ad network to browser destinations may be like comparing apples to oranges, there's no denying the appeal of the SuperAwesome products. Box of Awesome and Box of OMG are parcels of goodies sent out to 20,000 boys and girls in the UK, containing stickers, downloads for mobile games, books, science kits, trading cards, collectible figures and more.
There's a commendable balance in the content, where reading, learning and discovery is placed on the same shelf as fun and thrills. And this is marketing delivered directly to a hungry audience that laps up freebies. It's a win-win situation.
"At the start people thought we were crazy," CEO Dylan Collins tells GamesIndustry International. 'A physical product, as well as a digital network?' But we're seeing more and more companies who really appreciate the value of omni-channel.
"With kids so fragmented across web, mobile, tablet, desktop, combined with all the content noise, having a channel which literally puts cool, interesting brands into kids hands is incredibly powerful. We think of it as digital in a box."
Super Awesome is already working with games companies such as Activision, Disney, EA and Nintendo in a bid to reach an audience divided by multiple media, technology, social and mobile channels. "We deliberately built our platform across web and mobile because it reflects the reality of how fragmented this new generation of kids really is," says Collins.
Alongside the Box of Awesome are online trading community SwapIt, mobile ad platform Kids Network and research report YouthScape. While SuperAwesome has 9 million users via the web, its 4 million mobile users is expected to double by the end of the year.
Demand for the Box of Awesome outstrips supply by a large margin - while December will see 20,000 packages delivered around the UK, the community is made up of 200,000 subscribers. "Our primary model is getting as many free boxes to our community as we can. Frankly our biggest challenge is managing demand," offers Collins.
Parents will know that physical toys still hold as much allure as digital games, and those markets have combined to the point where every blister pack figure comes with a download code or free credit to be spent in an online world. So how do those manufacturing physical goods stand out in the digital noise?
"That's a question a lot of our clients are wrestling with right now," says Collins. "The kids market has changed so much in the last couple of years and the simple reality is that marketing, especially for physical, has become a lot harder. You have to be on web and you have to be on mobile and frankly the more interesting and engaging an experience you can create, the more impact you'll have. The best advice is to find the digital experts in that genre and ask them for input as early as you can, even when you're at product design stage."
"We're seeing lots more kids creating games for their own friends, completely cutting out traditional studios"
It's no surprise that mobile and tablets are the channels through which kids are communicating with each other online, leaving behind online virtual worlds that already seem passé. It's an opportunity that's wide open for the right product, according to Collins.
"There's a huge opportunity here, in fact it's already happening - look at titles like My Horse by NaturalMotion," he says. "The next great digital kids brands will come from mobile/tablet but will be hard to predict."
"The current mobile ecosystem was never really designed with kids in mind, although Apple's Kids category is a huge step forward and clear recognition that this is an important sector, so I think it's going to be an interesting few years," he adds.
"Also, I wouldn't rule out the possibility of the next great mobile/tablet brand being developed by a much younger person. We're seeing lots more kids creating games for their own friends, completely cutting out traditional studios."
"This new generation of kids is very different to what we've seen before. They are going to disrupt a lot of our landscape."