Steam paid revenue flat in 2016 despite escalating releases - Steam Spy
More than 5,000 games hit Valve's store last year, but "truly big games" were in shorter supply
Revenue generated by premium games on Steam remained flat in 2016, according to new data from Steam Spy, despite a huge increase in the number of products released.
Steam Spy's annual report indicates that 5,245 new games launched on Steam last year, including 588 in December alone. For 2015, Steam Spy pegged new releases at around 3,000, so the rate of expansion in Steam's catalogue shows no signs of abating.
Just under 370 million paid games were activated, including off-Steam sales, bundles and promotions - the most visible of which Steam Spy accounts for. However, despite the rapid growth of the overall catalogue and the huge number of activations, revenue generated by paid games remained flat based on Steam Spy's numbers for 2015: it was $3.5 billion last year, and it was $3.5 billion this year. That figure excludes free-to-play and DLC revenue, but the same is true for both years.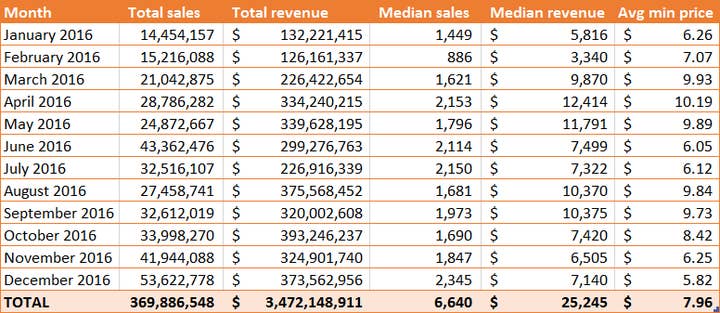 This is a huge figure, of course, but the lack of growth is notable. According to Steam Spy founder Sergey Galyonkin, the likely cause is a lack of "truly big games" compared to 2015 - when Grand Theft Auto V, Fallout 4 and The Witcher 3 all launched - and the drop in performance for Call of Duty: Infinite Warfare relative to Black Ops III. Galyonkin also notes that both Overwatch and Battlefield 1, two of the year's biggest games, weren't on Steam at all.
Valve has already named the biggest Steam games of 2016 based on gross revenue, but it placed them in large groups rather than in a precisely ranked list. Steam Spy has taken a more granular approach, with Firaxis' Civilization VI emerging as the paid game with the highest revenue - $78 million from just over 1.5 million activations - just ahead of Grand Theft Auto V and Counter-Strike: GO. The indie title with the most revenue in 2016 was Hello Games' divisive No Man's Sky.
In terms of activations, though, the clear winner was Counter-Strike: GO, which attracted more than 6.7 million new owners.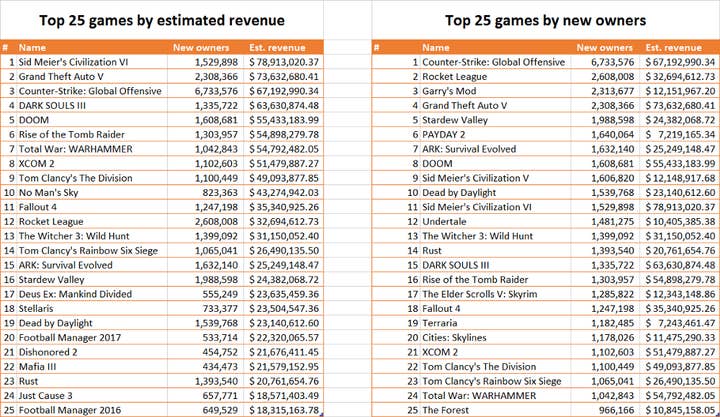 For those not familiar with Steam Spy's methods, we'll include Galyonkin's own disclaimer here: "The following data was gathered using Steam Spy service. Steam Spy estimates ownership of games on Steam using statistical analysis and is not 100% accurate!"