Steam demands full disclosure on paid content from Curators
Valve irons out the creases in its new Discovery Update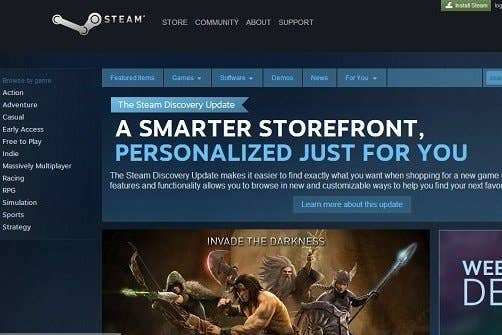 Valve has altered Steam's terms and conditions to safeguard its users against paid content in its new curation initiative.
The Steam Discovery Update was launched less than a fortnight ago. Among other features, it allowed Steam's users to become "Curators," with unique landing pages full of hand-picked games and recommendations.
Like any new idea on a retail platform of Steam's size - 100 million registered users and counting - this new approach to discovery for an increasingly crowded marketplace is bound to need a little refinement. First up, paid content, and Steam's T&Cs now demand full disclosure from any Curator who wishes to add some to their page.
The third point under the question "Are there rules for Steam Curators?" now reads: ""If you've accepted money or other compensation for making a product review or for posting a recommendation, you must disclose this fact in your recommendation."
This change has arrived at exactly the same time as Twitch's decision to take a similar stance on paid content, but there is no reason to think that Valve is simply following the leader.
The games press has weathered accusations of exchanging published opinion for money or other forms of compensation many times in the past. However, the rise of YouTubers has once again caused concern about the relationship between tastemakers and the companies that make the products they are trusted to review.
Our very own Rob Fahey explored the issue in an editorial, which is well worth your time.