Star Wars becomes UK's first #1 Kinect title
Licence boots platform exclusive to top spot despite poor reviews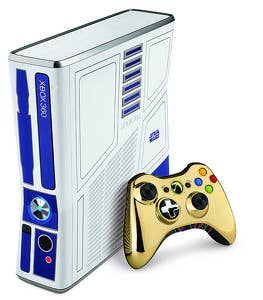 Star Wars Kinect has become the first Kinect exclusive to top the UK all format chart, heading up a top five otherwise dominated by Electronic Arts.
The title, with a 55 per cent Metacritic rating, was available with a special R2-D2 themed Xbox 360 and Kinect bundle as well as a solus version. The LucasArts game knocks three week champion FIFA Street from the top spot, above Mass Effect 3, FIFA 12, and Tiger Woods PGA Tour 13.
CoD 3 occupies sixth place before EA lands another blow at seventh with SSX. Mario and Sonic at the London Olympics, Battlefield 3 and Skyrim complete the top ten. Capcom's Devil May Cry HD collection only manages 18th on its debut.
| Last Week | This Week | Title |
| --- | --- | --- |
| 1 | 1 | Star Wars Kinect |
| 1 | 2 | FIFA Street |
| 2 | 3 | Mass Effect 3 |
| 5 | 4 | FIFA 12 |
| 3 | 5 | Tiger Woods PGA Tour 13 |
| 7 | 6 | Call Of Duty: Modern Warfare 3 |
| 10 | 7 | SSX |
| 9 | 8 | Mario & Sonic London 2012 Olympic Games |
| 8 | 9 | Battlefield 3 |
| 11 | 10 | Skyrim |
| 13 | 11 | Saints Row: The Third |
| Re-entry | 12 | Skylanders: Spyro's Adventure |
| Re-Entry | 13 | Moshi Monsters: Moshling Zoo |
| Re-Entry | 14 | mario Party 9 |
| 19 | 15 | Batman: Arkham City |
| 16 | 16 | Assassin's Creed: Revelations |
| Re-Entry | 17 | Just Dance 3 |
| New Entry | 18 | Devil May Cry HD Collection |
| Re-entry | 19 | LEGO Harry Potter Years 5-7 |
| Re-Entry | 20 | Street Fighter X Tekken |