Ubisoft outshone Sony with its most assured E3 performance to-date
Full of risk, invention and blockbusters
This article was first published in our E3 daily briefing email. If you want to sign up to it, click here
Yesterday was supposed to be all about PlayStation.
The platform holder delivered a short, quick-fire conference, featuring a vast array of games we mostly knew about (aside from a Shadow of the Colossus remake and a nice array of new VR games), and the majority of which are not arriving until some point in 2018. Indeed, PlayStation will be relying on third parties once again this Christmas - with Activision its biggest ally.
As a result, Microsoft will be feeling confident. It'll know Xbox One X has a stronger chance of success this Q4 due to Sony's relative absence (at least in terms of exclusives). But this is still PlayStation's generation, and with a 2018 release slate as strong as the one we saw last night, Sony shouldn't feel it needs to counter every move Microsoft is making.
Monday was supposed to be all about PlayStation, but in ended up being a day to savor for Ubisoft.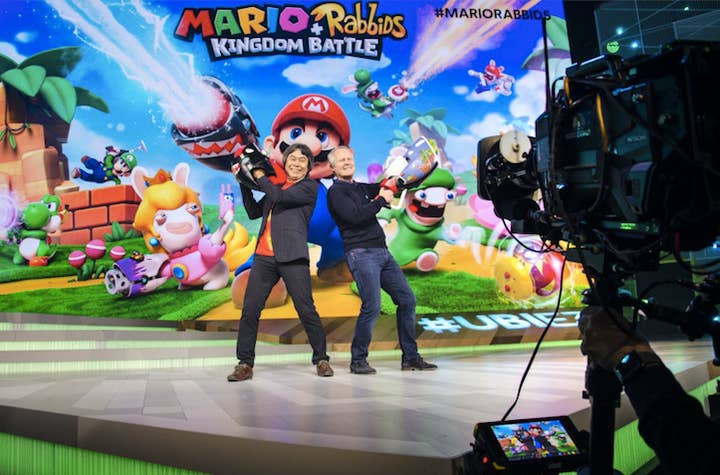 This was the publisher's most assured, confident and consistently surprising E3 showcase. It was also vintage Ubisoft, mixing huge established brands (Far Cry 5, The Crew 2 and Assassin's Creed: Origins), with ambitious new IP (Skull and Bones), and returning fan favourites (Beyond Good and Evil 2).
"Ubisoft doesn't care if toys-to-life is dead, or if VR isn't profitable, or if Beyond Good and Evil 2 is a sequel to a 14 year-old game that nobody bought"
It also highlighted Ubisoft's strength in depth, because it was able to deliver such a strong showcase without Watch Dogs, or The Division, or Splinter Cell, or Rainbow Six.
Yet it wasn't just the shiny blockbusters that won the day for Ubisoft, but all the nonsense that went along with it. Like that bizarre VR psychological thriller co-created by Elijah Wood's production company. Or the spaceship toys-to-life game from the makers of Splinter Cell: Blacklist. Or the South Park mobile game.
And although it had been thoroughly spoiled online weeks before, that Mario + Rabbids: Kingdom Battles Switch game, which was announced on stage by a gun-wielding Shigeru Miyamoto, was as bonkers as we all thought it would be (albeit much better than some had feared).
E3 is a place where Ubisoft's uniqueness really shines through. Some of those games might prove disappointing (some may not even come out at all), but the company is openly fearless in its approach to creativity. It doesn't care if toys-to-life is dead, or if VR isn't profitable, or if Beyond Good and Evil 2 is a sequel to a 14 year-old game that nobody bought. It is happy to take gamble after gamble, knowing it has plenty of lucrative blockbuster brands to give its teams the creative freedom they crave.
Would this risky approach continue if Vivendi got its way and took control of the publisher from Yves Guillemot and his brothers? It seems unlikely. Yves is the heart of this strange, flawed but often brilliant business. The heartfelt thanks from [Beyond Good and Evil creator] Michel Ancel at the end of yesterday's conference spoke of the company's persistent love and respect for its CEO. Yves Guillemot is Ubisoft.
Hopefully the firm's investors were watching.