Sniper Elite conquers the UK charts for Rebellion
Mortal Kombat tops Vita charts but fails to crack the all-formats top 20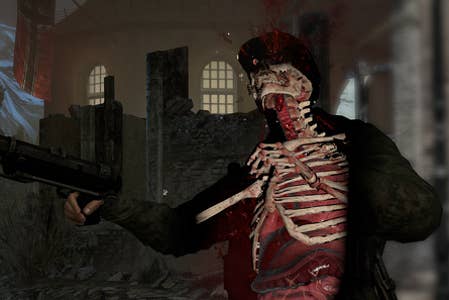 Sniper Elite V2 has unseated Prototype 2 to enter the all-formats UK software chart at number one.
Rebellion's follow-up to its own 2005 game has proved to be a sleeper hit following the release of a strong demo through console online services. The game's Xbox version the most popular, taking nearly 60 per cent of total sales.
Otherwise, it was another quiet week for UK releases, with Mortal Kombat on PS Vita the only other new entry in the top 40.
However, while Mortal Kombat was the number one game on Sony's new handheld, it didn't move enough units to break the overall top 20.
The full chart is below. All data is courtesy of Gfk Chart-Track.
| Last Week | This Week | Title |
| --- | --- | --- |
| New entry | 1 | Sniper Elite V2 |
| 1 | 2 | Prototype 2 |
| 3 | 3 | FIFA 12 |
| 2 | 4 | FIFA Street |
| 4 | 5 | Mass Effect 3 |
| 7 | 6 | Tiger Woods PGA Tour 13 |
| 5 | 7 | Kinect Star Wars |
| 9 | 8 | Mario & Sonic London 2012 Olympic Games |
| 9 | 9 | Battlefield 3 |
| 14 | 10 | Call of Duty: Modern Warfare 3 |
| 11 | 11 | Batman: Arkham City |
| 13 | 12 | The Elder Scrolls V: Skyrim |
| 10 | 13 | Saints Row: The Third |
| 12 | 14 | Skylanders: Spyro's Adventure |
| N/A | 15 | Assassin's Creed: Revelations |
| 6 | 16 | The Witcher 2: Assassins of Kings: Enhanced Edition |
| 15 | 17 | SSX |
| 16 | 18 | Moshi Monsters: Moshling Zoo |
| N/A | 19 | Gran Turismo 5 |
| 17 | 20 | UFC Undisputed 3 |