Sensor Tower: Fortnite on iOS earns $300m in 200 days
$20m of the total was earned in the past week after the launch of Season 6
Fortnite continues to be a monster of a money-maker across all its platforms, with its latest milestone of note on iOS. Since the game's beta launched on March 15, the game has brought in $300 million in revenue on that platform alone.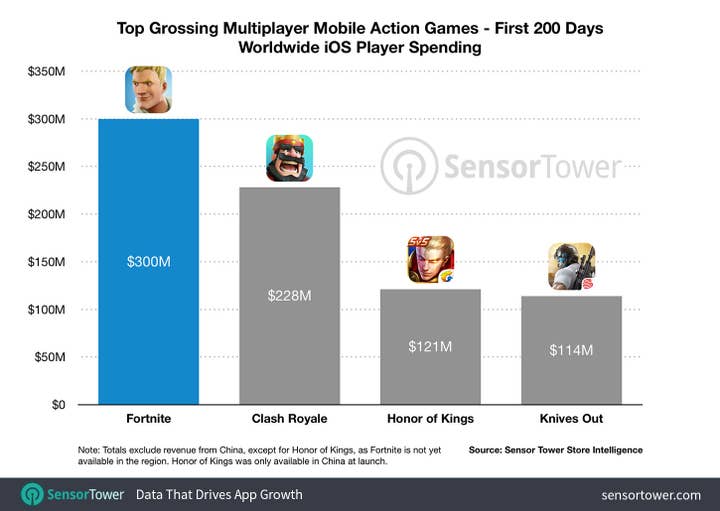 This Sensor Tower report is an exponential jump from the last, which showed the game bringing in $100 million in its first 90 days. Given that some of that initial 90-day window was given over to an invite-only beta, the influx of more players for the full release likely contributed to the doubling of revenue in nearly the same time period.
The milestone is also an impressive one compared to other popular games over the same length of time from launch. While Fortnite's first 90 days on iOS wasn't able to reach the heights of Clash Royale in the same time, in 200 days, it's surpassed the game's revenue over the same period. For comparison, Pokemon Go is still the fastest game to reach $300 million on iOS, having gotten there in 113 days.
65% of the total 200-day revenue from Fortnite comes from US users. Worldwide, users have spend an average of $1.5 million per day on the iOS version of the game, and $2.5 million per day since the launch of season 6 last week. Total, the game has brought in $20 million on iOS since that launch as players purchased Battle Passes for the new season.
In addition, Sensor Tower estimates Fortnite has brought in over $60 million on Android since its beta began on August 9.