Fortnite hits $100m revenue in its first 90 days on iOS
Meanwhile, PUBG on iOS has grossed just $5.2 million in 60 days
Just 90 days after arriving on iOS, Fortnite generated $100 million in revenue, earning 335 per cent more than its closest battle royale rival on the platform, Knives Out.
Hitting $25 million revenue in its first month, and $50 million after 45 days, user spend has shown no signs of slowing down since the game went live on iOS in March, according to the latest report from mobile intelligence firm Sensor Tower.
In comparison, Tencent's wildly popular Honor of Kings -- known as Arena of Valor in the West -- earned only $33 million during its first 90 days on iOS, and took 179 days total to reach $100 million revenue.
Of course, it's worth noting that Honor of Kings was available only in China during that period, whereas Fortnite has yet to arrive in the region, but a deal is in place for Tencent to publish the game there on iOS.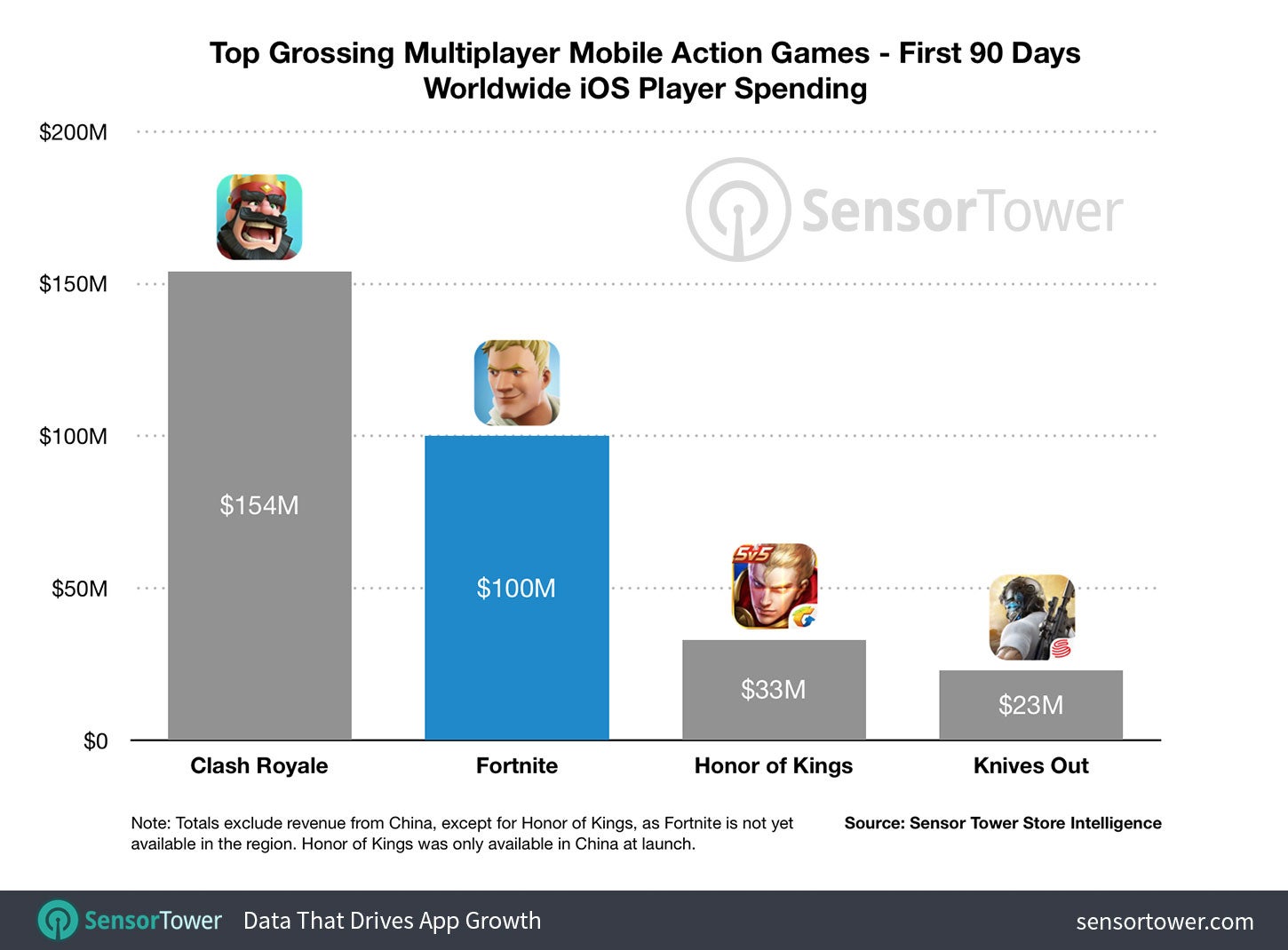 Even with its success, Fortnite still fell short of the record set by Supercell's Clash Royale which earned $154 million during its first 90 days on iOS.
Tencent's mobile version of PlayerUnknown's Battlegrounds doesn't feature in the data because it has only been monetising for 60 days, and has yet to reach $100 million spending; according to Sensor Tower's latest estimates, it has grossed just $5.2 million on iOS during that time.
In an effort to rebalance the scales, Tencent this week revealed new monetisation plans with the Royale Pass for PUBG, which closely resembles the Battle Bass in Fortnite.
Following the Battle Pass release in Fortnite, Sensor Tower recorded a a quadrupling of revenue when the game's fourth season debuted last month.
"Even apart from Battle Pass sales, we see Fortnite growing its momentum on mobile, and there are no indications of it slowing there-or anywhere else-as it continues its reign as the world's most popular game," said Randy Nelson, head of mobile insights at Sensor Tower.