Seasons After Fall named Game Connection Best Project
While Uncanny Fish Hunt takes home GamesIndustry.biz Choice following Lyon event
The winner of the Best Project at this year's inaugural Selected Projects event, which took place last month as part of Game Connection in Lyon, has been named as Seasons After Fall.
The title, from studio Swing Swing Submarine, tasks the player with controlling a fox, making its way through various countryside environments, using an ability to change the environment by moving between seasons.
The game was one of twenty presented to an audience of publishers and developers, with a panel of experts placing votes for their favourites.
"This year we've combined our traditional offer focusing on a highly productive environment with public pitching sessions to detect promising projects," said Pierre Carde, MD of Connection Events. "We are proud to bet on those talented games which I'm sure will get a brilliant future."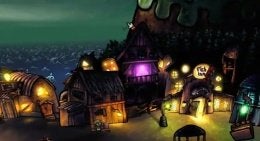 Meanwhile Uncanny Fish Hunt was the recipient of the GamesIndustry.biz Choice Award, created by a student team under the name of Uncanny Games.
The title combines a striking art style with an open world environment and strong roleplaying game tropes, and was created using the Unity middleware.
"As a pitch, Uncanny Fish Hunt's clear and distinctive visual design combined effectively with a solidly thought-out user experience to offer gamers an intriguing take on a well-established genre," said Phil Elliott, publisher at GamesIndustry.biz. "I was impressed by the clarity of purpose shown by the team involved, as well as the passion and keen sense of what makes a game fun to play."
Three other titles were awards Ones to Watch honours - Puddle, from Neko Entertainment, Guns Gore and Cannoli from GGC and Who's That Flying?! One More Go by Mediatonic.