Search for a Star launches another crop of talented students into the gaming industry
Aardvark Swift's outreach competition reveals top student developers
Since 2010, our Search for a Star competition has been matching talented graduates with the top studios in the industry, and as the dust settles on the 2017 event we have another six hugely capable students on their way to a career in gaming.
The goals of Search for a Star, one of Europe's biggest student games development competitions, are simple: giving students a clear route to employment into a competitive industry, and giving studios an opportunity to assess the best new talent based on their coding and artwork skills rather than their CV writing.
Our six winners, each rising above their peers in their chosen specialisms, were hand-picked from 800 entrants by a panel of industry judges - including representatives from Sumo Digital, Playground Games, nDreams, Gaasworks, Furious Bee, Edge Case Games, Codemasters, Creative Assembly and AMD.
The next step for the chosen few is a round of interviews with leading UK studios, including Sumo Digital and nDreams.
The five-month selection process that underpins Search for a Star is tailored to mimic the standards of the gaming industry: students get to sharpen their skills by creating their own fully functional games from a very basic prototype, or developing their own polished game-ready assets, made using industry-level tech and engines that studios know they want strong applicants to be using.
We're hoping the success of Search for a Star can help overcome a traditional reluctance in the industry to hire graduates - the competition showcases the raw talent these students have, polishes up their skills, and demonstrates to employers how they can compete with candidates that have more on-the-job experience.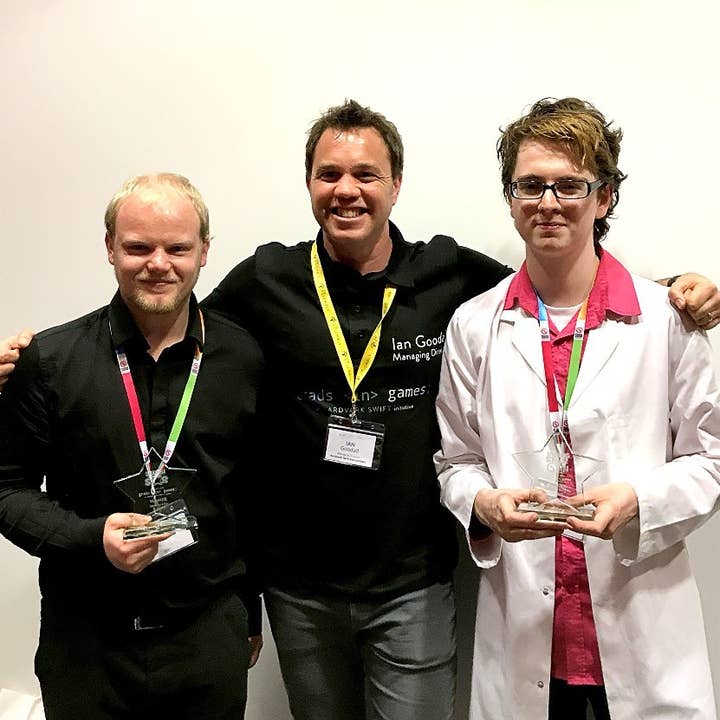 It also builds the links between academia and industry that are vital in any business, closing the gap between what studios want to see from candidates and what students are emerging with: and that's good for everyone.
"A healthy industry requires a healthy talent pipeline, with youngsters breaking in and working alongside experienced veterans, and eventually rising up to manage, or even launch, their own studios," says Ian Goodall, MD of Aardvark Swift.
After much deliberation - with our judges calling this the closest, highest-quality competition yet - Kyle Hobdey, from the University of Central Lancashire, was announced as the Search For A Star Code winner for his game Star Wrangler Arena, which he built in just three weeks.
The game asks players to control a ship with its own magnetosphere to push stars towards targets, and Kyle even had time to develop three different game modes, including multiplayer. Kyle says the smile people get from playing his games is what motivates him to pursue a career in the games industry.
"I'm quite overwhelmed, I didn't expect to win," he says. "It was definitely a tough competition. One of the other finalists is my best friend and I know what he's capable of!"
It's not just beneficial for the contestants though: Tamsin O'Luanaigh, Talent Director at nDreams, describes the project as a "fantastic opportunity" for students but also helpful for existing staff. "The programme also gave our own staff the opportunity for personal development through presenting, providing feedback, and mentoring," she says. "These are all skills which benefit our wider team."
Niels Dewitte, from Howest College in Belgium, won the Animation & VFX bracket of Search For A Star 2017 for some stunning sci-fi-inspired visual effects work, while Michael Starovoytov, from the University of Huddersfield, was announced as the winner in the Character & Environment Art category for his model of a undead Unreal Tournament Necris.
The panel of judges also announced three winners for the Sumo Digital Rising Star competition for students not yet in their final year of university: Dorota Sekula, Alexander Gray and Alfred Norton all impressed judges with their work and will receive interviews for internships and jobs with leading UK studios.
While only a handful of the original applicants made it through to the final stages, the competition produced many more impressive games and art assets which deserve recognition. Over 50 games were created in total, which can all be downloaded and played for free on the Grads in Games website, as well as 60 pieces of art, animations and VFX.
Encouragingly for this year's cream of the crop, previous winners and finalists have gone onto do great work at studios in the UK and Europe studios, including Sony and Hello Games. Most recently, our 2016 Sumo Digital Rising Star Art winner Anthea van Leeuwen, who interned at Sumo Digital, created art for its recently released AAA game Snake Pass before she had even graduated from university.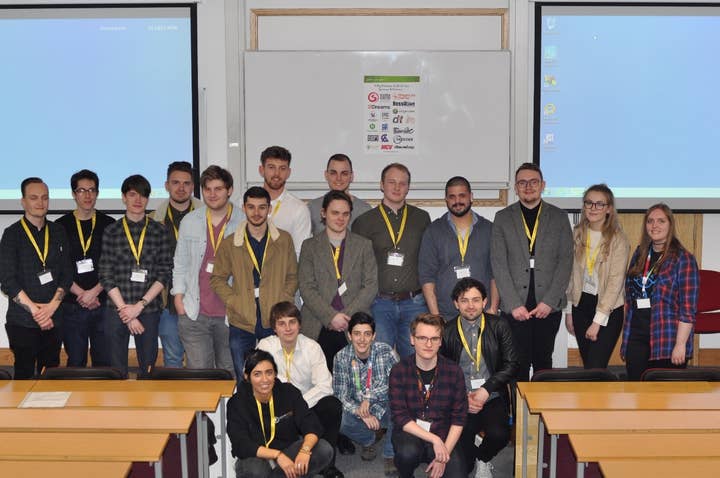 Besides offering the all-important interview for a job or internship, our industry partners also donated a number of rewards for contestants, including a high-performance Radeon R9 Nano graphics card given by AMD, a personal tour of Creative Assembly's studio, and creative licences of Allegorithmic software.
Opportunities to get so many representatives from both academia and the industry together at once don't come along very often, so we made the most ours, hosting a Search For A Star academic roundtable to give both groups a rare chance to discuss issues from different sides, improve understanding and exchange information.
Everyone involved was passionate about promoting a sustainable talent pipeline for the industry, and among the topics on the table were how to tailor university courses to best match the industry's expectations, as well as the skill sets coders and artists are expected to have.
If university graduates aren't emerging with the skills industry bosses want to see, then the talent supply line quickly dries up, leaving students scratching around for work and leaving studios with a recruitment problem.
With that in mind, let's hope the dialogue we saw at Search for a Star 2017 continues. As for this year's winners, these are a fantastic, talented group of students, and we have no doubt they'll go on to do great things in the industry. We wish them luck and we're excited to watch their careers unfold!