Sauropod Studio responds to concerns surrounding layoffs, sexism, studio's status
Management says studio remains open to support existing games despite termination of most of its staff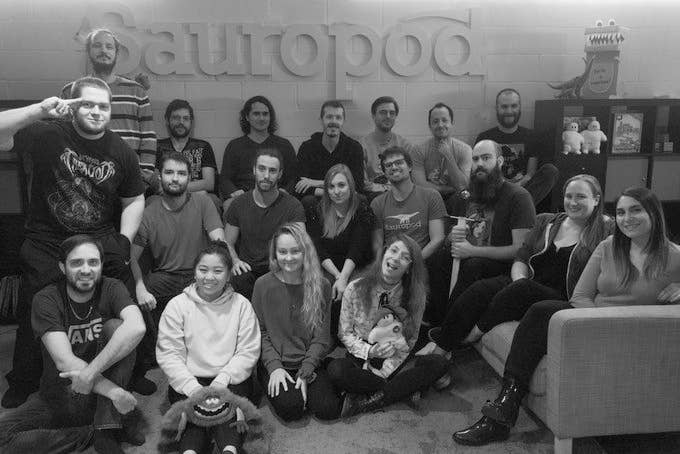 Sauropod Studio has issued an official statement on the status of the company following the layoffs of the majority of its staff in August.
In a joint letter from company co-founders François Alain and Germain Couet, the pair confirmed that the studio struggled following the July launch of its most recent title, Mirador, for which sales were "considerably lower than even our more pessimistic predictions." Following a round of layoffs in August that saw around half the studio terminated, a critical investment fell through that the statement says made it impossible for the studio to continue in its current state.
"We studied different financial scenarios and the one that made the most sense was for us as CEOs to pay our employees' remaining wages out of pocket, stop paying ourselves wages and temporarily lay off the rest of the team," they said.
"We're entirely conscious of how trying this situation is for our employees and colleagues who are affected by this temporary lay off and are actively working on the best resolution possible. We've invested our personal funds to dampen the impact of these difficult circumstances and truly did our best to inform you of all the details surrounding the loss of investment as soon as we learned them. It pains us that it was impossible for us to give everyone a sufficient notice."
Our initial story, based on conversations with four former studio employees, reported that Sauropod Studio was shut down in full. We initially reached out to the studio two and a half weeks before running the report to obtain confirmation or clarification on its status, but received no response despite repeated attempts. Sauropod now says it remains open, consisting of its two CEOs (who are not receiving wages) and two other paid individuals who are managing "all aspects of community management, communications, and administration."
Sauropod's website has removed its former full roster of company employees, currently listing only founders Alain and Couet alongside CTO Benoit Alain. GamesIndustry.biz has reached out for clarity on the studio's current numbers.
Sauropod additionally confirmed that they do have plans to reopen in 2020 and rehire the employees laid off in the final wave of terminations, which it said is a "temporary layoff" that will be concluded "when the studio will get back on its feet thanks to upcoming tax returns and revenue from our currently released games." The company pledges that if it is unable to finance any new projects and rehire its former employees, it will fully pay severance owed.
Some former employees GamesIndustry.biz spoke to for our initial report said the sudden nature of the layoffs combined with a six-month period of unemployment without severance or other pay was not sustainable, however, and would force them to seek new employment. They expressed concern that finding new positions during this period would disqualify them under Quebec law for any severance they would have otherwise been owed, as they would no longer be classified as part of a "temporary lay-off."
Sauropod has also responded to allegations from multiple women at the studio that they were frequently talked over in meetings, or had their ideas ignored and then later accepted and attributed to men at the studio:
"As CEOs and leaders of Sauropod Studio, we are extremely sorry any of our colleagues felt unfairly treated. Sauropod grew rapidly in numbers over the last three years and with this expansion, relations between employees became naturally more complex.
"It was never our intention to let anyone feel marginalized or to let any form of sexism or discrimination of any kind happen in our studio. Any time an official complaint was lodged, especially when it entailed discrimination, we acted quickly and in a way we felt was fair and decisive to people involved. However, such complaints were extremely rare and the human resources team never received one concerning women being talked over or having their ideas stolen. Would such an event be brought to our attention, we would have acted quickly."