Rockstar wins GTA: San Andreas suit
Cypress Hill backup singer's accusation that studio used him as model for CJ dismissed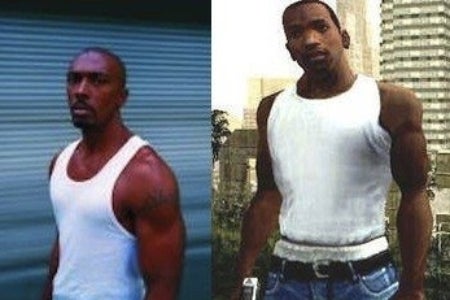 Rockstar Games put another Grand Theft Auto: San Andreas lawsuit behind it this week, as an appellate judge has dismissed a misappropriation of likeness case brought against the developer by a Cypress Hill backup singer.
As covered by The Hollywood Reporter, the singer, Michael S. Washington, accused Rockstar of using his likeness and life as the basis for San Andreas protagonist CJ. Washington, who is listed in the game's credits as a model, said he was tricked into meeting with Rockstar employees and "giving up the details of [his] life" in a 2003 meeting. (Washington is listed in the game's credits as a model.) The original judge dismissed Washington's claims, saying he failed to make a case likely to win on the merits of its claims, and awarded Rockstar $151,000 in attorney's fees.
Washington's appeal fared no better, with the judge ruling that Washington had offered little evidence Rockstar had in fact used him as the basis for CJ. Even if the studio had based the character partly on Washington, it would likely have been protected as a transformative use of his likeness, the judge ruled. He referenced a similar case brought against Sega over Ulala, the main character of its Space Channel 5 games.
The publisher was sued by Kieran Kirby, lead singer of Deee-lite, who accused the game maker of taking her likeness for Ulala. A judge found that Ulala was more than a mere likeness or literal depiction of Kirby, with a different physique, hairstyle, costume, set of dance moves, and job (Ulala was a reporter in the 25th century). Taken together, that was enough to make Sega's use of Kirby's likeness transformative, and thus legally protected.
"Like Ulala, CJ is a 'fanciful, creative character' who exists in the context of a unique and expressive video game," the judge declared.
This is not the first time Rockstar has gone to court over San Andreas. In 2006, it won a court case brought by the owners of a Los Angeles strip club called The Play Pen, who had accused Rockstar of violating their copyright with San Andreas' similar establishment, The Pig Pen. Rockstar was not so victorious in 2009, when parent company Take-Two Interactive paid $20 million to settle a class action suit brought against it after the discovery of the "Hot Coffee" sex minigame hidden on San Andreas' game disc.