Rockstar, DMA staff heap criticism on BBC's Gamechangers
Dramatisation of Thompson/Houser conflict is "random, made up bo****ks"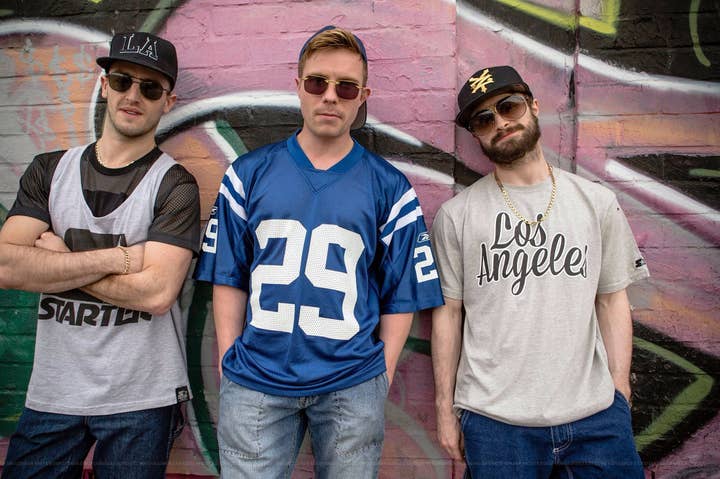 Several key developers, including Rockstar Games itself, have taken to Twitter to heavily criticise The Gamechangers, the BBC dramatisation of the conflict between the Houser brothers and disbarred lawyer Jack Thompson, which aired in the UK last night. Although clearly labelled as a dramatisation, the program is also listed by the BBC as a "factual Drama." If you're a UK resident, you can watch it here.
The 90 minute program takes place during the period in which Rockstar was creating San Andreas, the game with which GTA became the world's biggest selling entertainment product. Rather than looking at the creative process, it focuses on Sam Houser as a workaholic renegade and the antagonism of Thompson, who believes he is protecting the innocence of children and society at large. Despite an all-star cast including Daniel Radcliffe and Bill Paxton as Houser and Thompson, The Gamechangers has met with a roundly negative industry response.
Decried as being at once poorly written, completely unrealistic and totally unrepresentative of the development process, the high-profile TV movie has been given scant praise from any industry quarter, instead inciting the ire of those it was depicting.
Swearing on Twitter isn't Rockstar's only avenue of recourse for what they feel was a poor representation of their work - the studio is also suing the BBC for the unauthorised use of its assets for the film.
Brian Baglow, a veteran of the Scottish development scene who was a writer on the very first game in the GTA series, was clearly not impressed by the adaptation, at least in part because of its reticence to mention any of the actual work being done by the development team.
Other developers shared his disappointment, including former employees of both DMA Design and Rockstar.
Eurogamer's Dan Whitehead also penned an excoriating assessment of the program, calling it "weird and meaningless."
"In what is perhaps the film's nadir, Houser and his posse venture into Compton to research San Andreas," Whitehead writes. "They apparently chose to dress like East 17's backup dancers, and encounter a car full of gangbangers. It's already clear where this is going and, sure enough, once the menacing Bloods discover that these pasty white Brits are the guys who make Grand Theft Auto, they become the best of friends and offer to show them around the 'hood. Not only is the scene toe-curling in its content and presentation, but it informs absolutely nothing in the story."
Not everyone thought The Gamechangers was without merit, however. Spilt Milk Studios praised it for bringing culturally mainstream attention to bear on gaming.
Rockstar and the BBC have been asked for formal comment on the program and the reaction it has inspired.