RIM posts Q4 net loss of $125 million
Mobile firm withdraws earnings guidance due to struggling US smartphone business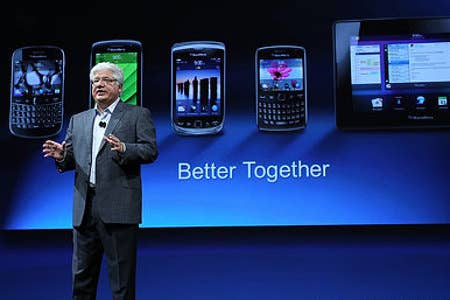 The struggling mobile company Research In Motion will no longer offer earnings guidance following a fourth-quarter report that showed collapsing profits.
For the fourth fiscal quarter ending March 3, 2012, the company posted revenues of $4.2 billion - a 25 per cent drop from $5.6 billion in the same quarter last year. Overall, RIM made a net loss of $125 million.
In a statement released alongside the results, RIM's president and CEO Thorsten Heins, who only started in the position in January, drew attention to "substantial strengths" that the company can leverage to improve its financial performance - specifically the BlackBerry 10 platform, which will launch later this year.
However, Heins was also realistic about the scale of the task at hand.
"The business challenges we face over the next several quarters are significant, and I am taking necessary steps to address them," Heins said.
"In addition to delivering the BlackBerry 10 platform and refocusing resources on RIM's key opportunities...we will also drive greater operational performance through a variety of initiatives, including increased management accountability and process discipline."
RIM also revealed that it would no longer provide "specific quantitative guidance" for its earnings due to, "ongoing weakness in the company's US smartphone business." The company's stock price subsequently dropped by 9 per cent.
In an earnings call following the publication of the results, Heins would not rule out selling the company, though he claimed that a sale was not, "the main direction we are pursuing right now."
Approximately 68 per cent of all fourth quarter revenue was generated by sales of hardware: 11.1 million BlackBerry smartphones and 500,000 PlayBook tablets.