Returnal wins Game of the Year at Finnish Game Awards
Returnal's title also won Big Screen Game of the Year 2021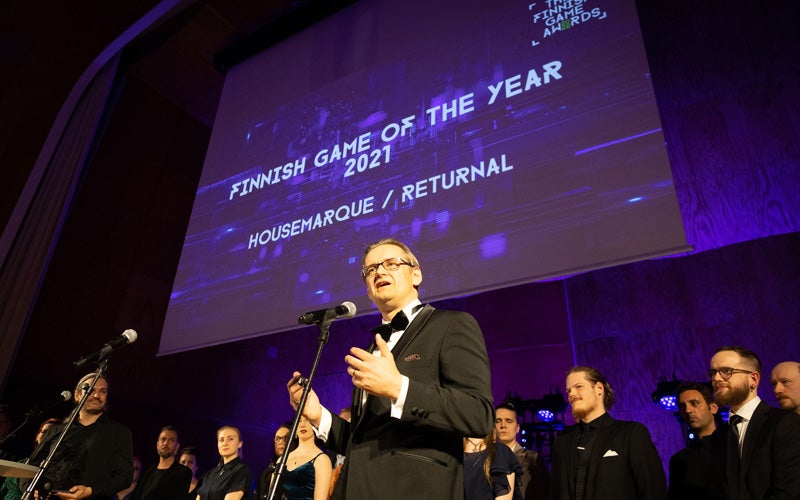 Helsinki-based developer Housemarque won two prizes at the Finnish Game Awards on Tuesday.
Returnal took home both Finnish Game of the Year 2021 and the Big Screen Game of the Year 2021. Housemarque's title previously won best game at the BAFTAs 2022.
Other winners included HypeHype, which received the Best Creative Achievement, and Tree Men Games' Pako 3, which won Small Screen Game of the Year.
KooPee Hiltunen, director of the awards co-organiser Neogames, commented: "[The] year 2021 was a success story for the games industry of Finland on almost all measures, and the turnover of the industry is expected to grow by 15 [to] 20 % to close [at] €3 billion."
Here's the full list of winners of the Finnish Game Awards 2022:
​​
Power Player of the Year 2021: Jani Kahrama / Pelimetsä ja Taina Myöhänen / We in Games
Applied Game of the Year 2021: Psyon Games / Full ADHD
Rookie of the Year 2021: Kitka Games
Best Creative Achievement of the Year 2021: HypeHype / HypeHype
Big Screen Game of the Year 2021: Housemarque / Returnal
Small Screen Game of the Year 2021: Tree Men Games / Pako 3
Grand prize: Finnish Game of the Year 2021: Housemarque / Returnal