Retrotainment's cartridge revival
Co-owners Tim Hartman and Greg Caldwell are making new NES games that run on old NES hardware in 2018, and they say the audience is growing
There's a resurgent market for retro right now. From indie developers creating 2D pixel art homages to publishers remaking and remastering past hits to console makers releasing plug-and-play compilations of classic catalogs, the past is once again the present.
And while it's clear there's a renewed industry-wide interest in things that were once simply antiquated, some people are taking that interest more seriously than others. Take Tim Hartman and Greg Caldwell, for example. They are co-owners of Retrotainment Games, a studio established in 2015 to make new NES games, cartridge and all.
OK, that's not entirely accurate. As Hartman described it to GamesIndustry.biz, it would be more accurate to say Retrotainment was established to make new NES cartridges, games and all.
"From the outset, we didn't plan on being game developers," Hartman said. "We just wanted to make a Nintendo game."
The pair had already been running Cash-In-Culture, a small chain of retro-focused gaming stores in Western Pennsylvania, since 2003. In doing their day-to-day research on the business, they stumbled upon the NES homebrew scene. That lit a fire in them, Hartman said, and gave them the idea that they could produce cartridges of their own. The barriers to game development had come down years earlier, but there was something immensely appealing about the prospect of creating their own tangible NES game that would run on original NES hardware.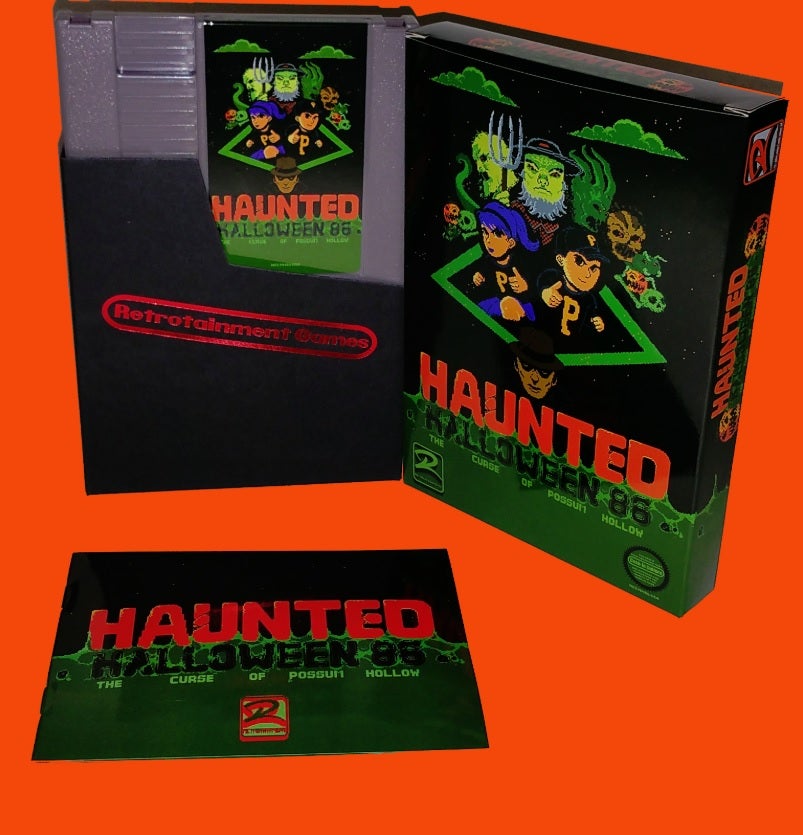 "Everything is digital, and it's nice to hold something in your hand these days, especially something as awesome as an NES cartridge," Hartman said. "The texture, the feel of putting it into the [slot] and clicking it down, hitting that power button... Those are things that are hard to quantify, and they are certainly hard to replicate in a digital realm."
Caldwell echoed the sentiment, explaining, "We've always collected action figures, toys, video games. It's been in our nature to deal with physical items. We grew up in the '80s, and I guess we just can't kick the habit."
"When we made Haunted: Halloween '85, we made 30 copies, and we didn't know if that would be it. We thought, 'Maybe one person will buy this. Maybe we'll eventually sell all 30'"

Tim Hartman
Their first title was Haunted: Halloween '85, a side-scrolling beat-'em-up. Hartman said they didn't really know what to expect as far as how it would do.
"When we made Haunted: Halloween '85, we made 30 copies, and we didn't know if that would be it," Hartman said. "We thought, 'Maybe one person will buy this. Maybe we'll eventually sell all 30.' We had no idea. And that could have been the end of Retrotainment. But from the positive response we got, that's when we decided that we had to make Retrotainment its own thing, and it's continued to take off."
In vintage NES fashion, Hartman and Caldwell followed up their initial success with a sequel, Haunted: Halloween '86. The initial print run would need to be considerably larger, as a Kickstarter campaign drew almost 300 backers supporting the game at levels that would see them receive a cartridge for their contribution. They returned to Kickstarter last year with their third project, a wilderness mystery called Full Quiet. That campaign saw more than 500 backers, and Hartman and Caldwell are planning an initial print run of more than 1,000 cartridges.
While the pair's Cash-In-Culture business funded their first steps into game development, Hartman said Retrotainment pays for itself at the moment. It's still a side gig for the five-man team behind the games, but the hope is to make it a primary source of income for all involved.
It's also helped that they've turned their expertise in cartridge production into an additional revenue stream. Capcom and iam8bit enlisted Retrotainment's aid for last year's 30th anniversary re-issue of the Super Nintendo hit Street Fighter II. That project had a print run of 5,500 copies, but it went well enough that the three companies are working together again this year on a pair of cartridge releases with larger production runs. To celebrate Mega Man's 30th anniversary (which technically happened last year), they are producing new cartridges of the NES game Mega Man II and the Super Nintendo spin-off Mega Man X, with each one limited to 8,500 cartridges.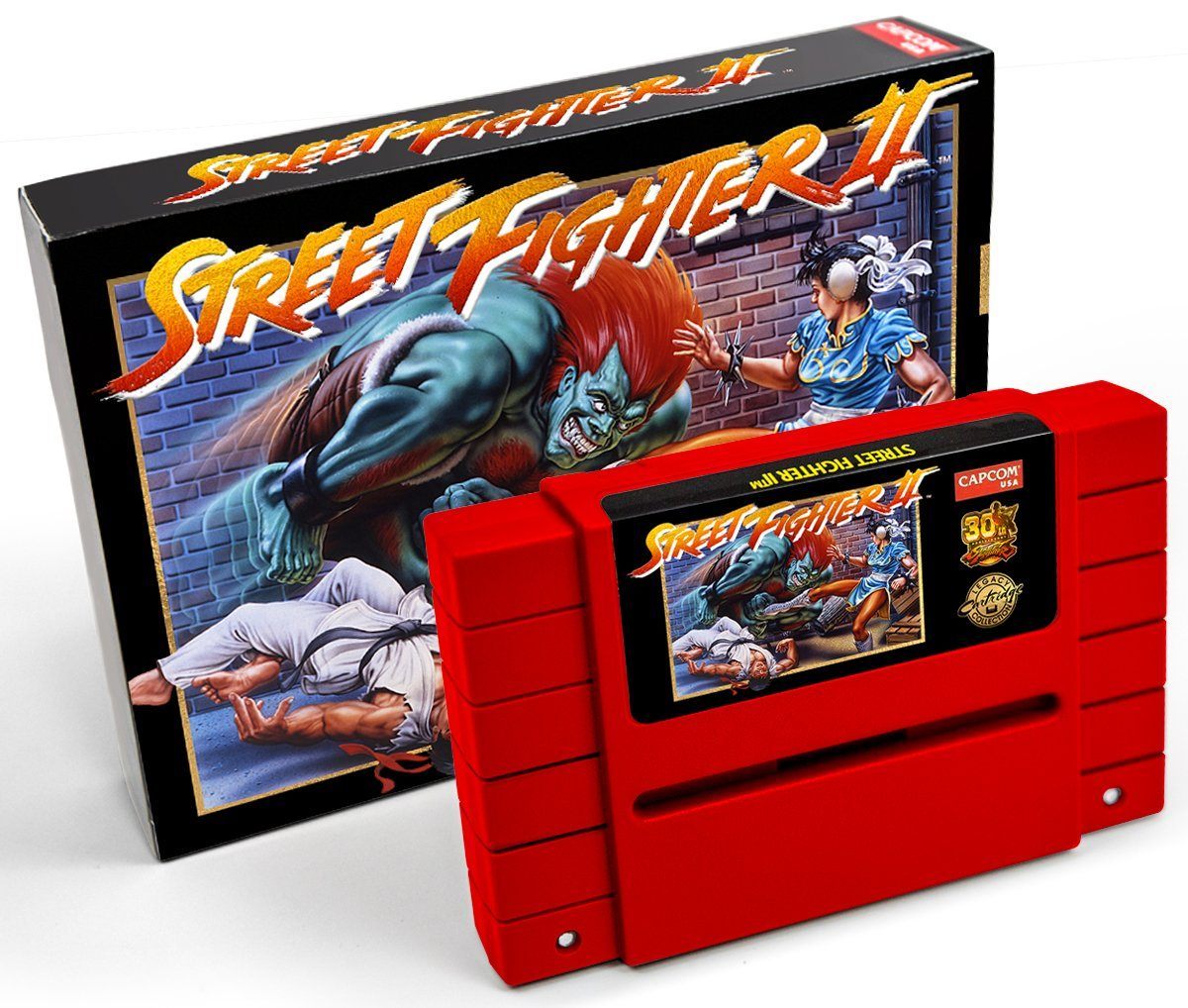 "We've learned both sides of this industry, where we're dealing with production and we're dealing with game development," Caldwell said. "Our long-term strategy is definitely our own game development, but for the foreseeable future, we'd love to just keep turning things out, keep the re-releases going with high quality titles. And that complements well us working on our own games."
"8-bit graphics are this sweet spot that allows [kids'] imagination to fill in the gaps"

Tim Hartman
Beyond appealing to hardcore homebrew enthusiasts and third-party publishers who have long since let their expertise in cartridge production lapse, Retrotainment's physical focus also confers some marketing benefits. Hartman and Caldwell say they get plenty of interest as "the cartridge guys" when they set up their booth at mainstream gaming events, and not just from people who grew up playing NES games.
"That's when we realized this isn't just nostalgia here," Hartman said. "Because these kids have no nostalgia for this stuff. They like what they're seeing on the table. They like picking up the cartridge; they like pressing that power button. And the 8-bit graphics are this sweet spot that allows their imagination to fill in the gaps.
"That's one thing in particular I think really grips kids between 8 and 12. Their minds are allowed to wander. It's not quite like reading a book, but it's in that same sense where you get to use your imagination to fill in the gaps. Modern games hand you everything. They spell out every little detail. Even in a game like Shovel Knight which has a very good retro feel to it, they put things in there that you just could never have possibly put into an 8-bit cartridge game. Who knows how people's imagination would have filled in the gaps in that sort of game?"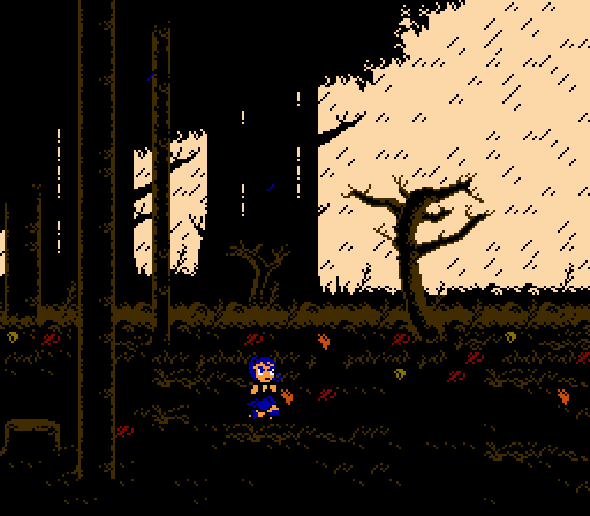 Hartman and Caldwell seem less frustrated by the restrictions imposed by NES hardware than they are by a portion of the audience's inability to understand they exist.
"If you're not releasing it on cartridge and adhering to the restrictions and complications of doing so, then it's not actually a cartridge game; it's a cartridge-style game"

Greg Caldwell
"With Haunted: Halloween '85, the first time we put videos up on YouTube, people were like, 'Oh this isn't good 8-bit. This is nothing compared to Shovel Knight,'" Hartman said. "And we had to bite our tongue and just say, 'Well that's not actually an 8-bit game. It's fantastic, but they have a lot more liberty than we do.'"
Caldwell said people are considerably more educated on the distinction between retro-style games and actual cartridge titles now, but it's still an issue.
"Kudos to everybody that makes indie-style games, but if you're not releasing it on cartridge and adhering to the restrictions and complications of doing so, then it's not actually a cartridge game; it's a cartridge-style game," Caldwell said. "We pride ourselves on the ability to first release it on cartridge and then take it from there."
"Taking it from there" is an important part of the process. Retrotainment has released its games digitally on platforms like Steam and Xbox One, but only after the cartridge versions have been available for some time. While the digital releases are a secondary priority for the company, Hartman acknowledges they may be key to Retrotainment reaching its potential.
"We have a good base of customers who are only going to buy this on cartridge," Hartman said. "So we know if we make a game, we can move X number of copies to the cartridge community. Will that continue to grow? We think so. It has been growing over the past several years we've been involved in this, and we don't see any sign of that slowing down right now. But ultimately, whether we can make this something that's ultimately sustainable [on a full-time basis] will probably come down to getting a foothold in the digital arena."
There's also plenty of room for them to grow. Hartman and Caldwell acknowledge moving to 16-bit systems like the Super Nintendo and Genesis might make sense down the line. But for now, they seem content to build Retrotainment up project-by-project and show the world that cartridge gaming is still alive and thriving, in its own way.
"It's about the games and the community," Caldwell said. "The NES homebrew community is awesome. It's alive and well and growing, and I just hope more people are brought into the fold. The more people we can reach, hopefully the more it grows."