Report: Average spend on freemium mobile is $14
Only 13% of transactions are $20+, but generate 51% of revenue
A report from mobile analytics firm Flurry has revealed that the average spend on in-app purchases in freemium Android and iOS games in $14 per consumer.
Only 13 per cent of transactions made in those games are for $20 or more, but those purchases generate 51 per cent of all revenue. The 71 per cent of transactions which involve less than $10 generate only 31 per cent of revenue.
Just five per cent of all transactions in the freemium games measured were for amounts greater than $50, yet generate 31 per cent of all revenue.
However, the same research shows just 3 per cent of consumers spending any money at all in freemium titles.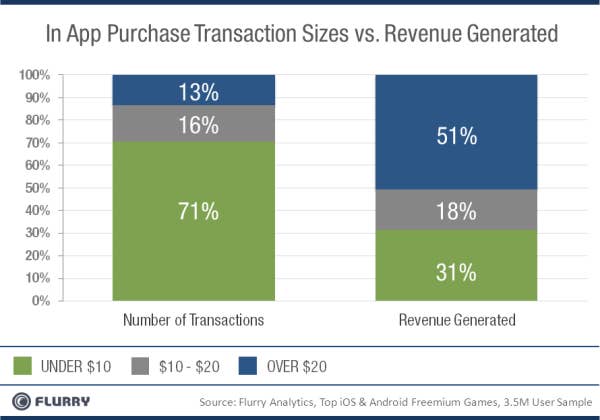 Those figures seem to support theories of a 'whale' type model for mobile freemium titles, much like that posited for browser-based social games. In that model, a small number of players contribute massive amounts of income in order to remain at the top of the tree in that particular game.
As Trip Hawkins put it in his presentation on social gaming monetisation at Gamelab in Barcelona recently, "$1000 isn't much to pay if you get to be king".
Flurry's report also postulate that Nintendo's handheld market share has shrunk considerably, to 57 per cent from 75 per cent since 2008, as a result of booming mobile markets, somewhat explaining Nintendo president Satoru Iwata's outburst against low price-points and the freemium model at E3 earlier this year.
During that same three year period, Flurry estimates iOS and Android's share of the handheld market to have risen astronomically from just 1 to 34 per cent.