Reggie Fils-Aime to retire, Doug Bowser named Nintendo of America president
Transition will occur mid-April as Fils-Aime departs for "more time with my wife, family and friends"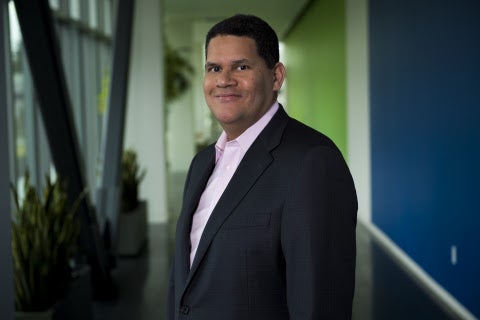 Today, Nintendo has announced that current Nintendo of America president Reggie Fils-Aime is set to retire from his role, with current senior VP of sales and marketing Doug Bowser to succeed him in the role. The transition is set to occur on April 15.
"Nintendo owns a part of my heart forever," Fils-Aime said. "It's a part that is filled with gratitude - for the incredibly talented people I've worked with, for the opportunity to represent such a wonderful brand, and most of all, to feel like a member of the world's most positive and enduring gamer community. As I look forward to departing in both good health and good humor, this is not 'game over' for me, but instead 'leveling up' to more time with my wife, family and friends."
Fils-Aime departs the company after over 15 years, beginning as executive FP of sales and marketing in 200 and moving into the position of Nintendo of America president in 2006. His over 15 years with the company spanned from the Nintendo GameCube and Game Boy Advance era, through the Wii, Wii U, DS, and 3DS generations, and on to the Nintendo Switch's launch and first two years on the market.
In a tweeted video, Fils-Aime addressed the Nintendo fan community to express gratitude for his time at Nintendo. He also offered additional comments on his successor.
"Doug is a passionate and powerful leader, and a guy who in his youth probably spent too much time in front of a Donkey Kong arcade machine. Inside Nintendo, people already know him as a driving force, and you'll come to see that too. And I ask you, with a name like Bowser, who better to hold the keys to the Nintendo castle?
"Doug has a strong relationship with Mr. Furukawa and all the teams at NCL and NoE, so I know that together our teams will continue to surprise and delight."
Bowser joined the company in 2015 after over eight years with Electronic Arts in various VP positions, culminating with the title of VP of global business planning. Before that, Bowser worked his way up through roles at Procter & Gamble, beginning in sales in 1984 and eventually working in a director role by the time he departed in the company in 2007.
Bowser joined Nintendo in May of 2015 as the VP of sales, and was then promoted to his current role in August of 2016 to lead marketing for the Nintendo Switch.
"It has been my great fortune to work with and be mentored by Reggie for four years at Nintendo of America," Bowser said. "And rest assured, we will continue to build on his work to evolve and expand our brand, furthering Nintendo's global mission of creating smiles. There are millions more of those to come."
Update: Nintendo of America has confirmed to GamesIndustry.biz that Nick Chavez will succeed Doug Bowser as senior VP of sales and marketing for the company.
Chavez has been with Nintendo since 2010 initially in the role of director of consumer marketing, and most recently as VP of marketing. During his time with the company he has led marketing on titles such as Super Mario Galaxy 2 and Donkey Kong Country Returns, as well as assisted with the marketing of the Nintendo Switch.