Red Dead Redemption 2 named Game of the Year at Italian Video Game Awards
Rockstar's western also takes home best audio and best art, Detroit: Become Human wins multiple awards as well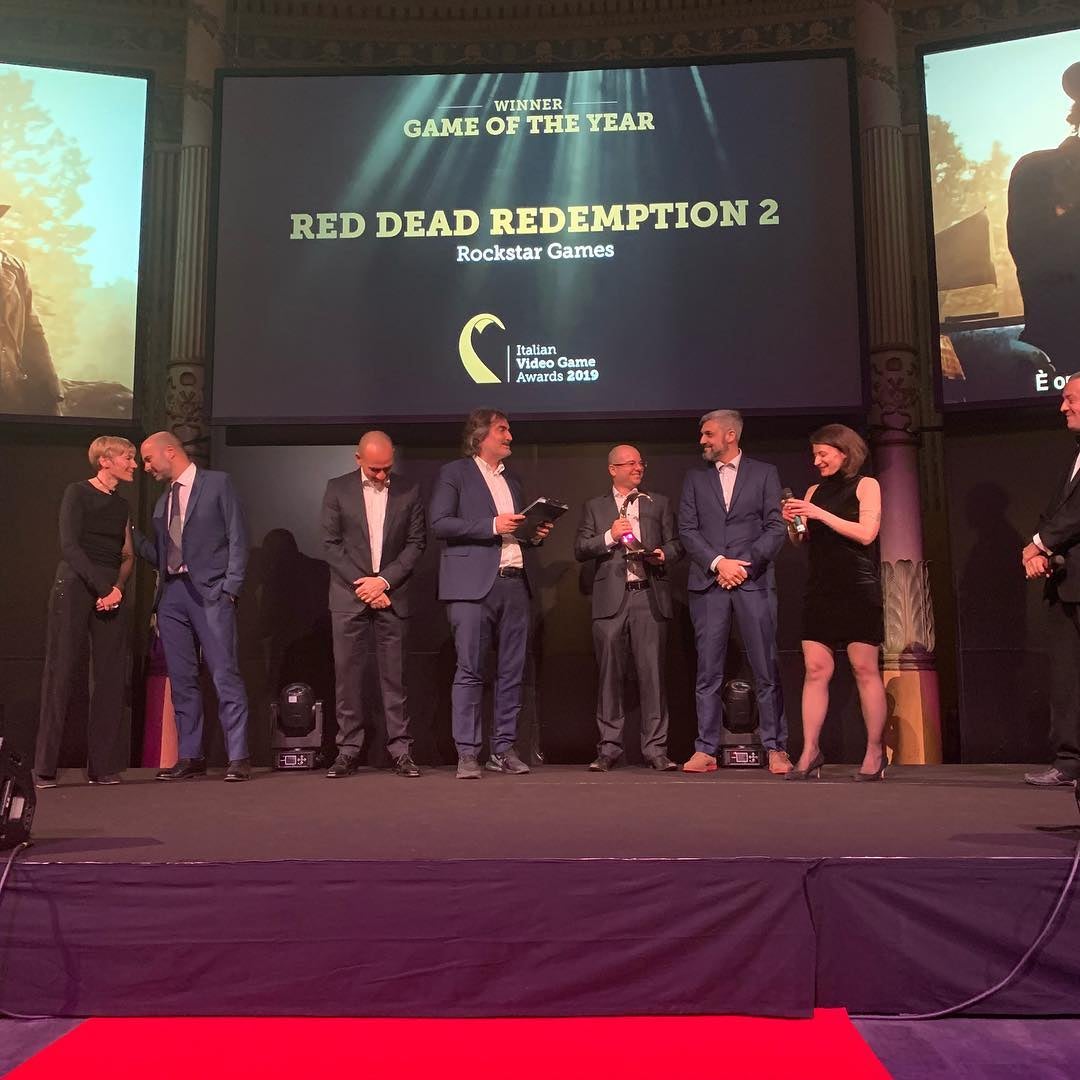 Last night at the 2019 Italian Video Game Awards, Red Dead Redemption 2 was honored as Game of the Year in addition to two other awards - best art direction, and best audio.
Detroit: Become Human also saw multiple awards, winning for best narrative, the "Game Beyond Entertainment" award, and best character for its android law enforcement officer, Connor.
Alongside international nominees and winners, a number of Italian developers and titles were honored as well. Riccardo "Reynor" Romiti won best esports player, Morning Stars won best esports team, Remothered: Tormented Fathers by Darril Arts took home best Italian game.
As previously announced, GamesIndustry.biz partnered with this year's awards, judging two awards. The winners of the most successful Italian games company was MotoGP developer Milestone, while Ovosonico's Massimo Guarini was honored with an award for best individual.
Last night's event was the first presentation in the awards' eight-year history where the ceremony was broadcast via livestream to viewers outside of Italy.
The full list of winners is below:
Game of the Year - Red Dead Redemption 2, (PS4/Xbox One) Rockstar
Best Art Direction - Red Dead Redemption 2, (PS4/Xbox One) Rockstar
Best Audio - Red Dead Redemption 2, (PS4/Xbox One) Rockstar
Best Game Design - God of War, (PS4) Sony Computer Entertainment
Best Narrative - Detroit: Become Human, (PS4) Sony Computer Entertainment
Best Character - Connor, Detroit: Become Human (PS4) Sony Computer Entertainment
Best Family Game - Nintendo Labo, (Switch) Nintendo
Best Sports Game - Forza Horizon 4, (Xbox One) Microsoft Game Studios
Innovation Award - Xbox Adaptive Controller, (Xbox One) Microsoft
Best Indie Game - Gris, (Switch/PC) Devolver Digital
Best Mobile Game - Florence, (Android/iOS) Annapurna Interactive
Best Evolving Game - Fortnite, (PS4/Xbox One/Switch/PC/iOS/Android) Epic Games
Game Beyond Entertainment - Detroit: Become Human, (PS4) Sony Computer Entertainment
Esports Game of the Year - Overwatch, (PS4/Xbox One/PC) Activision Blizzard
Best Esports Player - Riccardo "Reynor" Romiti
Best Esports Team - Morning Stars
Best Italian Game - Remothered: Tormented Fathers, (PS4/Xbox One/PC) Darril Arts
Best Debut Game - Bud Spencer & Terence Hill - Slaps and Beans, (PS4/Xbox One/Switch/PC) Buddy Productions
GamesIndustry.biz's Best Company - Milestone
GamesIndustry.biz's Best Individual - Massimo Guarini, Ovosonico
Best Selling Game - FIFA 19 (PS4/Xbox One/Switch/PC), Electronic Arts
Special Award - Antura and the Letters (Android/iOS/PC), Video Games Without Borders
People's Choice - God of War (PS4), Sony Computer Entertainment