Razer gets into VR, microconsoles
Peripheral maker launching $200 Open-Source VR in June, $100 Forge TV this spring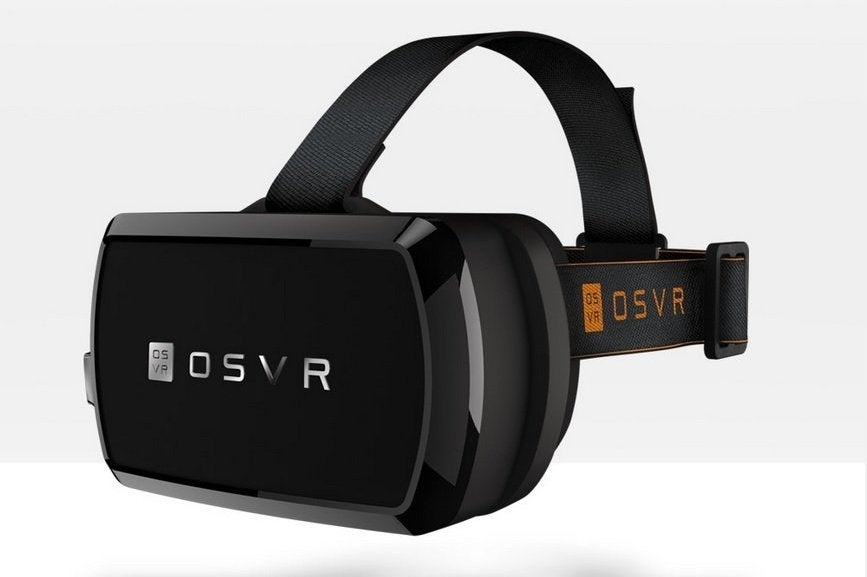 The race for virtual reality is heating up, as Razer has its own entry into a field that has yielded plenty of buzz but few commercial products of late. At the Consumer Electronics Show in Las Vegas today, the peripheral maker revealed it has been working with VR firm Sensics on what it calls "the Open-Source Virtual Reality ecosystem."
The heart of that ecosystem will be the OSVR Hacker Dev Kit, which will ship in June with a $200 price tag. The kit will include a head-mounted display and be sold at cost. Razer is making the both the software and hardware open-source, so hobbyists will be able to download schematics to build their own, should they be so inclined. On the software side, Razer said OSVR will support Unity 3D, Unreal Engine, device plug-ins from hardware makers like Bosch, Sixense, and LeapMotion. It will even work with rival VR devices like the most recent Oculus Rift dev kit and Vrvana's Totem.
Razer today also unveiled its entry into a market space with no shortage of already released competitors: the Android-based microconsole. The Razer Forge TV will allow users to play Android games from the Google Play store on a TV with up to three other players, but it will also feature streaming options to move PC titles to the living room through its Razer Cortex game-launching software. That streaming functionality will launch in beta this spring, and Razer has said it will work with any games made using DirectX9 (or higher) from any publisher. Razer is also bringing PC controls to the living room with the Razer Turret, a wireless mouse-and-lapboard combo that will sell for $130.
The Forge TV will launch this quarter with a $100 price tag on its own, or $150 when bundled with Razer's Serval controller. Additional Servals will be available for $80 each. The Razer Cortex: Stream software will sell for $40 on its own, but will be included for free with the Forge TV and Serval bundle, stand-alone Servals, or the Turret. Unfortunately for European customers, all prices will be the same in euros, except for the Razer Cortex: Stream, which will sell for €35.
Razer also announced the Nabu X, an entry-level smartband that pairs with mobile devices and tracks fitness activity like steps taken, distance travelled, and sleep. The Nabu X is a cheaper version of the company's Nabu wearable, replacing the original's OLED notification display with LED indicators but otherwise retaining the same functionality. Where the Nabu sells for $100, the Nabu X will be available starting next week for $50. Members of the Razer Insider platform will be able to purchase the Nabu X for $20.