Razer announces Razer Edge tablet PC
Microsoft's Surface Pro has some gaming competition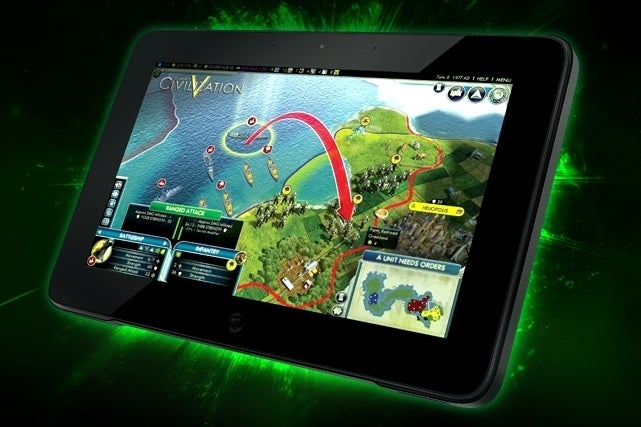 At CES 2013 today, Razer unveiled the final version of Project Fiona concept tablet, the Razer Edge. The 10.1-inch Windows 8 tablet will retail in two models: the base Razer Edge features an Intel Core i5 processor, Nvidia GT640M LE GPU, 4 GB of DDR3 RAM, and a 64 GB SSD for $999, while the Razer Edge Pro gets upgraded to an Intel Core i7 processor, 8 GB of DDR3 RAM, and a 128 GB or 256 GB SSD for $1,299. Both models will be available in Q1 2013.
Razer has also announced a variety of docks and other accessories for the tablet, allowing gamers to choose how they use the Edge.
The Gamepad Controller adds dual analog sticks, an array of buttons, and force feedback to the tablet for $249. The Docking Station turns the Edge into a home console with three USB 2.0 ports, an HDMI 1.4 port, mic-in and stereo-out for $99. The Keyboard Dock allows the Edge to operate like a Windows 8 laptop and includes an extra battery, with a planned release in Q3 2013 for an undisclosed price point. Finally, for $69 gamers can pick up an extended battery for the tablet, doubling the current battery life.
"When we decided to design a tablet from the ground up, we did it to create a phenomenal experience for mobile gamers. By combining the best of PC and console gaming with Windows 8, we've created a true gaming tablet," said Min-Liang Tan, Razer co-founder, CEO and creative director. "Clearly, the critical acclaim and community support the Razer Edge has enjoyed suggests we hit the mark. Now, we get to celebrate the reality of what was formerly a dream with the audience for which this groundbreaking tablet was made."
"Gamers are among the most demanding audience when it comes to processor performance. We're happy to be working with Razer to satisfy those desires by helping build one of the most powerful tablets based on the 3rd gen Intel Core family of products," said Brad Graff, Director of Customer Marketing, Mobile Communications Group at Intel. "The Razer Edge is a testament to what can be achieved with true innovation between industry-leading companies."
The pricepoint of the base Razer Edge puts the tablet in the same range as the entry Microsoft Surface Pro tablet, expected to launch later this month at $899. Those looking to preorder the Razer Edge can do so here.