Ratchet & Clank: Rift Apart returns to No.1 after PS5 stock boost | UK Boxed Charts
Monster Hunter Stories 2 debuts at No.3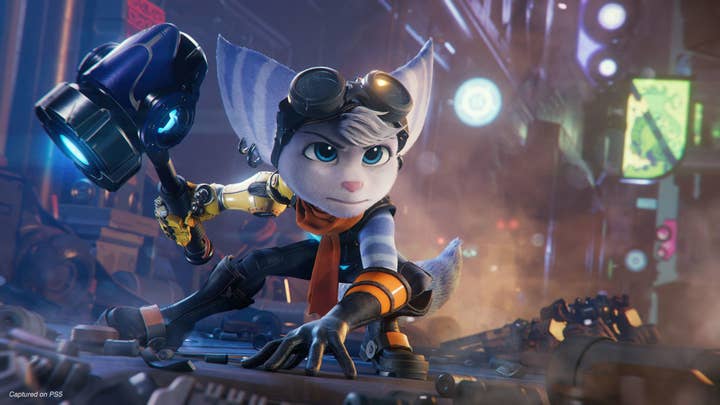 PS5 exclusive Ratchet & Clank: Rift Apart is back at the top of the UK boxed charts following an 187% jump in sales.
It's the third time the game has been No.1. Its surge in sales this week follows the arrival of new PS5 stock, and the game was featured in a number of console bundles at UK retailers.
Another game that featured in PS5 console bundles was Ubisoft's Assassin's Creed Valhalla. The open world Viking game increased 77% in sales week-on-week and rose to No.8.
There were some new releases this week, and the highest charting game was Monster Hunter Stories 2: Wings of Ruin. The Nintendo Switch game is a spin-off of the hit Monster Hunter series. It doesn't come close to matching the performance of Monster Hunter Rise, which was released on Switch back in March, but its boxed launch sales are more than double that of its predecessor -- Monster Hunter Stories release in September 2017. That 3DS game was released before the franchise really blew up in the West when Monster Hunter World released in January 2018.
The other new release in the charts its Oddworld: Soulstorm, which debuts at No.10. 52% of the game's sales were on PS4 and 48% was on PS5.
Last week's No.1 was Mario Golf: Super Rush, which drops to No.4 in its third week after a 42% fall in sales. FIFA 21 holds second spot despite a 10% sales drop. The game has performed well during the on-going European Championships, which ended yesterday.
Here is the GfK Top Ten for the week ending July 10, 2021:
| Last Week | This Week | Title |
| --- | --- | --- |
| 6 | 1 | Ratchet & Clank: Rift Apart |
| 2 | 2 | FIFA 21 |
| New Entry | 3 | Monster Hunter Stories 2: Wings of Ruin |
| 1 | 4 | Mario Golf: Super Rush |
| 3 | 5 | Mario Kart 8: Deluxe |
| 4 | 6 | Animal Crossing: New Horizons |
| 5 | 7 | Minecraft (Switch) |
| 17 | 8 | Assassin's Creed: Valhalla |
| 7 | 9 | Grand Theft Auto 5 |
| New Entry | 10 | Oddworld: Soulstorm |