Publisher Gamesco launches in Isle of Man
Funding from Isle of Man government and Pinewood Pictures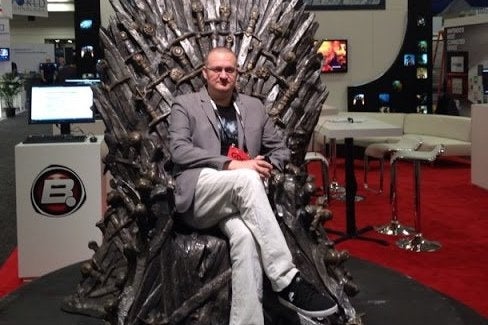 New PC and console games publisher Gamesco has officially launched today after a year in stealth mode. The company founder is Rob Ollett, who was previously MD and co-founder of Thrillion and Gamesco is headquartered in Douglas, on the Isle of Man.
"The idea behind Gamesco is to make brilliant, connected games that deliver immersive online experiences - whether that's our own original IP or a really interesting brand," he said.
"I believe the future of games is in creating these story-driven, communal experiences, with games becoming bigger, deeper and turning into fan-driven communities in their own right. By setting ourselves up as a networked publisher we are nimble and efficient enough to find the best developers around the world to bring these worlds to life, keeping overheads low and putting the maximum focus on creating a great product."
Ollett has spent over two years with Thrillion which published Barbarian Brawl. Prior to that he was VP of commercial publishing at Jagex for just over a year and his CV also includes time with Bigpoint and Dubit.
"Our full-spectrum service has the power to extend the game lifespan. We provide continual development, full server support, new content design, and in-depth player analytics. Through our networked approach we are able to scale the best possible team of developers and partners around each title and deliver AAA products to multiple platforms with a very high level of efficiency," declares the company's website.
Gamesco will focus on "massively multiplayer games based around iconic brands and original IP" and already has projects in development. The company has received funding from Pinewood Pictures, Isle of Man investors and the Isle of Man government worth more than $5 million.
"For Gamesco to be the first videogames company here is really exciting. The Island is an ideal operational base, given its status as an international hub for e-gaming," added the Government's Minister for Economic Development Laurence Skelly MHK.
"I welcome Rob Ollett and his team who join a growing number of high quality providers within our wider e-Business sector that have been attracted to the world class business environment and benefits that the Isle of Man offers."
Other Gamesco employees include COO Kelly Hyunah Lee, CFO Holger Heims and director of projects Ben Cronin.