PS5 stock boost sends Spider-Man: Miles Morales to No.2 | UK Boxed Charts
But Mario holds on to No.1 by 1,000 units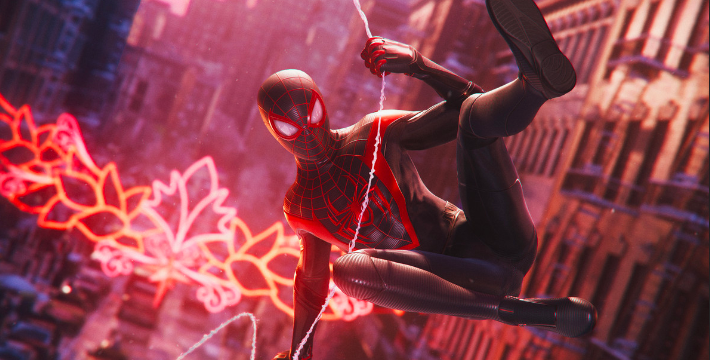 A surge in PlayStation 5 stock this week has had a big impact on the sale of its video games.
The biggest of which is Spider-Man: Miles Morales. The most popular PS5 game rose 172% in physical boxed sales week-on-week, jumping from No.7 to No.2. The game only missed out on the top spot by a mere 1,000 units.
The other big PS5 exclusive in the charts is Demon's Souls at No.21. The game wasn't in the boxed Top 40 last week, but returns thanks to a 123% sales spike.
Overall, sales of PS5 boxed games are up 64% over the previous week.
At No.1 is the Nintendo Switch game Super Mario 3D World + Bowser's Fury, which secures its third consecutive No.1 despite a 38% drop in sales week-on-week.
There were a couple of small new releases this week. Persona 5 Strikers from Atlus debuts at No.5 on Switch and PS4 (PS4 accounting for 72% of sales). Meanwhile, Square Enix's Bravely Default 2 on Nintendo Switch makes No.11
The final big performer this week is The Last of Us: Part 2. The PS4 game returns to the charts at No.3 after a 3992% increase in sales due to a price discount that saw the horror game drop to under £20 at major retailers.
Here is the GfK Top Ten for the week ending February 27th:
| Last Week | This Week | Title |
| --- | --- | --- |
| 1 | 1 | Super Mario 3D World + Bowser's Fury |
| 9 | 2 | Spider-Man: Miles Morales |
| Re-Entry | 3 | The Last of Us: Part 2 |
| 2 | 4 | FIFA 21 |
| New Entry | 5 | Persona 5: Strikers |
| 3 | 6 | Mario Kart 8: Deluxe |
| 4 | 7 | Animal Crossing: New Horizons |
| 5 | 8 | Call of Duty: Black Ops Cold War |
| 7 | 9 | Grand Theft Auto 5 |
| 6 | 10 | Minecraft (Switch) |