PS5 overtakes Nintendo Switch to become 2022's best-selling console (so far) | UK Monthly Charts
The new Saints Row sold best on Xbox platforms in the UK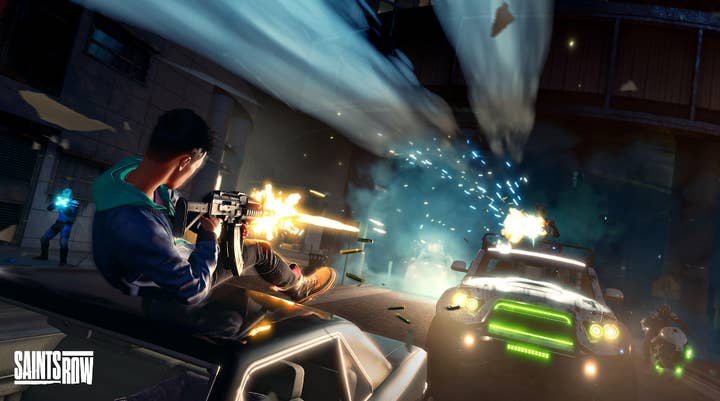 It was another strong month for PS5 in the UK, with stock levels up 56% in August compared with July (GfK data)
As a result, Sony's machine is currently the UK's best-selling console of the year (so far). The platform moves ahead of Nintendo Switch. Nintendo's hybrid console also enjoyed a sales increase of 4% in August.
Xbox Series S and X sales remained steady last month, but was in third place overall. In total, nearly 125,000 consoles were sold in the UK during August, a rise of 20% over the month before.
However, just under 880,000 consoles have been sold this year, which is a drop of nearly 36% compared with the first eight months of 2021.
In terms of software (digital and physical data from GSD), 1.67 million games were sold in the UK last month, a drop of 10% over August last year and down 3% over July.
The best-selling game of the month was Saints Row. The title from Deep Silver was the best-selling digital game by a large margin, but was No.2 in terms of physical retail releases behind Lego Star Wars: The Skywalker Saga.
Despite having the inferior install base, the open world reboot sold 21% more copies on Xbox platforms.
Outside of Saints Row, the next biggest new game was the PC release of Spider-Man Remastered, which is Sony's fastest-selling PC game so far. Snapping at its heels at No.8 is Two Point Campus from Sega.
Note: This data and chart does not include sales of games bundled with consoles, such as the Horizon Forbidden West PS5 console bundle.
Over in accessories, 547,122 add-on products were sold last month (GfK data), which is a slight drop of 0.7% compared with July, and down 14.5% over August last year.
PlayStation's DualSense controllers continue to do well, with the White and Black versions holding the No.1 and No.2 positions once again. New at No.3 is the Robot White Xbox Wireless Controller, and the Carbon Black version jumped 132 places to No.8. Both controllers had been suffering from supply issues.
The GSD UK August Top 20 Video Games (Digital + Physical)
| Position | Title |
| --- | --- |
| 1 | Saints Row (Deep Silver) |
| 2 | Grand Theft Auto 5 (Rockstar) |
| 3 | FIFA 22 (EA) |
| 4 | LEGO Star Wars: The Skywalker Saga (Warner Bros) |
| 5 | Nintendo Switch Sports (Nintendo)* |
| 6 | F1 22 (EA/Codemasters) |
| 7 | Spider-Man: Remastered (Sony) |
| 8 | Two Point Campus (Sega) |
| 9 | Grand Theft Auto Online (Rockstar) |
| 10 | Far Cry 6 (Ubisoft) |
| 11 | Mortal Kombat 11 (Warner Bros) |
| 12 | Minecraft: Switch Edition (Nintendo)* |
| 13 | Red Dead Redemption 2 (Rockstar) |
| 14 | The Sims 4 (EA) |
| 15 | Horizon: Forbidden West (Sony) |
| 16 | Gran Turismo 7 (Sony) |
| 17 | WWE 2K22 (2K Games) |
| 18 | Mario Kart 8: Deluxe (Nintendo)* |
| 19 | Dishonored (Bethesda) |
| 20 | Elden Ring (Bandai Namco) |
* Digital data unavailable
GSD digital data includes games from participating companies sold via Steam, Xbox Live, PlayStation Network, Nintendo Eshop. Major participating companies are Activision Blizzard, Bandai Namco, Capcom, Codemasters, Electronic Arts, Embracer Group (including Gearbox, Koch Media, Sabre Interactive), Focus Entertainment, Konami, Marvellous Games, Microids, Microsoft (including Bethesda), Milestone, Nacon, Paradox Interactive, Quantic Dream, Sega, Sony, Square Enix, Take-Two, Ubisoft and Warner Bros. Nintendo and 505 Games are the notable absentees, alongside smaller studios.