PS4, Batman lead 18% jump in US retail game sales - NPD
NPD's June 2015 report shows increases across all categories for US game sales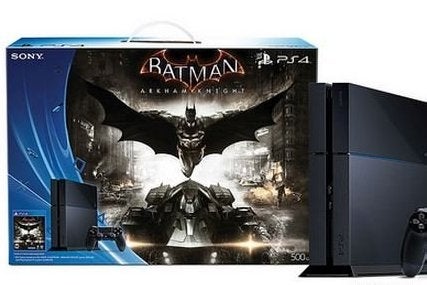 Earlier today, Superdata revealed that digital game sales in the US enjoyed an 18 percent increase in June. As it turns out, total retail game sales also rose 18 percent in NPD's June reporting period, increasing year-over-year from $734.7 million to $869.4 million. Total software revenues for consoles, portables and PC increased 19 percent to $354.1 million while hardware also saw a bump, increasing eight percent to $313.1 million.
"A major factor for the rise in overall software sales was the success of June launches, which collectively rose close to 300 percent in dollar sales compared to June 2014 launches. This more than made up for the fact that there was a slide in the performance of May launches in June compared to last year, which is somewhat expected given the comparison to hits like Mario Kart and Watch Dogs from May 2014," noted NPD analyst Liam Callahan.
It was a particularly good month for Warner Bros. in the games department - not only did it secure the top of the software chart with Batman: Arkham Knight, but it also occupied four of the top 10 positions overall with titles like LEGO: Jurassic World, The Witcher 3: Wild Hunt and Mortal Kombat X. "Warner Bros. Interactive is the top Corporate Publisher so far in 2015, with dollar sales growing 217 percent versus the first half of 2014," said Callahan.
And in a positive for Nintendo's Wii U, the new IP Splatoon captured the fifth slot on the chart, which isn't bad considering that it's a single SKU among a multi-SKU chart.
In hardware, Sony also said that its PS4 console was once again the top selling console in the U.S. in June "due to the overwhelming popularity of the Batman: Arkham Knight PS4 bundles." Sony said that its platform led all software sales in June. Sony's claim regarding the impact of Batman was backed up by NPD as well, as Callahan said that the title on PS4 actually "had the highest sales for a single SKU across any Batman game since NPD has been tracking the industry."
Hardware in general has been faring well in this new generation of consoles. "Eighth-generation consoles are leading the way with 15 percent growth over June 2014, offsetting declines in seventh-generation and portable hardware sales," Callahan explained. "Hardware bundles gained share of overall hardware sales with 35 percent of sales in June 2014 rising to 82 percent of sales in June 2015. June 2015 was especially strong for hardware bundle sales as the 82 percent share of hardware attributed to bundles in June 2015 is above the YTD total of 67 percent share."
Here's the complete breakdown from NPD: