Project xCloud expands with 50 new titles, coming to Japan, India and more next year
Xbox's streaming service will be incorporated into Xbox Game Pass; Bluetooth controller support coming next year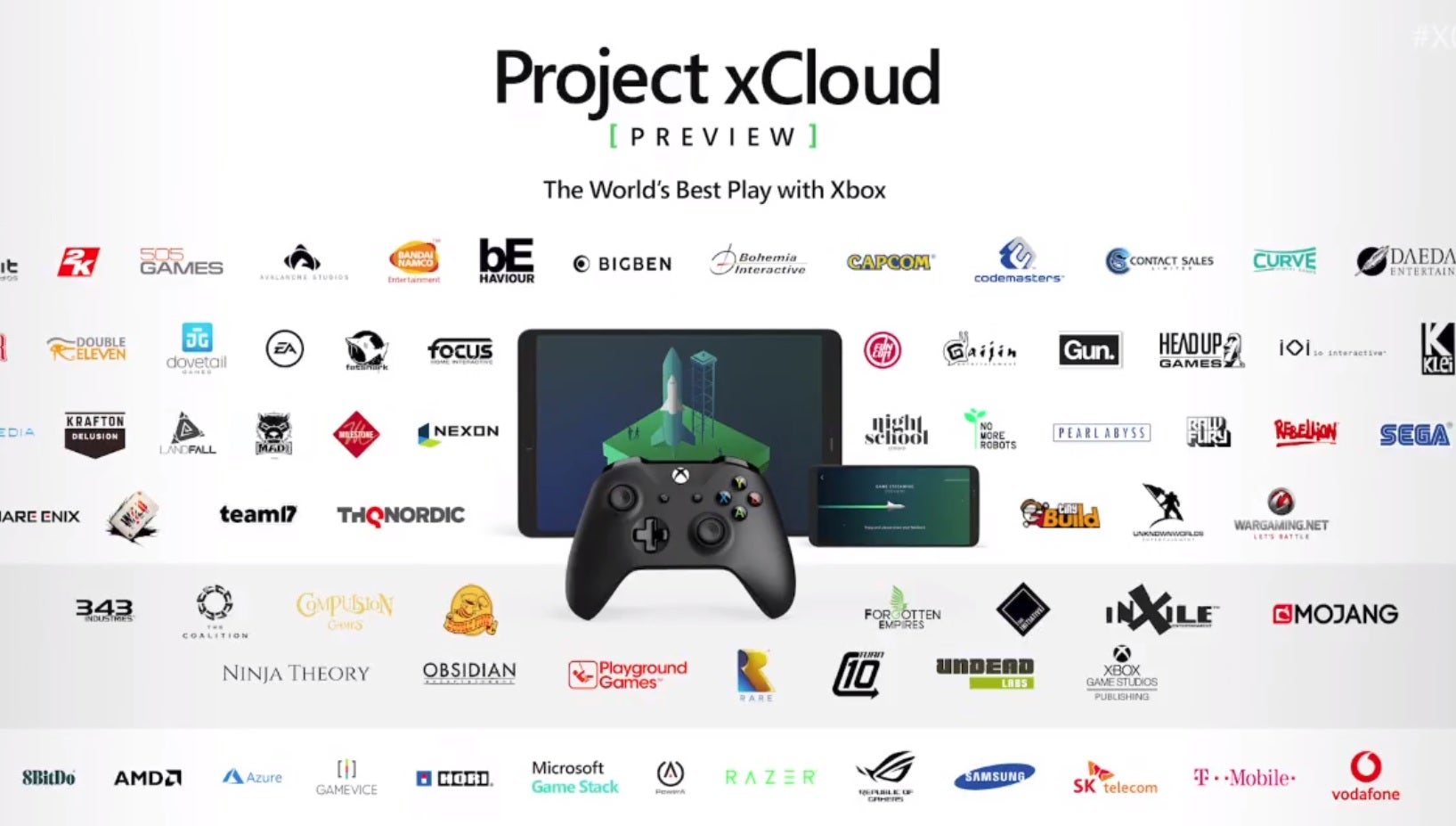 Microsoft gave an update on the progress of its Project xCloud streaming service at X019 in London today, with 50 new titles coming to the current preview service.
So far, preview players in Korea, the UK, and US have only had access to a handful of first-party games, including Gears 5, Sea of Thieves and Killer Instinct. As the preview enters its second month, Microsoft is not only adding more of its own games -- including Crackdown 3, Forza Horizon 4 and Ori and the Blind Forest -- but also titles from 25 third-party publishers and developers.
Highlights include Madden NFL 20, WWE 2K20, Hitman, Just Cause 4, and Devil May Cry 5. You can find a full list of titles below.
Additional invites to the preview are now being sent out to Xbox gamers who registered their interest, with the promise of more invites in the future.
Microsoft also announced it will be bringing Project xCloud Preview to more markets in 2020, including Canada, India, Japan, and Western Europe.
Next year will also see the service brought to Windows 10 PCs, with Microsoft "collaborating with a broad set of partners to make game streaming available on other devices as well."
The company has emphasised that it wants xCloud to offer more than just playing Xbox games on phones or tablets, so is also expanding the number of input devices users can play with. Starting from next year, Project xCloud will support Bluetooth game pads from Razer and even the PlayStation 4's DualShock 4 controller.
There are also plans to enable Xbox owners to stream any games they already own, and this option will be enabled with future purchases. Xbox Game Pass subscribers will also have the ability to stream titles from that collection.
Here is the full list of additional preview titles:
Absolver (Devolver Digital)
Ace Combat 7: Skies Unknown (Bandai Namco)
Ark: Survival Evovled (Studio Wildcard)
Battle Chasers: Nightwar (THQ Nordic)
Black Desert Online (Pearl Abyss)
Bloodstained: Ritual of the Night (505 Games)
Borderlands: The Handsome Collection (2K Games)
Brothers: A Tale of Two Sons (505 Games)
Conan Exiles (Funcom)
Crackdown (Xbox Game Studios)
Darksiders 3 (THQ Nordic)
Dead Island: Definitive Edition (Koch Media)
Devil May Cry 5 (Capcom)
F1 2019 (Codemasters)
For The King (Curve Digital)
Forza Horizon 4 (Xbox Game Studios)
Gears of War: Ultimate Edition (Xbox Game Studios)
Halo Wars 2 (Xbox Game Studios)
Hellblade: Senua's Sacrifice (Xbox Game Studios)
Hello Neighbour (TinyBuild)
Hitman (IO Interactive)
Just Cause 4 (Square Enix)
Madden NFL 20 (Electronic Arts)
Mark of the Ninja: Remastered (Klei Entertainment)
Mutant Year Zero (Funcom)
Ori and the Blind Forest: Definitive Edition (Xbox Game Studios)
Overcooked (Team17)
Puyo Puyo Champions (Sega)
RAD (Bandai Namco)
Recore: Definitive Edition (Xbox Game Studios)
Shadow of the Tomb Raider: Definitive Edition (Square Enix)
Sniper Elite 4 (Rebellion)
SoulCalibur VI (Bandai Namco)
State of Decay 2 (Xbox Game Studios)
Subnautica (Unknown Worlds)
Tales of Vesperia: Definitive Edition (Bandai Namco)
Tekken 7 (Bandai Namco)
Tera (Krafton)
The Bard's Tale IV: Director's Cut (Xbox Game Studios)
theHunter: Call of the Wild (Avalanche Studios)
Vampyr (Focus Home Interactive)
Vermintide 2 (Fatshark Games)
World of Final Fantasy Maxima (Square Enix)
World of Tanks: Mercenaries (Wargaming)
World of Warships: Legends (Wargaming)
World War Z (Mad Dog Games)
WRC 7 (Bigben Interactive)
WWE 2K20 (2K Games)
Yoku's Island Express (Team17)