Prima Games relaunching website, preparing for next-gen
With support of parent company Penguin Random House, Prima is making a much bigger push into digital with its strategy guides business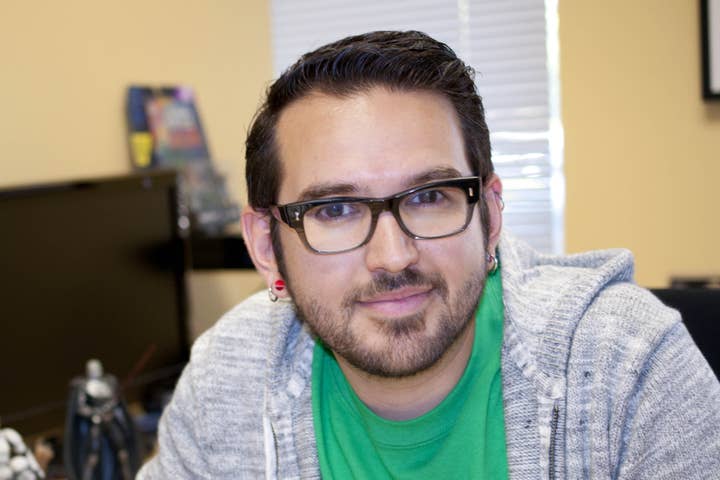 Full Disclosure: Prima has been working in partnership with Gamer Network
Prima Games, the leading source of video game strategy guides, is relaunching its website this Friday as part of a broader initiative to step up its digital presence. It marks the first major games-related release since the merger of Random House and Penguin over the summer, and it's clearly a positive sign that old media like Random House appreciates the growing importance of digital.
"We've always had great support from our parent company Random House and that support continues with the new merger. In fact, one of the best things about being able to do this kind of relaunch is that they recognize our need to react and adjust in the ever-growing digital landscape," said Fernando Bueno (pictured), head of digital and editor-in-chief of Prima Games. "For Prima Games specifically, it's of prime importance to refine our user experience since we're a 2nd-screen experience by design. Even our books can be seen as a second-screen experience, if you really think about it."
Following a big influx of mobile users over the last year to Prima's site, the new website has been redesigned with the help of Gamer Network, which also publishes GamesIndustry International. "They've been hard at work with us, redesigning the site from the ground up so that it's now mobile-ready. In the process we've also rebuilt our eGuide platform (also incorporating responsive design). The eGuides, launching with the new site, will be a truly premium experience - whether on tablet, desktop, phone, or a next-gen console like the Xbox One," Bueno said.
Being able to launch a Prima strategy guide straight from the Xbox One or PS4 dashboard seems like a no-brainer. Gamers can look something up and go right back into the game without leaving the console. "The Gamer Network team has been huge in making this kind of experience possible. We can't be more excited. Gamers are constantly looking for an advantage or the latest tips on how to get the most from their games. More often than not, they have to step away from their gaming experience to get answers as they run to their desktop. By making all of PrimaGames.com responsive even on console browsers, we're making sure that gamers on the next-gen (including PS4) won't have to entirely disrupt their gaming session to get answers. We'll be there the moment they have questions," Bueno stressed.
"We don't see our business as print books, apps, and the website - we see it as one unified user experience where a customer can buy a print product and count on the digital experience to get them through every boss battle"
Between the improved website and eGuides, digital is going to be a much larger component of the Prima business for Random House going forward. Prima intends to make a larger push into iBooks as well, as every print product has an iBook counterpart.
"Customers have actually responded very well to the eGuide platform. We've been very pleased. That's why it was very important for us to continue to evolve that experience with the new eGuide we're launching (Lego Marvel will be the first, with follow-ups from Battlefield 4 and Assassin's Creed IV). Also, including them with the purchase of the print product allows us to address the limitations of a static print medium while also increasing the amount of content we can provide to the consumers," Bueno explained.
"We can update stats from the print product, deliver video, which we obviously can't do with print, and address all sorts of other needs like DLC follow-ups. I think our licensing partners are also pleased that we can continue to support their titles well beyond launch, and all through the DLC life-cycle of their products," he continued. "We'll also continue to sell the eGuides as stand-alone products, of course, since users will always have a need for official day and date strategy for the latest releases. We anticipate the growth of the digital guide business to also allow us to do more digital-only guides, so titles that may not be viable in print format can also have official content at the time of release. And, of course, our teams will continue to create free strategy, tips, and walkthrough content for titles that may not get an official eGuide product. Bottom line, we want to make sure that gamers are getting the most out of their games. That's what we do."
And while digital is taking over most media, that doesn't mean print is about to go extinct. On the contrary, Bueno insists that Prima's printed publications will continue to be collector's items for hardcore fans.
"We're very hard at work at creating some of the best print guides we've made in years. I think that one of the things our customers have come to expect from Prima is that we'll continue to create beautiful, highly collectible hardcover books like our Ni No Kuni guide earlier this year. I think that's a fantastic example of how we're integrating all aspects of our business and not carving anything up," he said. "We don't see our business as print books, apps, and the website - we see it as one unified user experience where a customer can buy a print product and count on the digital experience to get them through every boss battle."