Pokemon GO total revenue reaches over $2 billion
Game achieves milestone 811 days after launch, with Japan leading spending by country
As Pokemon GO comes off a third summer traffic surge, Niantic's AR mobile game has reached another revenue milestone.
Apptopia estimates that the game has brought in $2 billion in revenue, precisely 811 days since its July 2016 launch.
The game's first $1 billion was more readily brought in, with the game reaching the milestone after 302 days. Fortnite's mobile release earned half that amount in about the same amount of time, though it was on iOS alone for that period.
Apptopia notes that Japan leads spending in the game despite not even sitting in the Top 5 for downloads by country. The United States is close behind it by revenue and makes up 21% of the game's lifetime downloads.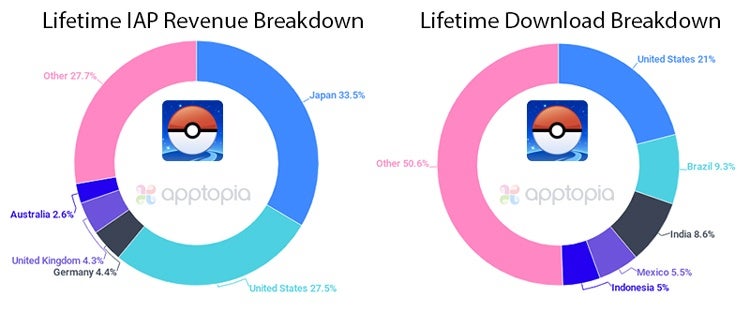 Over the last few days, Niantic and The Pokemon Company have used Pokemon GO to introduce and promote a new Pokemon - Meltan - that will appear in Pokemon Let's Go! Pikachu and Eevee. This is the first time a new Pokemon has appeared in the mobile game ahead of the main games.