Since launching four years ago today, Pokémon Go has grossed $3.6bn
Despite global lockdown, Niantic's location-based mobile game is on track for another record year
Global player spending in Niantic's chart-topping Pokémon Go has surpassed $3.6 billion since launching four years ago today.
That's according to mobile intelligence firm Sensor Tower, which found that the augmented reality smartphone game continues leading the pack.
Despite some modest competition in the location-based mobile sphere from Dragon Quest Walk by Square Enix in Japan -- which has grossed $540 million since launching in September 2019 -- Pokémon Go far outshines similar titles.
Jurassic World Alive from Ludia has grossed $76.5 million in over two years, while Let's Hunt Monsters from Tencent has generated close to $70 million on iOS in China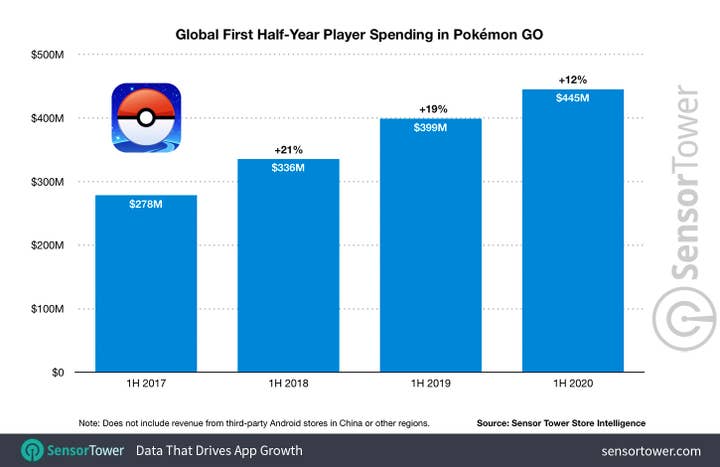 Pokémon Go is most popular in the US, where it has grossed nearly $1.3 billion from 18.2% of the game's 577 million global downloads.
Android users account for the majority of Pokémon Go's lifetime revenue, with 53.6% coming from Google Play and 46.4% from the App Store. However, accounting for 21.7% of global downloads, Apple users continue to be the biggest spenders per install.
As the COVID-19 pandemic worsened earlier this year, Niantic was among the first location-based mobile developers to alter game mechanics to facilitate indoor play.
The strategy paid off, with Pokémon Go maintaining its pace despite the global lockdown, grossing $445 million for the first six months of 2020, and putting it on track to match record revenues of $905 million in 2019.
"As many parts of the world come out of lockdown, Pokémon GO could see a surge in revenue, as it already has done in May and June," said Sensor Tower mobile insights strategist Craig Chapple. "Far from being a fad, this blockbuster continues to build on its tremendous success."