PlayStation VR to sell 8m units in 24 months - analyst
Ben Schachter says "expect Sony to utterly dominate the rest of the console cycle" without a response from Microsoft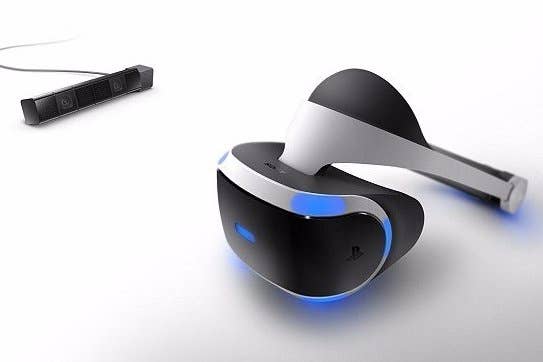 As expected, PlayStation VR finally revealed its price and date this week at GDC 2016. The $399 price point has generally received positive reactions, especially considering that Oculus costs $600 and Vive costs $800. Macquarie Securities analyst Ben Schachter said in a note today that he expects Sony to sell around 8 million units worldwide during its first two years on the market.
"We believe that today's news from Sony is very positive for the development of more mass-market friendly VR ecosystems... We now believe that by holiday '16, there will be VR hardware and software across multiple price points. We think that investors will recognize that meaningful dollars will come into the VR industry by '17, with the potential to ramp significantly in '18 and beyond. THIS IS REAL," he said [all caps emphasis was Schachter's].
The 8 million sold forecast during the headset's first two years does seem to align with the prediction from Jesse Schell, who said that PSVR should sell 4 million units by the end of its first year in 2017. By comparison, IHS Technology's Piers-Harding Rolls expects 1.6 million PSVRs by the end of the year, partially due to the headset being supply constrained at launch.
Even with supply being constrained, PSVR is expected to dominate the VR headsets market, taking 64 percent of the installed base market share in 2016 (among Oculus and Vive, not including mobile VR). IHS is forecasting that 17 million consumers who own high-end gaming PCs will be the addressable market for Oculus Rift and HTC Vive by the end of 2016; on the other hand, he expects Sony's addressable market to jump up to 53 million PS4s by the end of the year.
Both Schachter and Rolls are in agreement that Sony has a distinct software advantage and can leverage its relationships with developers. Sony currently has 230 developers working on VR.
"Sony has launched multiple video game consoles over the past 20+ years. It knows how to align retailers, developers, publishers, and others. It also knows how to market to consumers and deliver an experience that consumers love... While HTC and Facebook are focusing on a broad adoption of VR across social, entertainment, and enterprise, Sony's PlayStation team is laser focused on games and entertainment. Having EA's Star Wars Battlefront as an exclusive VR title is a positive and highlights Sony's experience in gaming," Schachter said.
Rolls added, "Sony's walled garden approach to the PS4 platform means it is well placed to provide a better controlled and consistent VR experience to consumers. This will be important in driving adoption and positive word of mouth for PlayStation VR."
Schachter also commented on the competitors in the console space and questioned what Microsoft and Nintendo might do in light of Sony's big VR push. "A big open question is, what will Microsoft do to respond? With Hololens still years away and focusing on enterprise, how will Microsoft Xbox compete with PlayStation VR in the near term? Without a response, we would expect Sony to utterly dominate the rest of the console cycle," he said. "Additionally, Nintendo's next console better have some particularly unique features if it hopes to be viable."